Brides and grooms who want both a relaxed and traditional wedding at Eaves Hall do two things very well:
Firstly, they plan the wedding day down to the last detail.
Secondly, they don't make compromises.
But you're probably wondering:
'How can I make time to have a relaxed, informal wedding but with all the traditional group photos I'd like?'
Purely documentary photography is a popular trend at the moment, and it seems as if sometimes traditional group photos get a bad rap. But, they don't have to be time consuming or boring though, and they can work well alongside storytelling documentary coverage.
To help explain, I'd like to share Mel & Stuart's Eaves Hall wedding with you, along with their wedding day timeline. It was an Elegant wedding with plenty of traditional elements and quite a few traditional group photos, but the wedding day also had a relaxed, informal feel.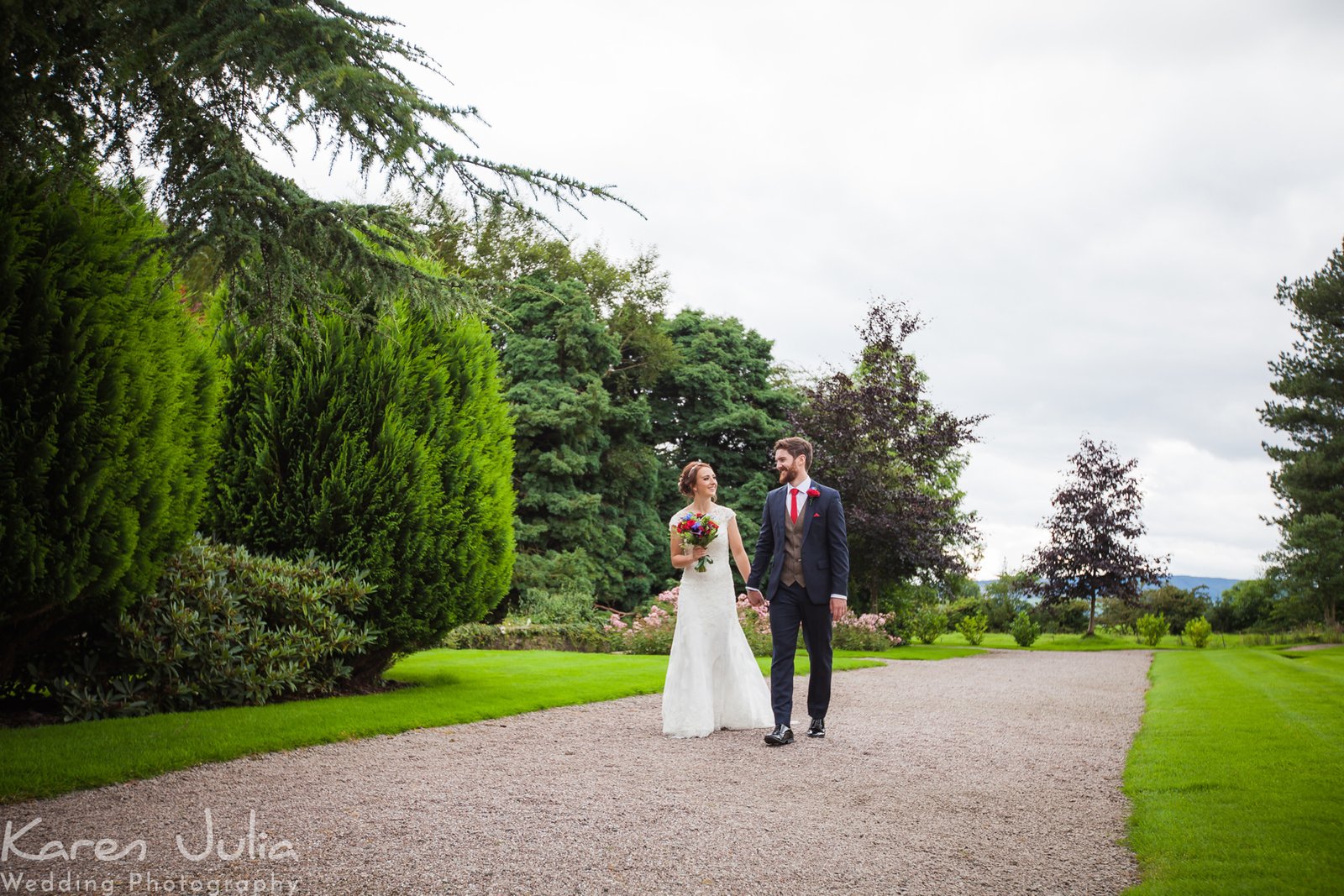 Mel & Stuart did not want to spend ages on group photos and wanted to be able to relax and enjoy the day with guests as much as possible.
How can planning help create a relaxed wedding vibe?
It sounds like a contradiction, right? To use planning to create a relaxed feel, but planning is really essential to ensure there's enough time between some of the key elements of the day. I sat down with Mel before the wedding day and we chatted through timings. The ceremony was scheduled for 1 pm, so they key solution to a relaxed feel is to plan in time for socialising with guests and to also take time to spend with each other.
Here's Mel & Stuart's itinerary:
13:00 – Wedding ceremony
13:30 – Drinks reception – Bride & groom relax with guests. I recommend a minimum of 20 minutes and up to 45 minutes for this.
14:00 – Confetti photo (a great way to get all the guests together)
14:05 – Group photos for 30 minutes (Bride and groom then have a bit of a break & grab another drink)
15:00 – Couple Portraits (approx 10 minutes whilst guests continue to enjoy the drinks reception)
15:30 – Wedding breakfast
17:30 – Speeches
18:00 – Couple & guests have an hour to relax before the start of the evening reception
19:00 – Evening reception starts
20:20 – Sparkler photo with bridal party
20:40 – Cake cutting
20:45 – First dance
21:30 – Evening bride & groom portrait (usually guests are tucking in to evening buffet around this time)
22:00 – Final photo – dance floor group shot selfie (optional!)
Tip: By having the drinks reception before the group photos, bride and groom had a chance to enjoy a drink and chat with wedding guests, and guests got to enjoy relaxing and checking out this amazing Ribble Valley wedding venue.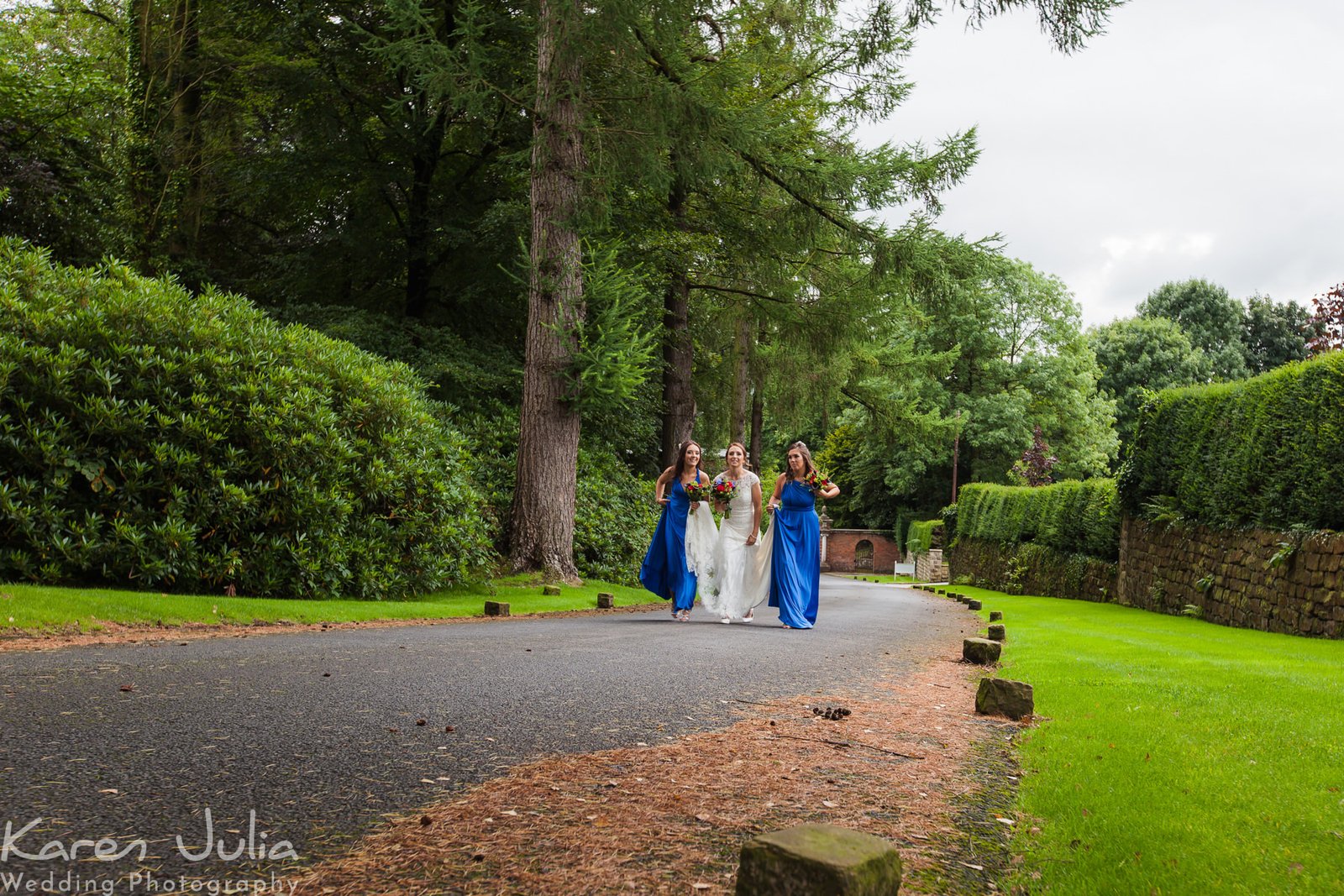 Tip: Get ready at the venue to save time with travelling. Eaves Hall has a seperate house for the bridal party that's perfect for this!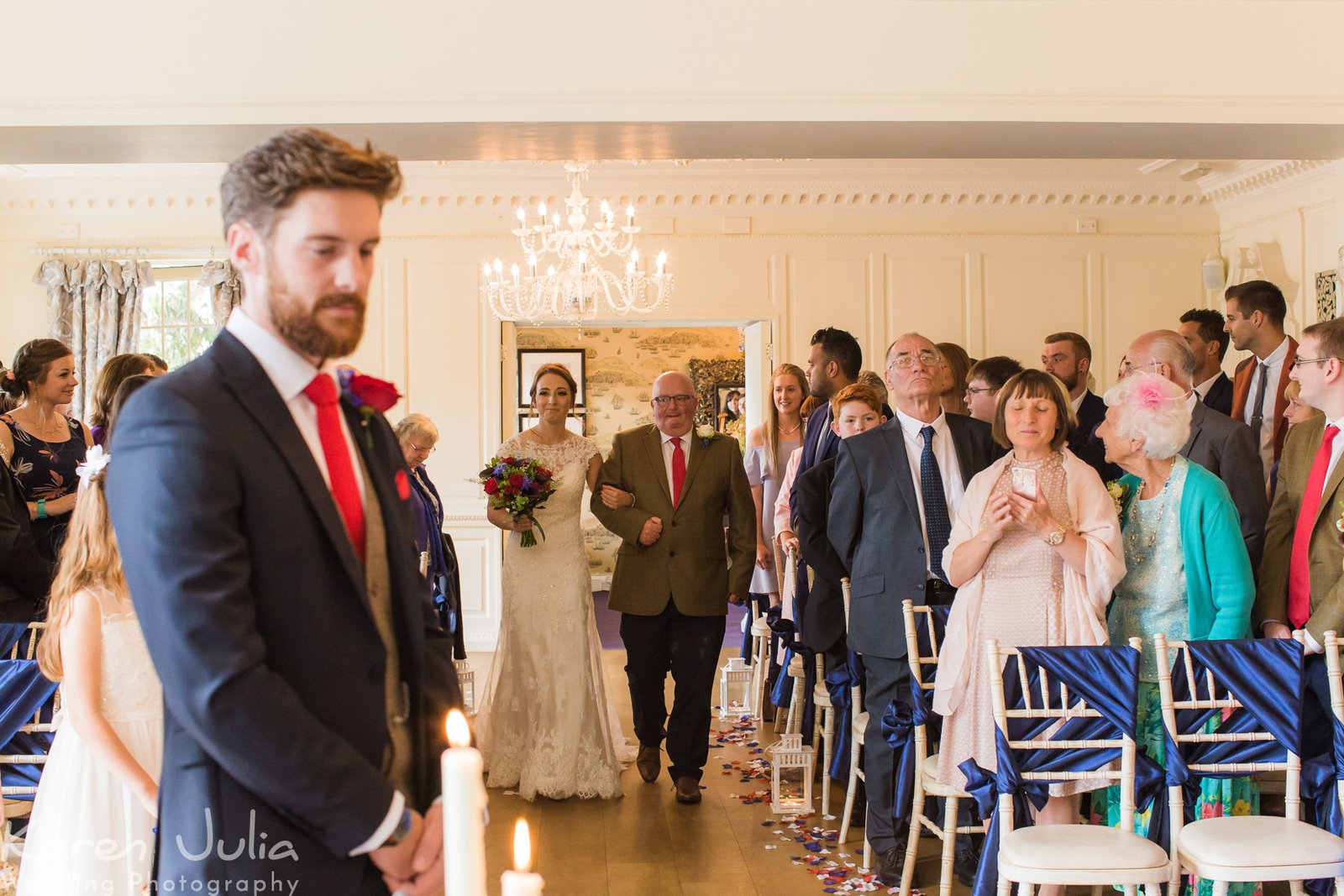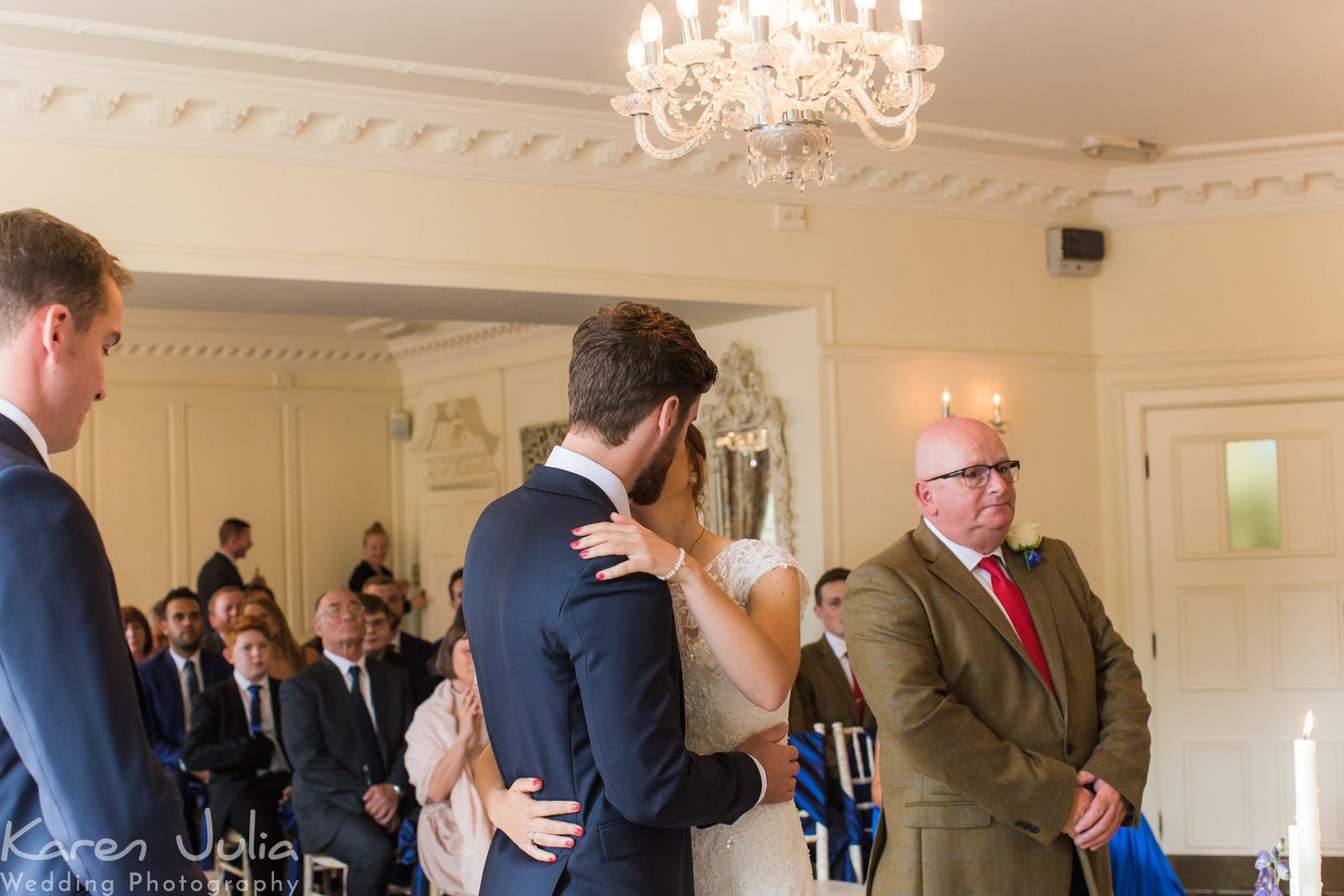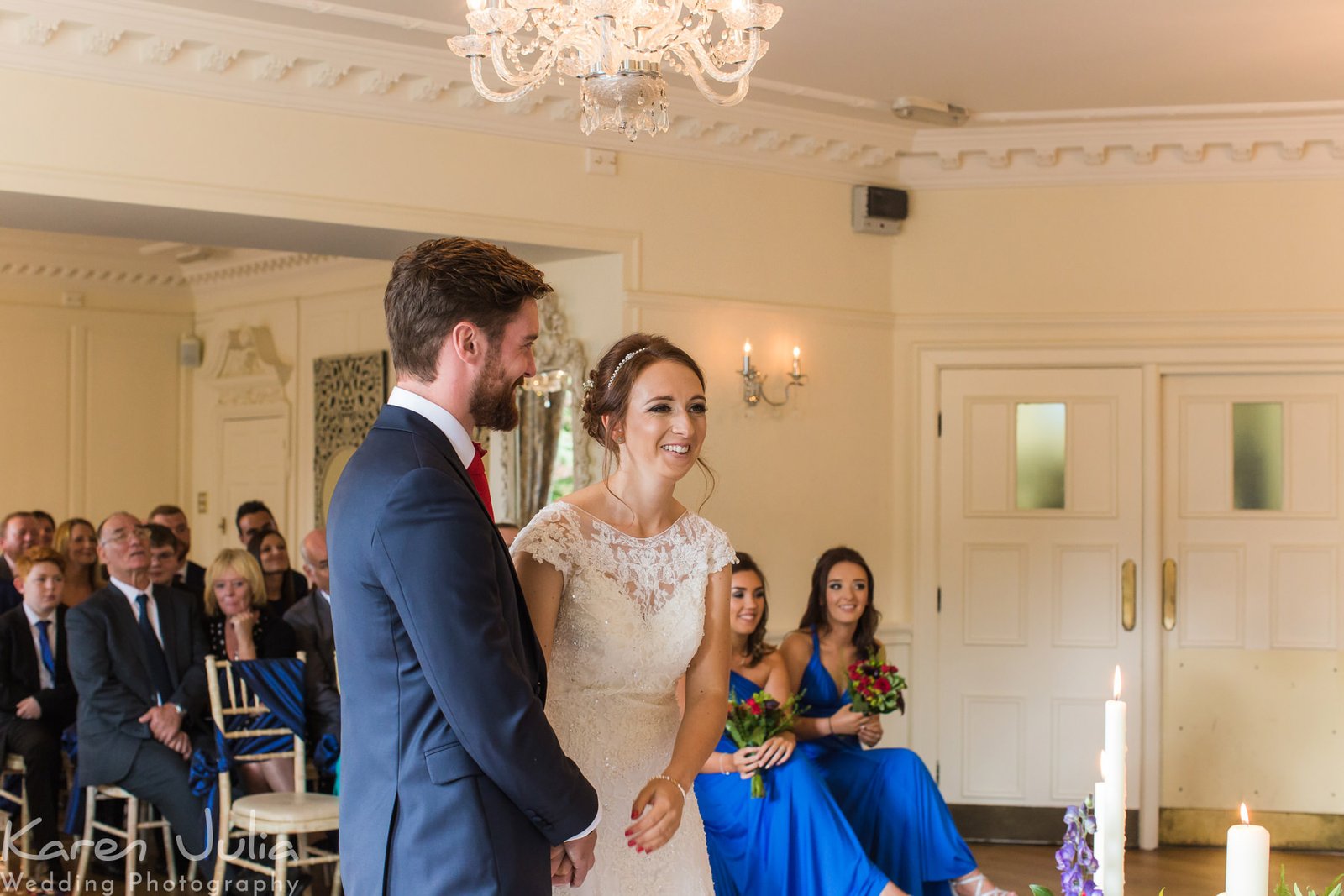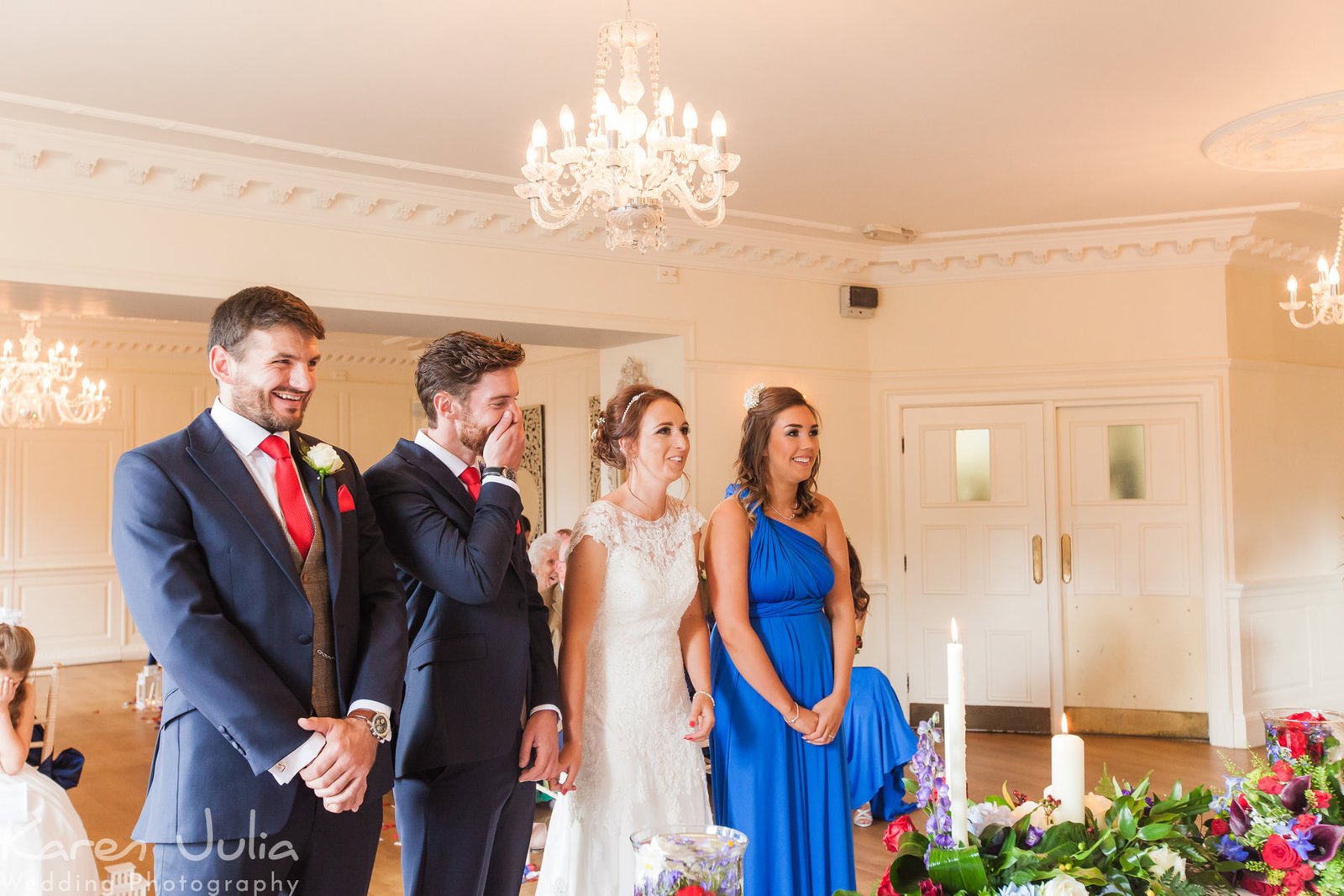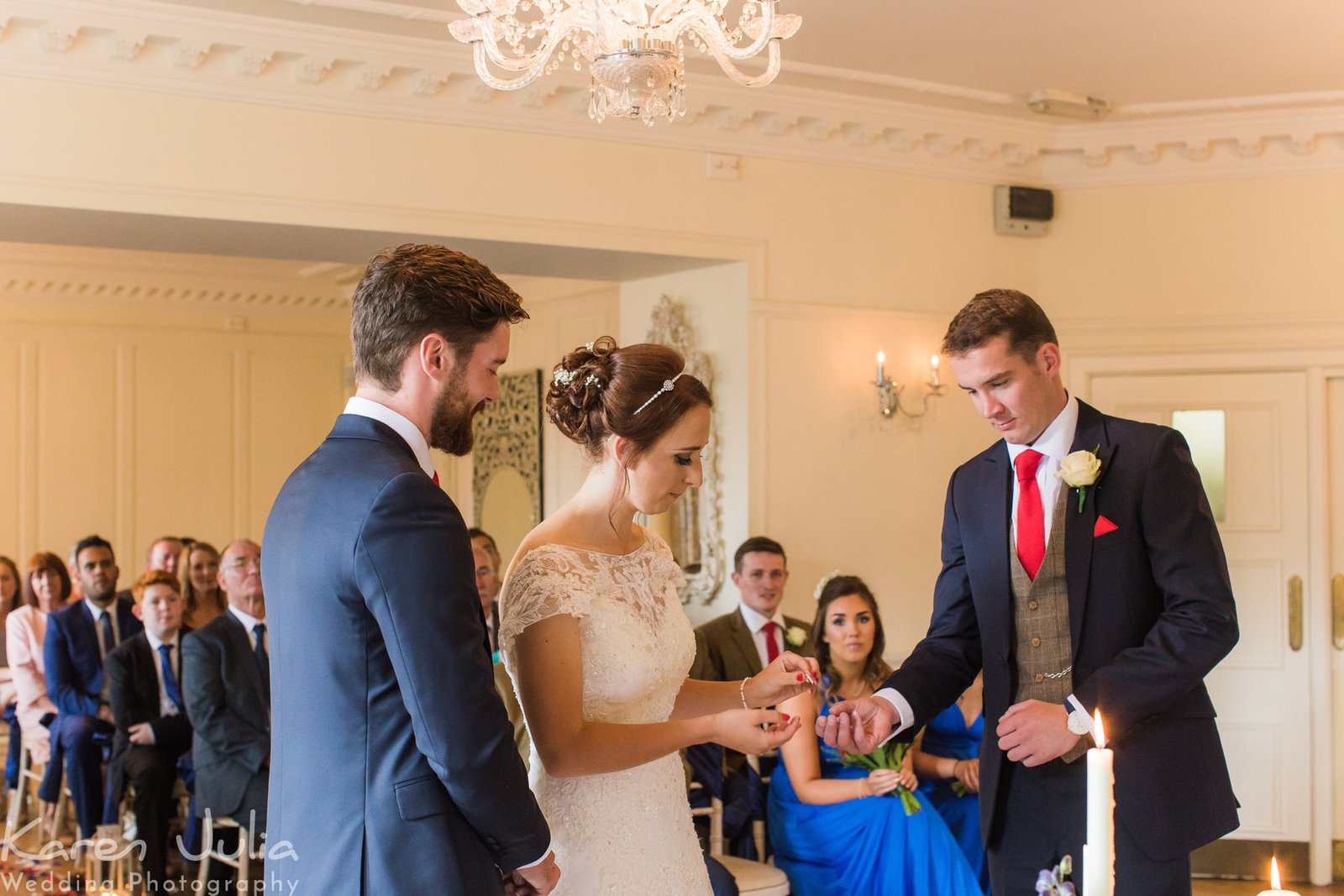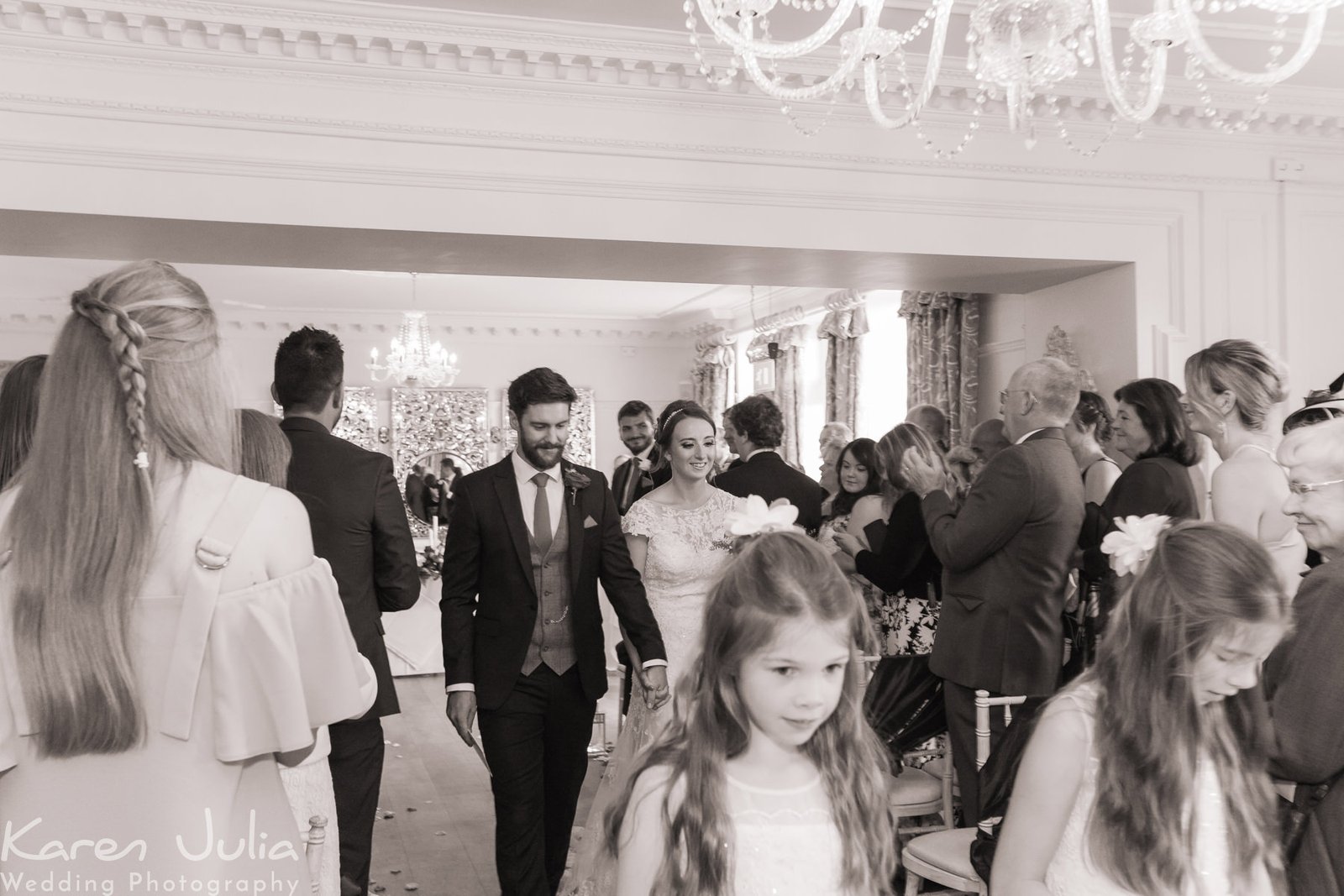 After the wedding ceremony, I shot candid photos of guests drinking & enjoying canapes.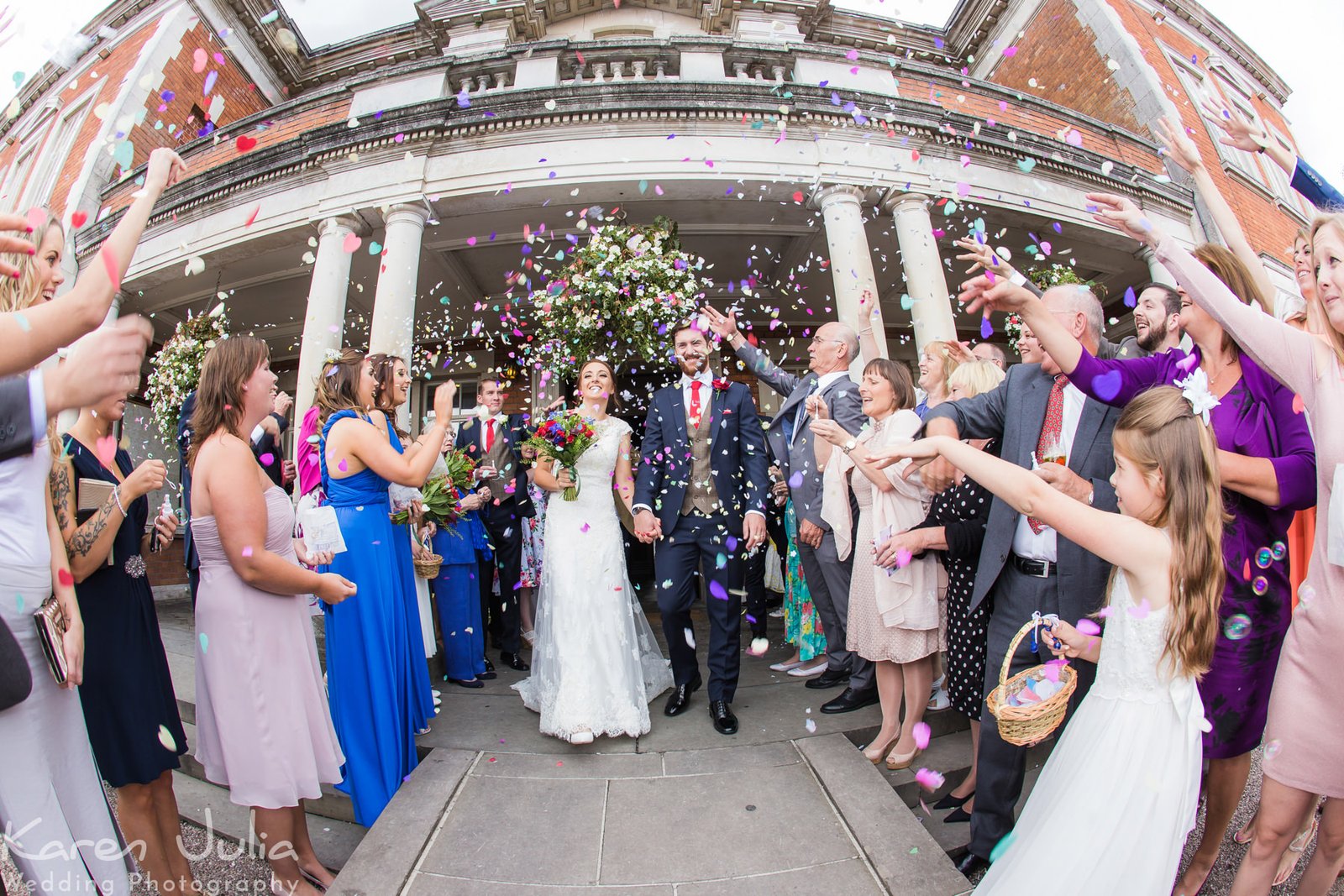 I started off the group photos with getting everyone together for confetti. Everyone loves throwing confetti at a wedding! It's my favourite way of rounding everyone up!
Traditional Group Photos at Eaves Hall
Planned group photos were:
Everyone, Each family, bridal party, then combinations of bridal party members like parents, bridesmaids and ushers.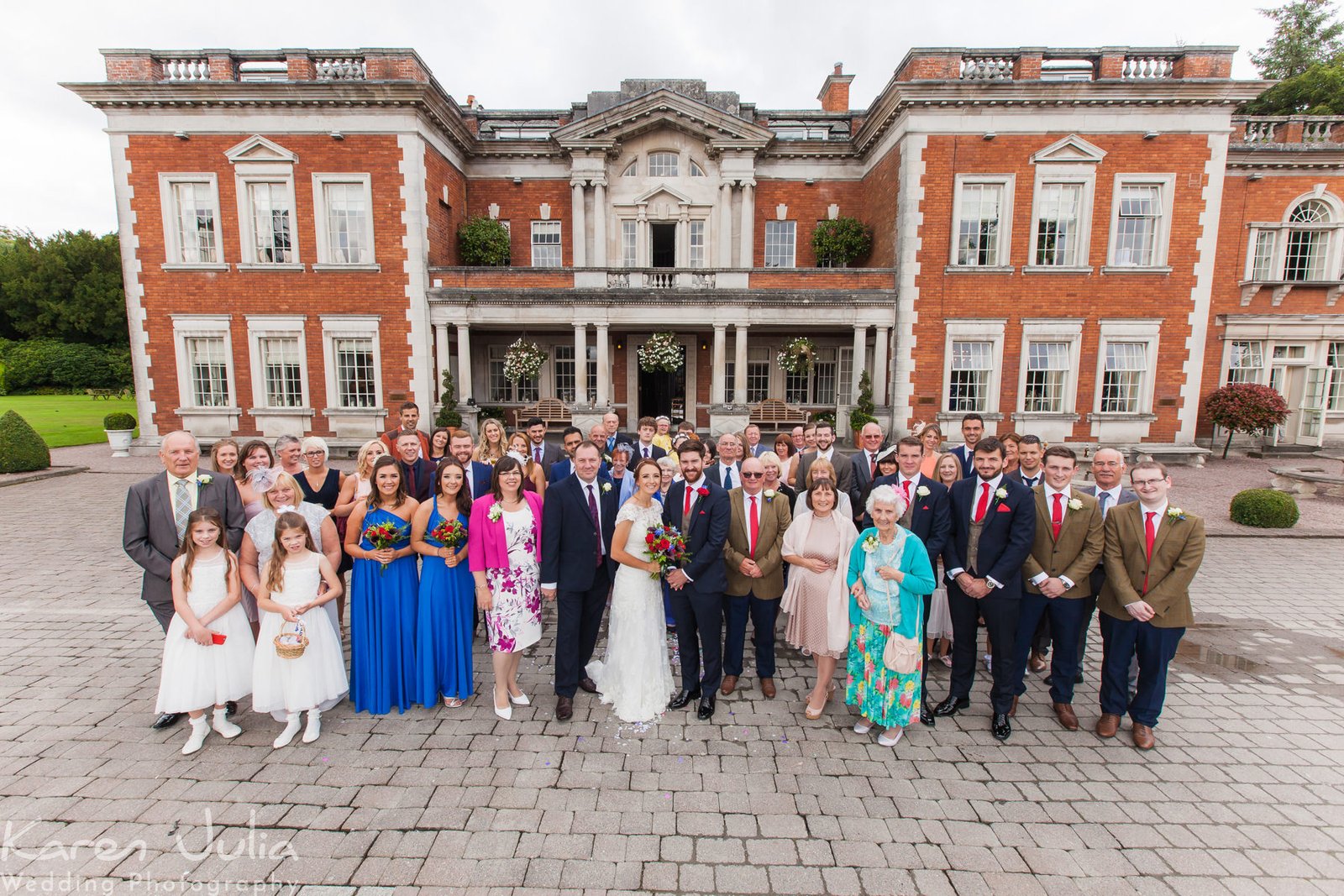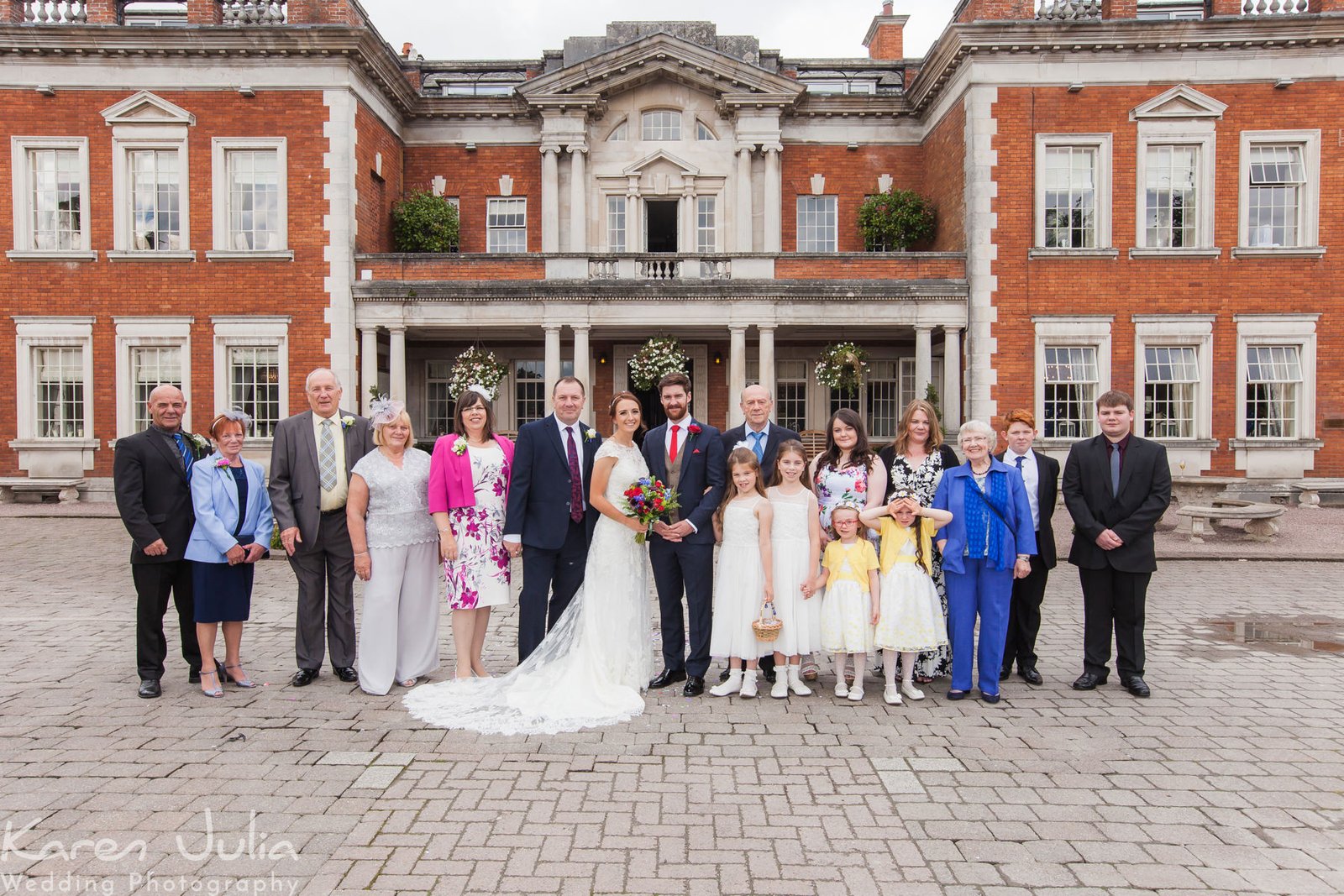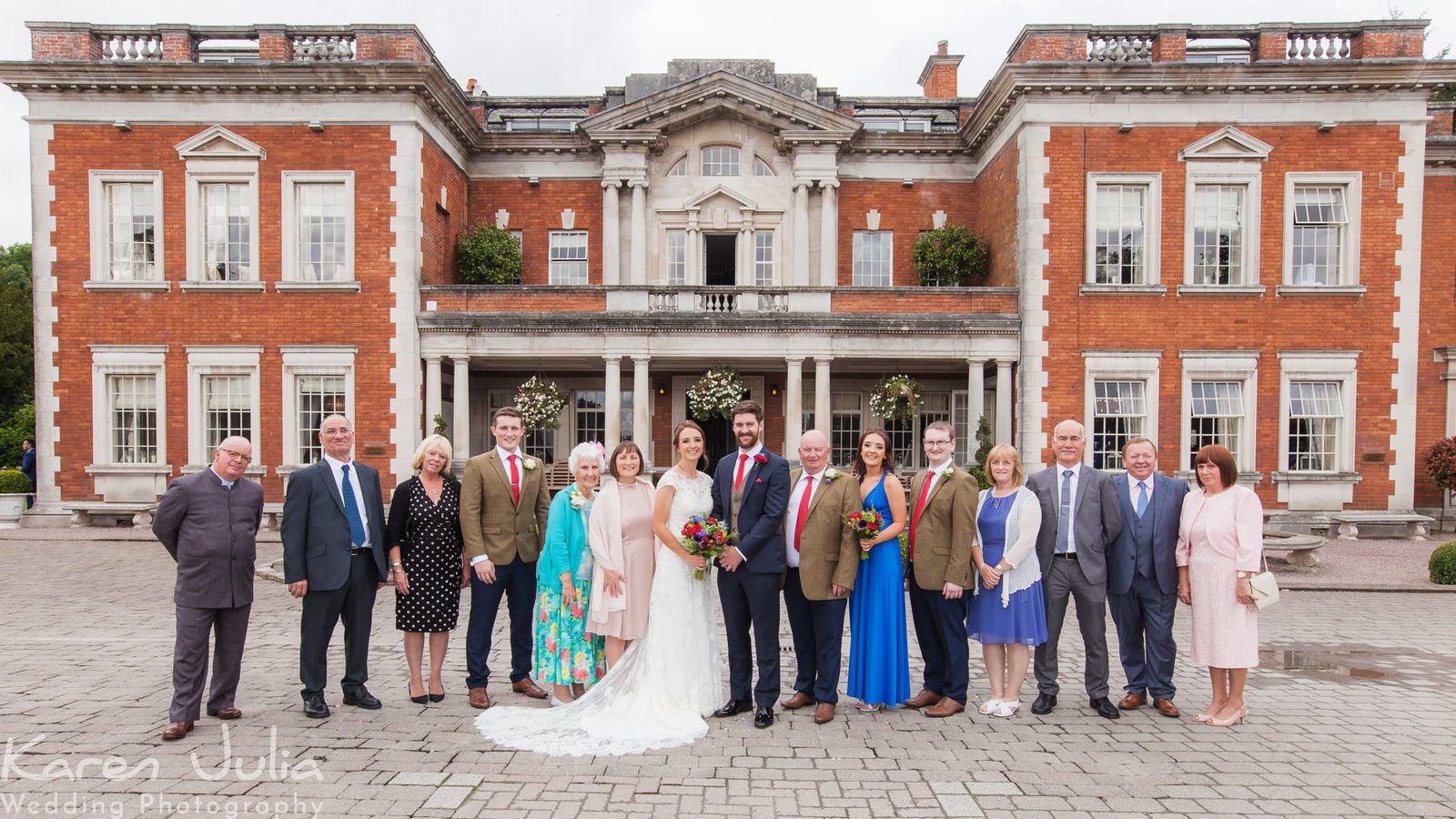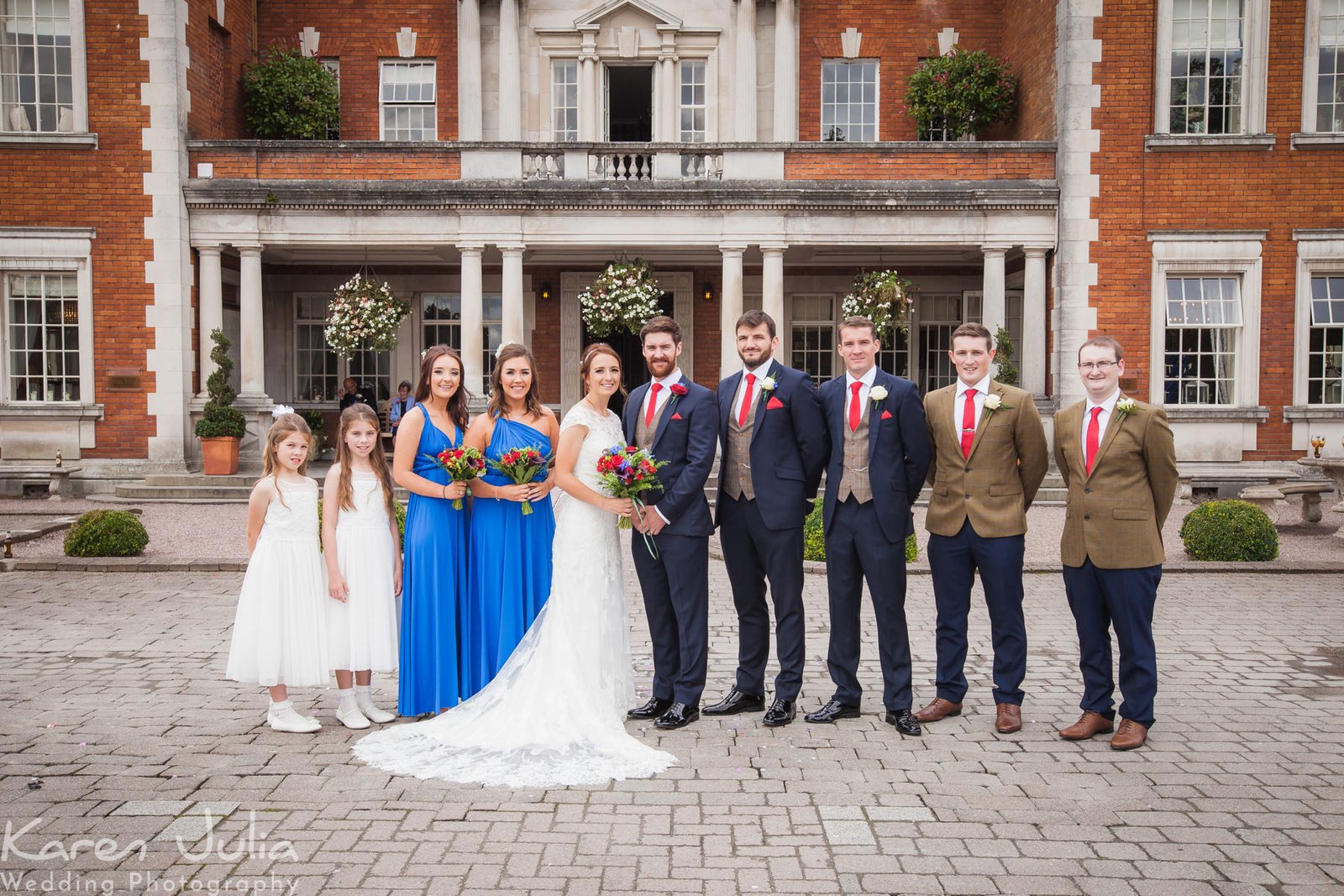 One of the awesome things about Eaves Hall is that it's an exclusive use venue, so even if the odd guest accidentally photo bombs a photo, they are part of the wedding party.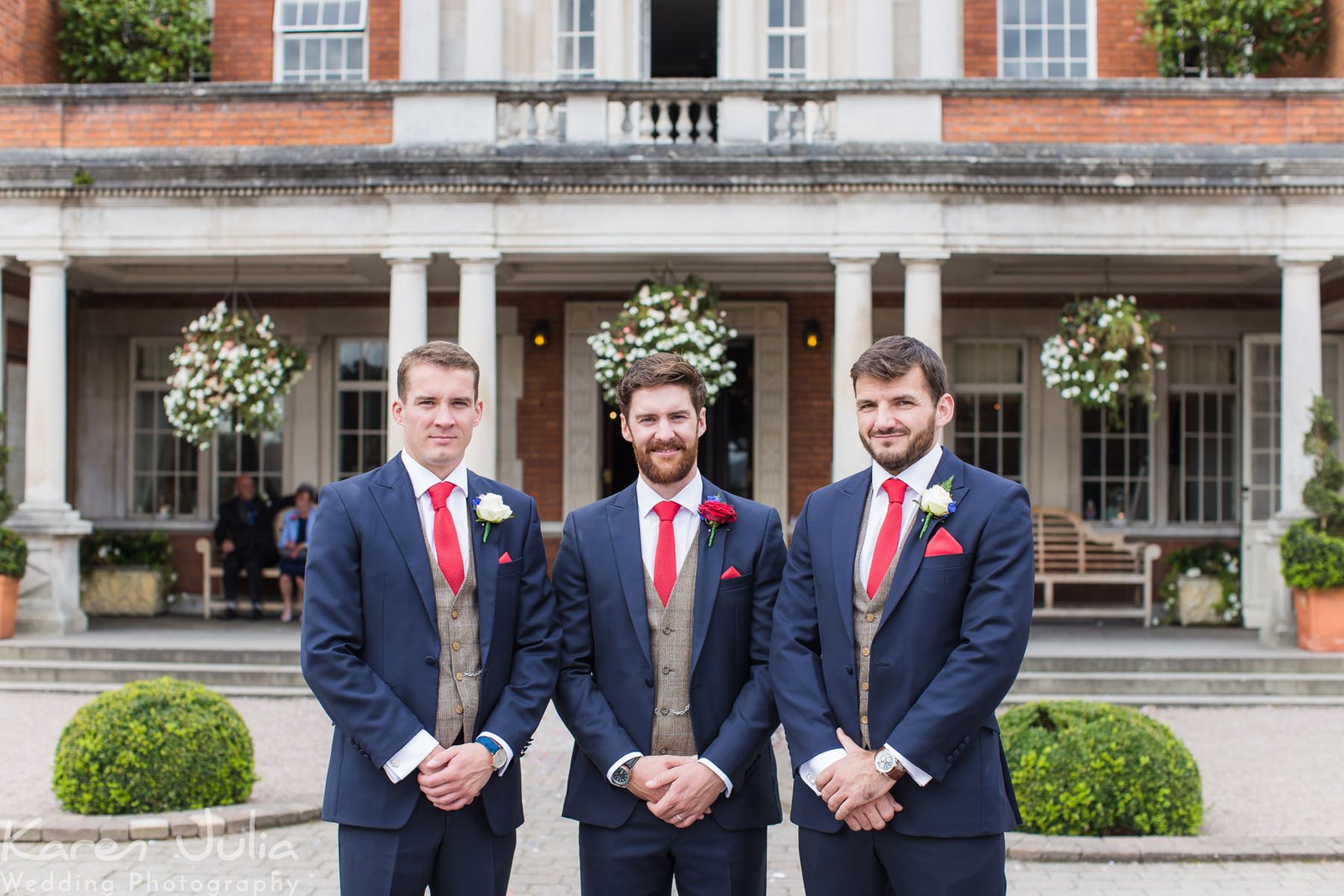 Bride & Groom Portraits
I think it's a great idea that the bride and groom have a break together before the couple portraits to get a chance to relax and have a drink. I use this time to go shoot at the details in the wedding breakfast room.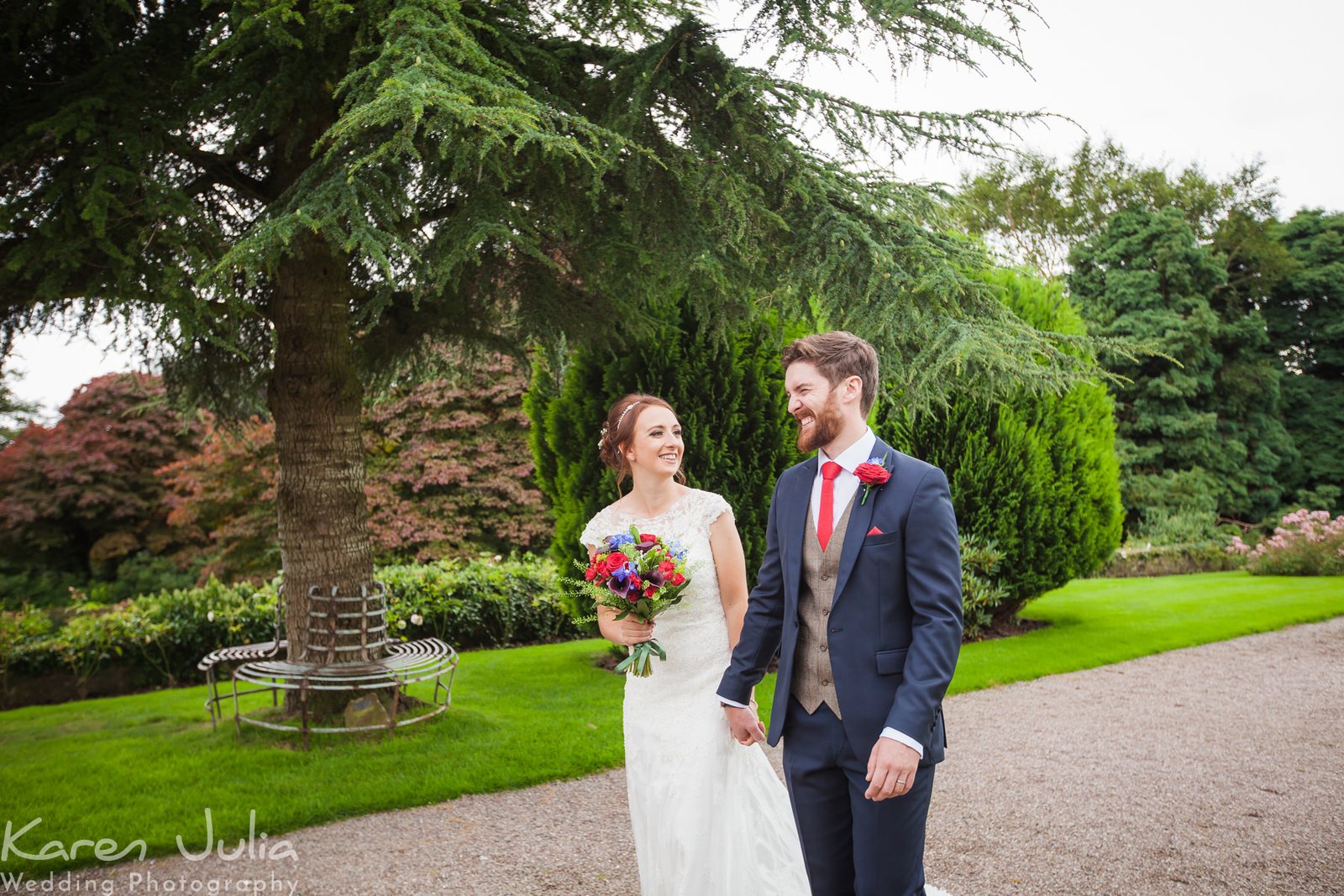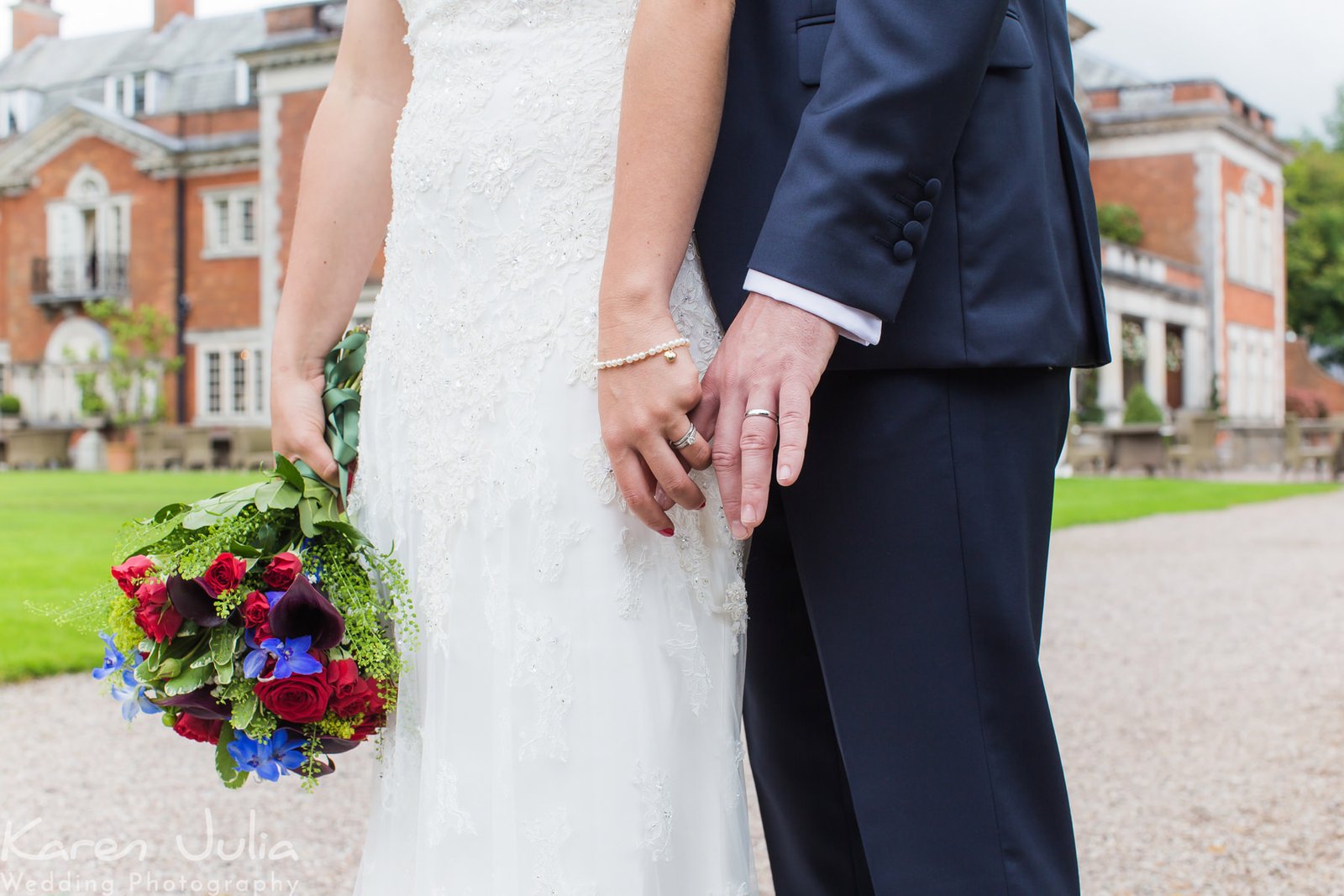 Tip: Want to ensure no guests are in the background? Have this portrait as guests are being seated for the wedding breakfast.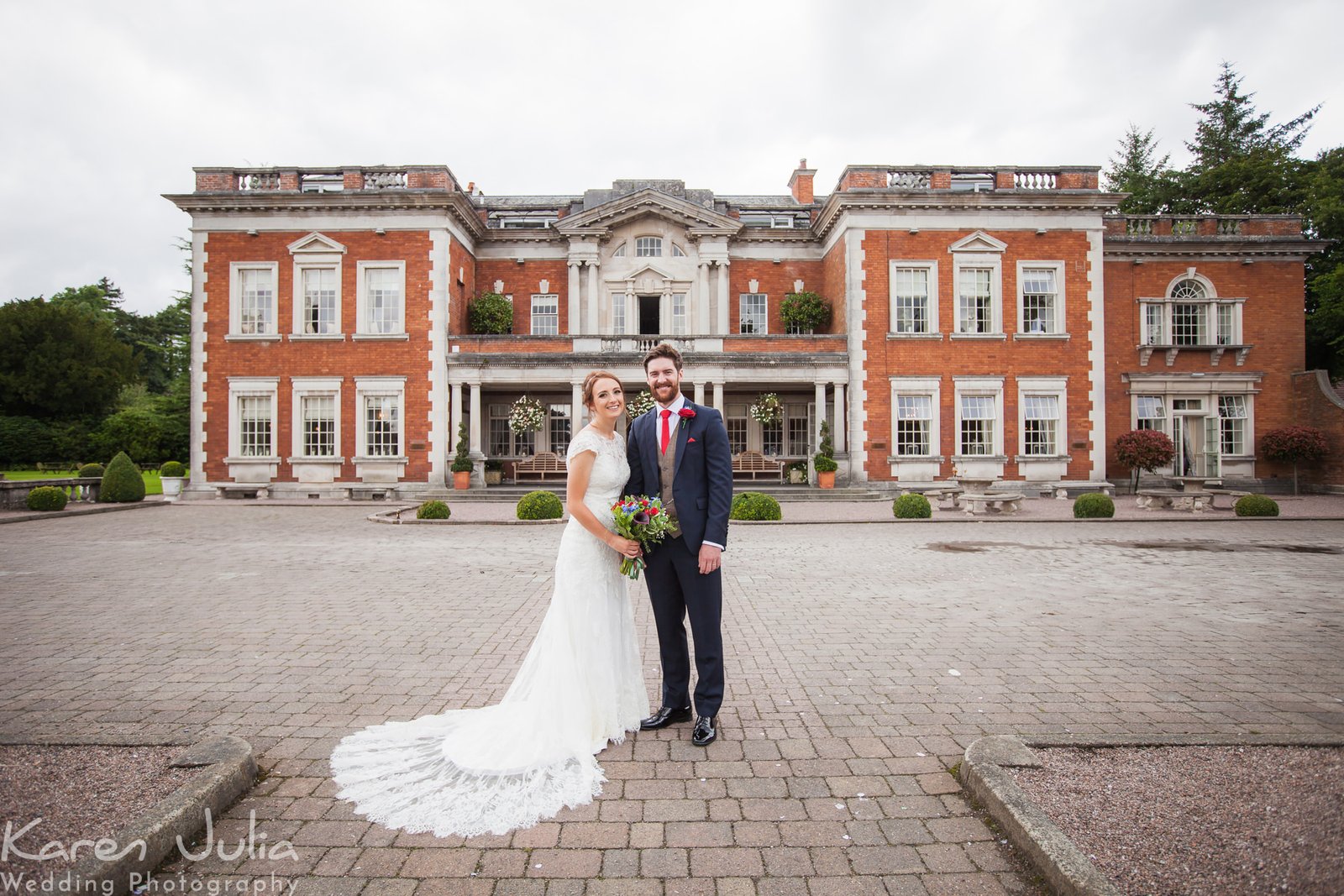 Wedding Breakfast & Speeches
I love this room at Eaves Hall! With neutral ivory colours and stunning chandeliers, it oozes elegance and is perfect for a wedding with classic, luxury styling.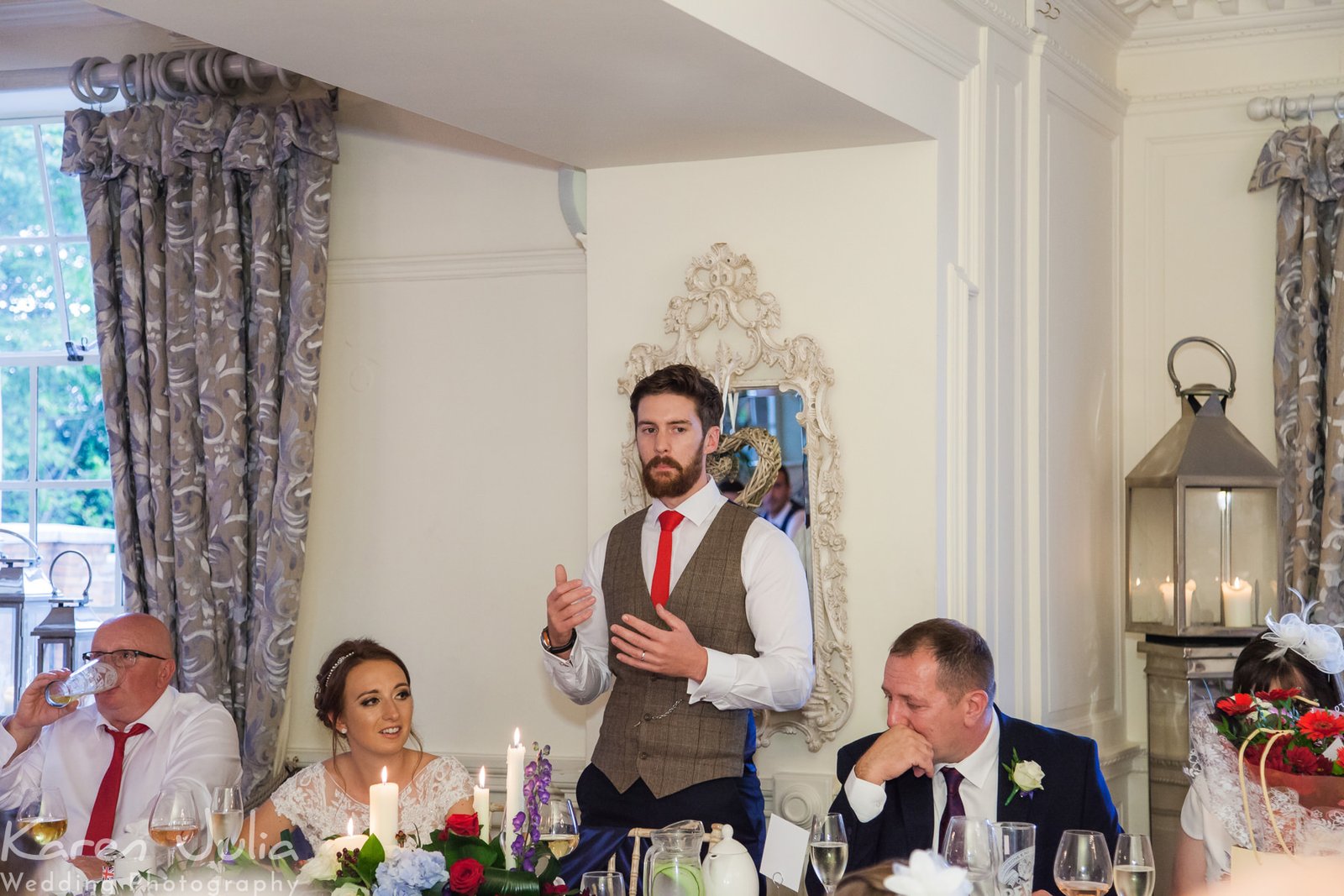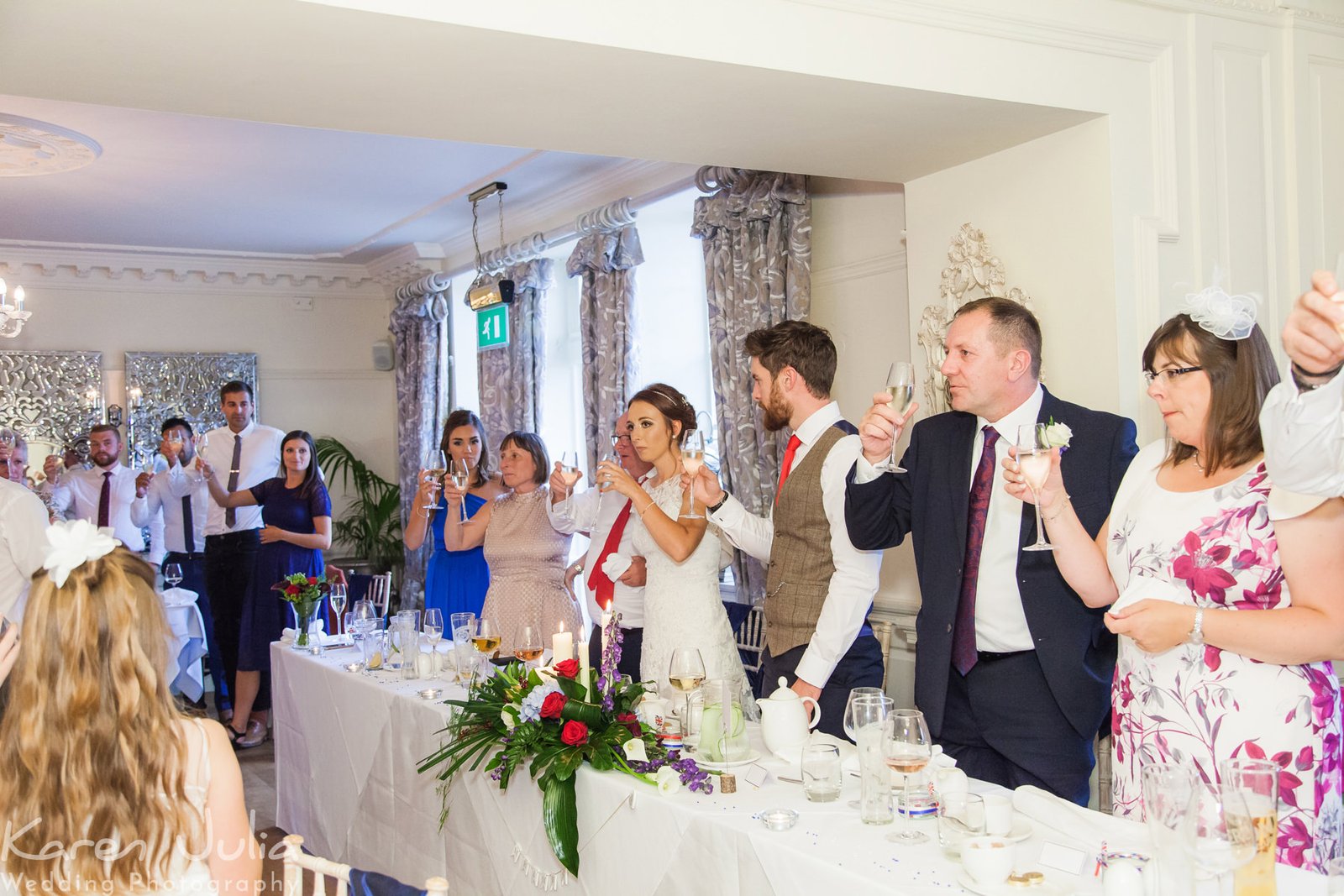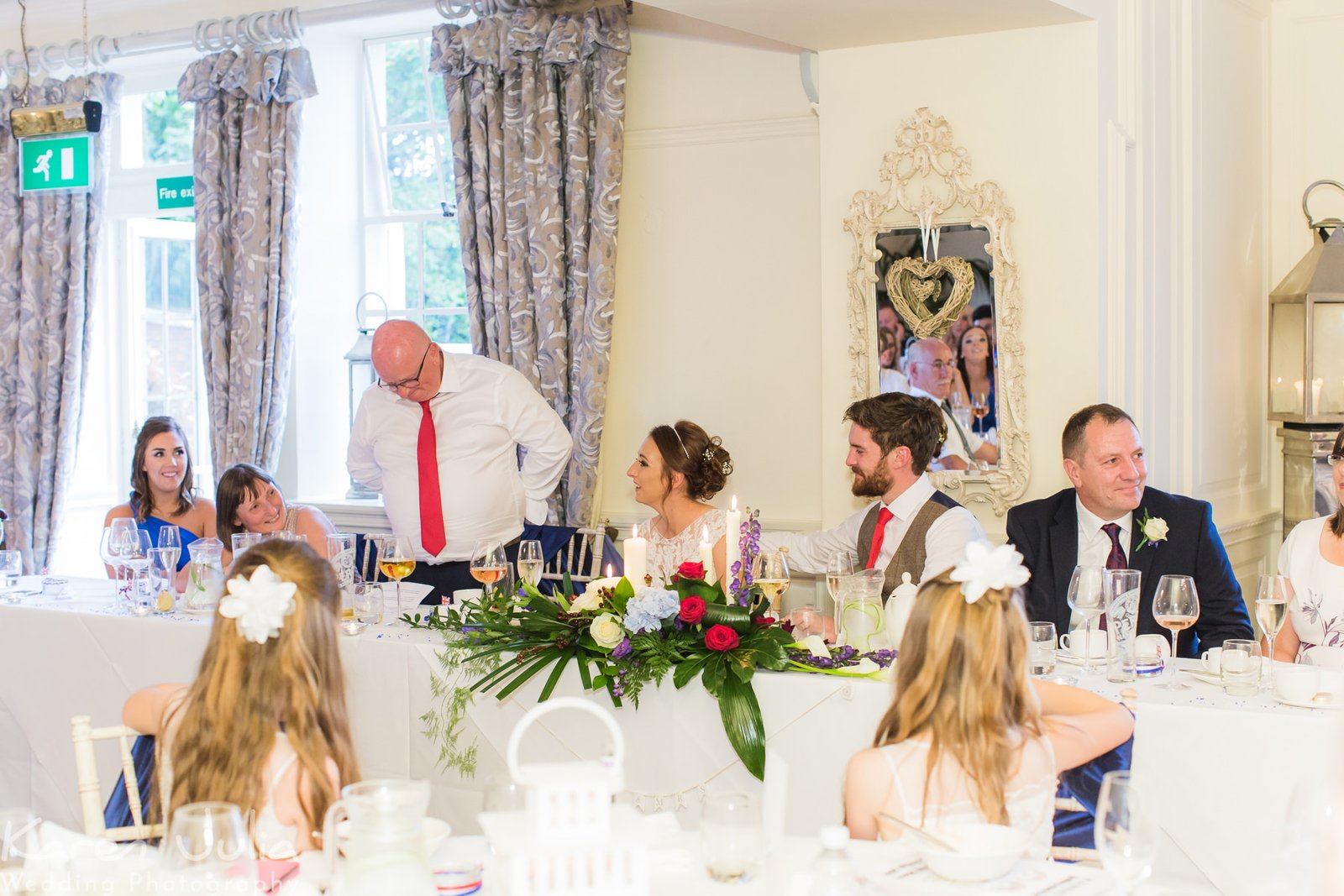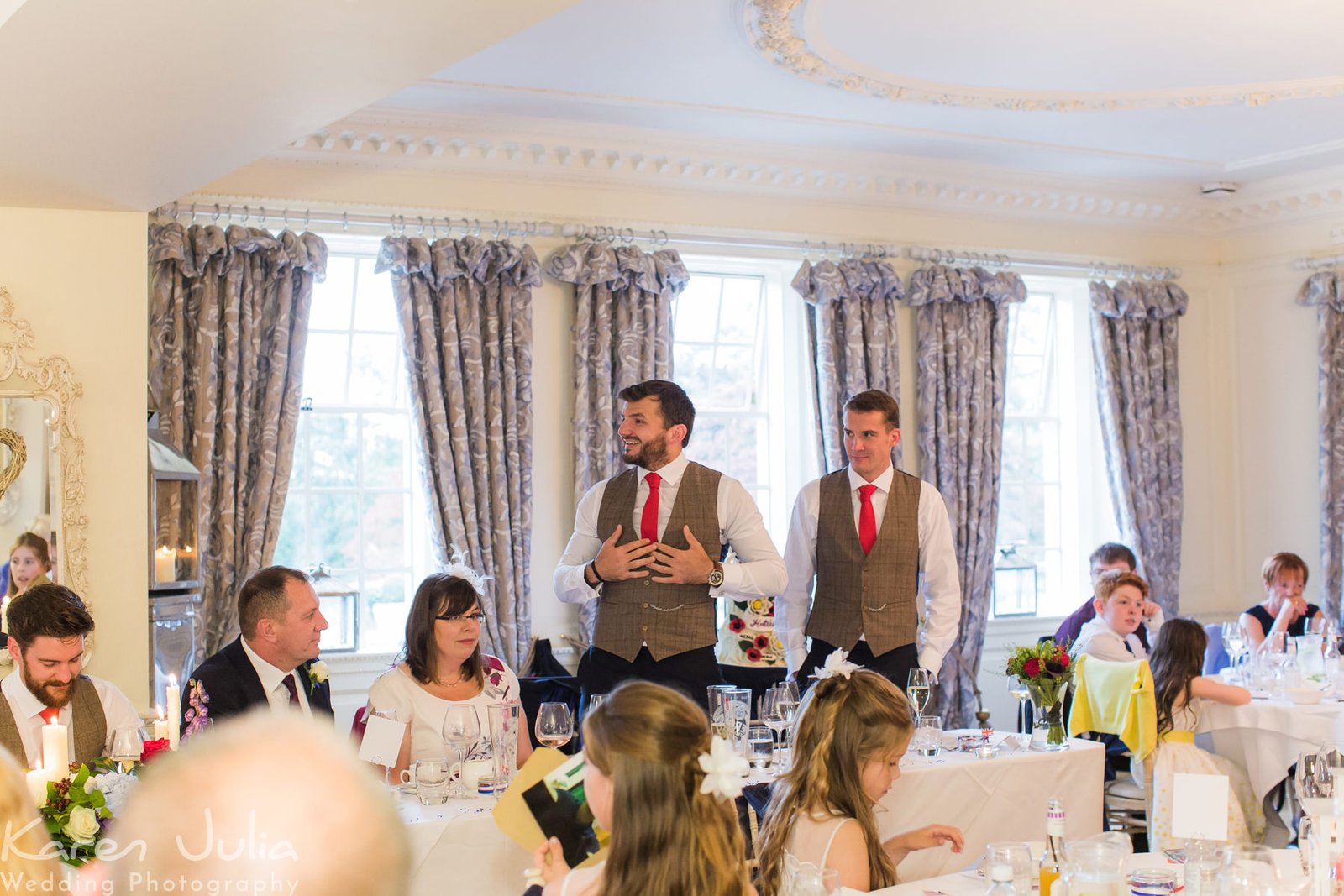 After the meal, there was time for everyone to relax and enjoy drinks in the grounds of Eaves Hall. I like to spend this time shooting candid photos of guests, as well as some informal group photos that any guests would like. Mel had headed back to the room and walked out on to the bridal balcony just as I was about to take this photo.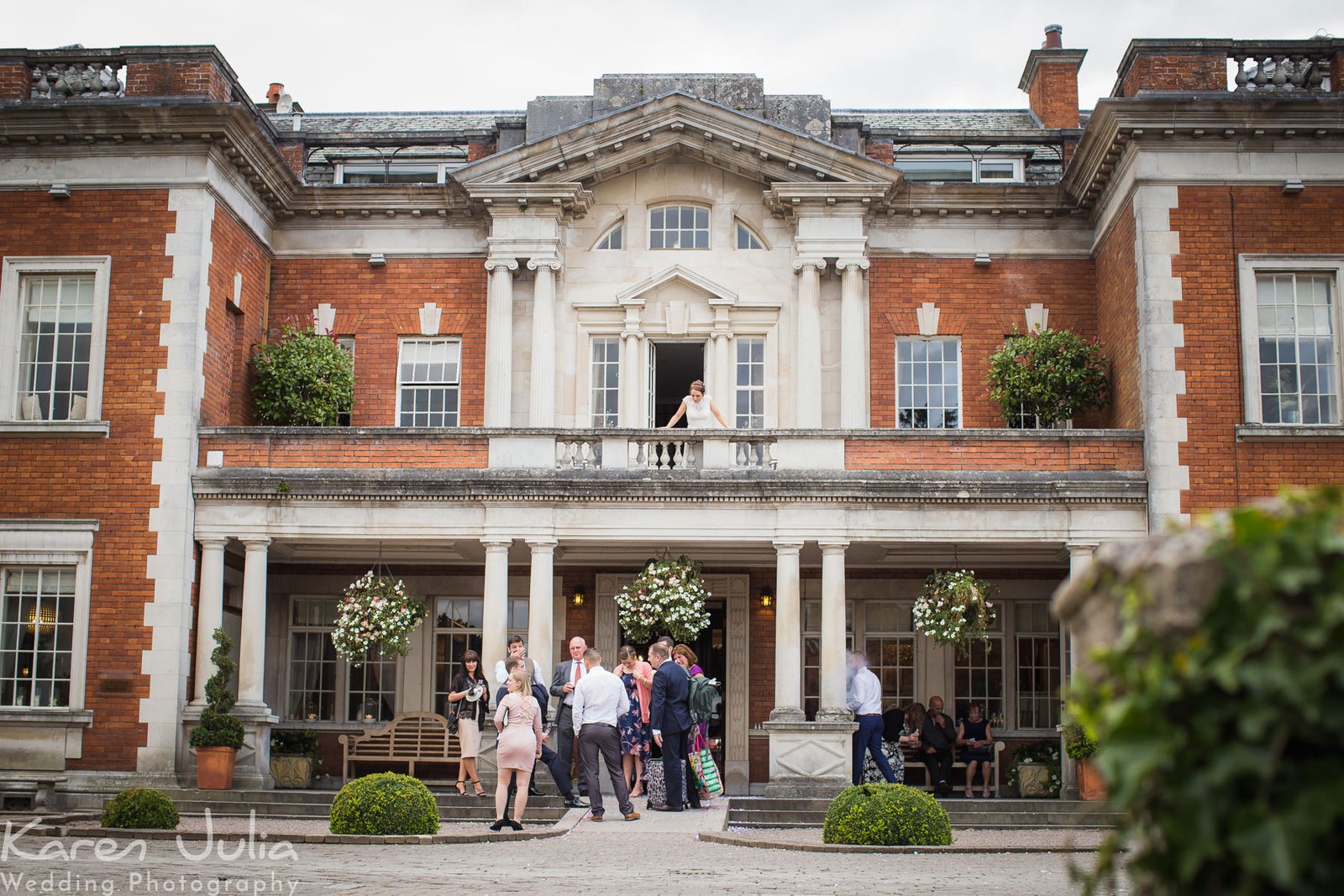 Wedding Reception & Evening Portraits at Eaves Hall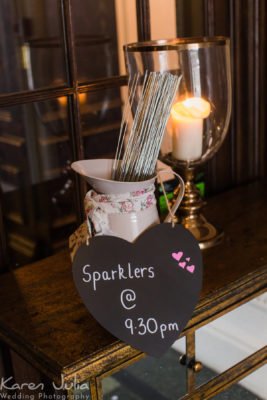 When the amazing staff at Eaves Hall heard we were planning sparkler photos, they searched the office and found both sparklers and a cute container.
One of the team then marked the time in chalk (we'd planned this photo for dusk).
That's one of the things I love so much about this venue! The team are not only warm and friendly, but they constantly strive to give everyone an amazing experience.
I love shooting at the wedding venue so much, and every wedding photographer I know feels the same!
Everything was set for the sparkler photo, we just needed to wait for it to get dark, but not too dark. I find dusk is a great time. That 20 minutes after sunset where the sky is a gorgeous deep blue, and there's just enough light, but not too much.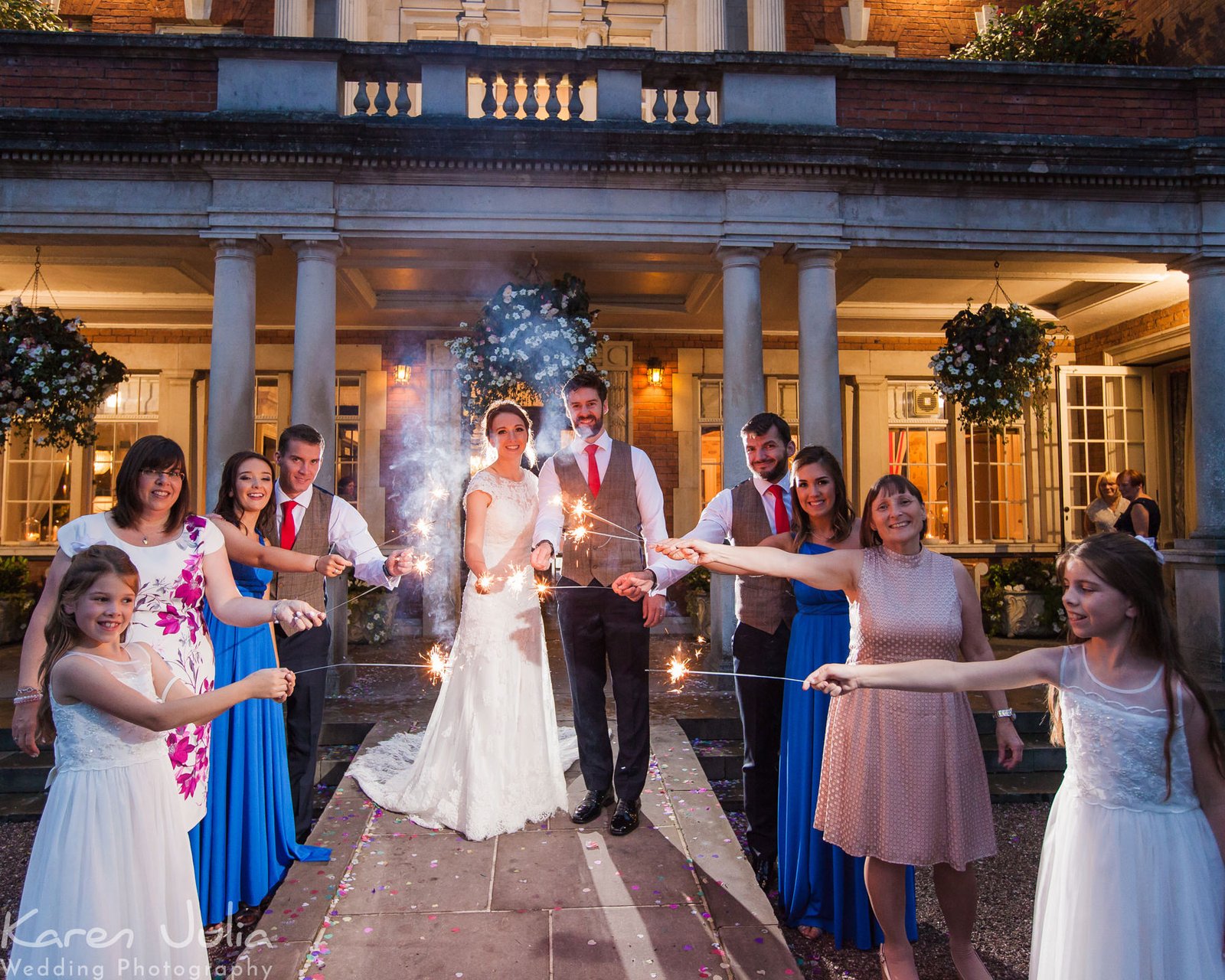 It was then time for cake cutting and first dance. Mel & Stuart had a seriously awesome cake that matched their travel theme.
Coloured uplighters look great in this room at Eaves Hall, they really transform the space!
We had plans for an awesome night portrait of bride and groom after the first dance. We had chatted ideas when we had the planning meeting, and Mel & Stuart were keen to include their colour scheme in the evening portraits.
I'd planned to achieve this by using coloured gels on my flash guns.
I placed a flash gun on the base of each pillar which lit each in blue and red.
But first… Mel & Stuart's first dance!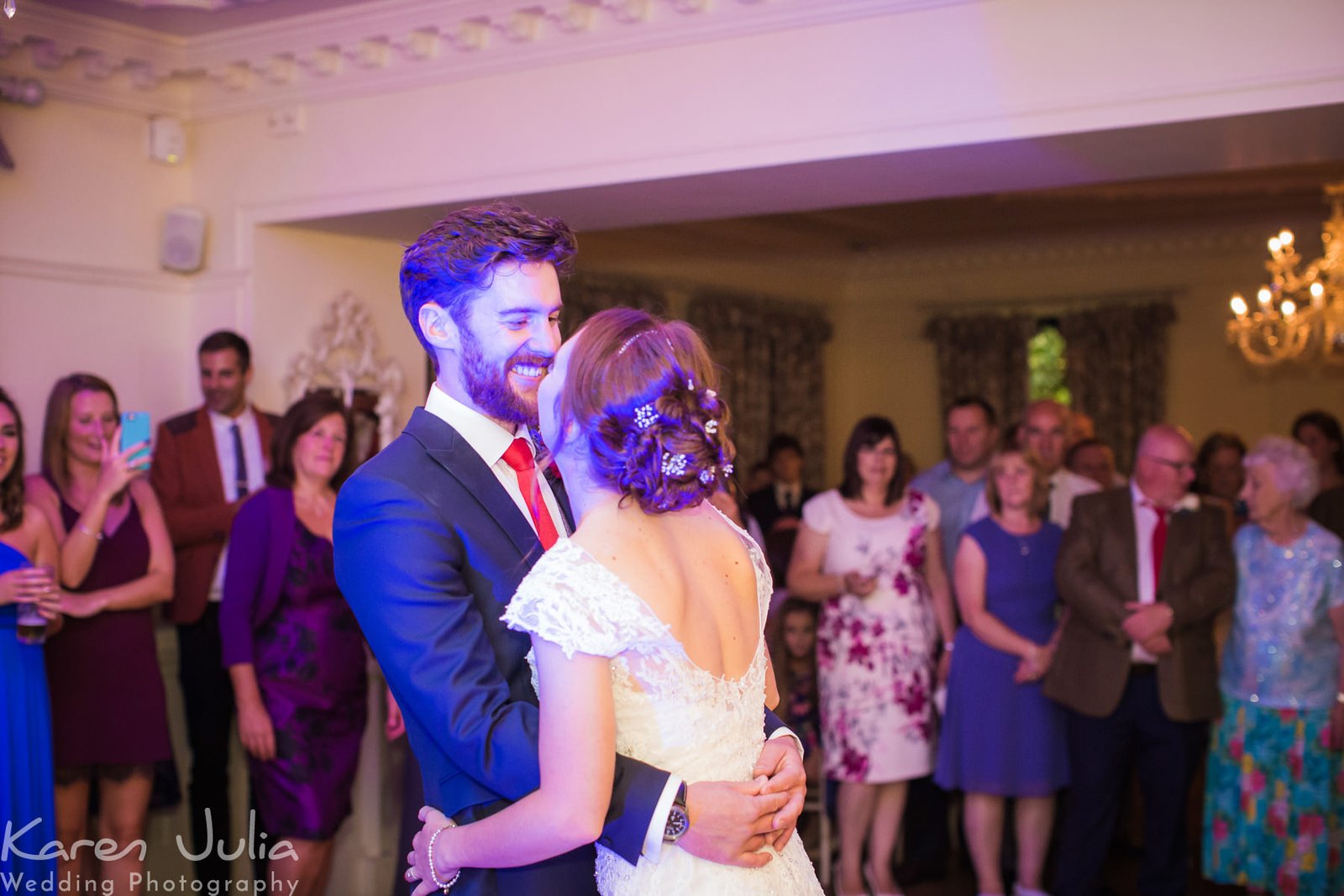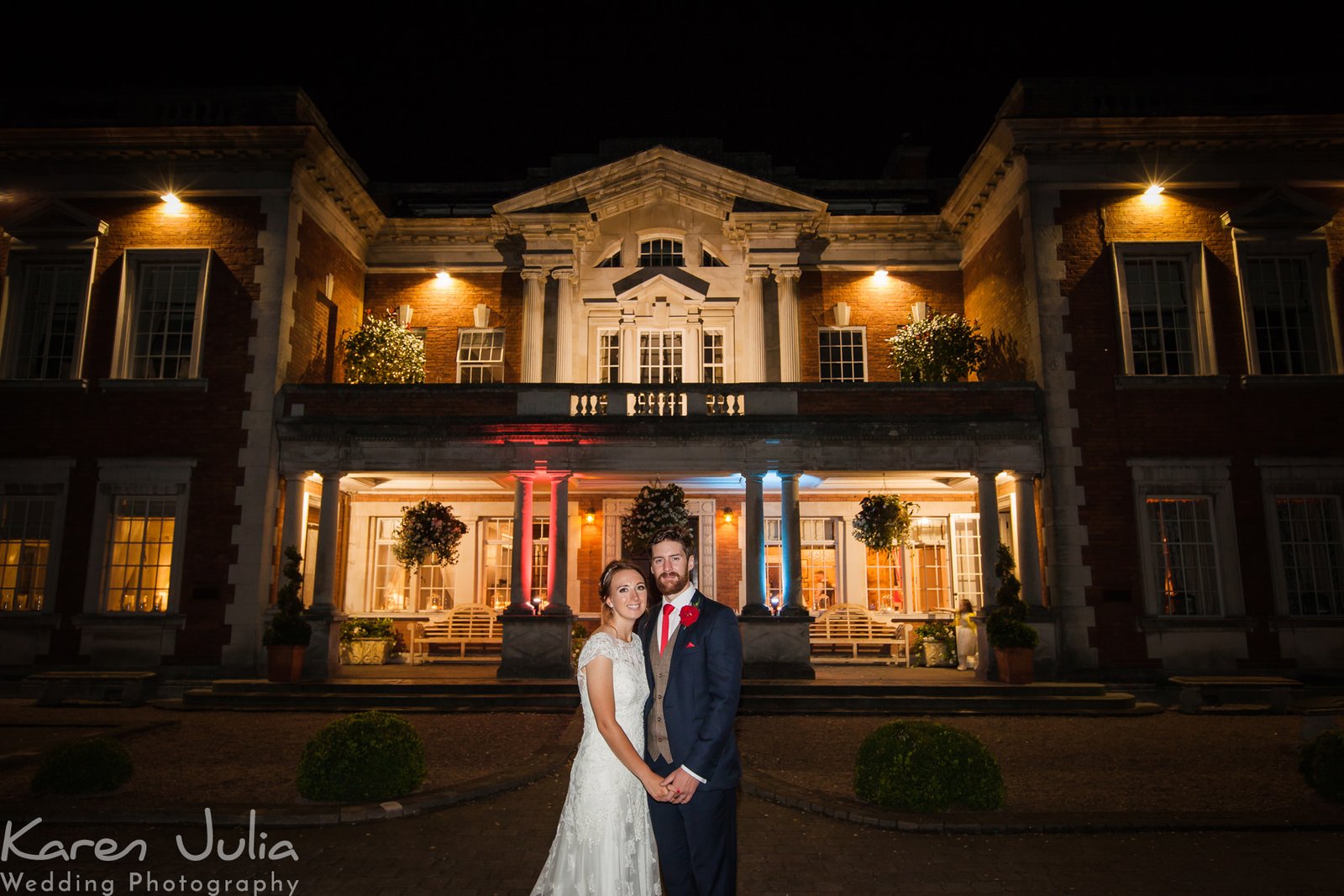 The final photo of the night – a fun group shot on the dance floor. I only shoot this when couples would like it, so it's not essential, but it's a great way of getting evening guests in a group photo too. Thanks to the talented DJ from DFC for helping make this happen.