If you're planning a small, intimate wedding and looking for a beautiful and historical setting, 23 Montrose street would be an excellent choice. This stunning Glasgow wedding venue is a listed building with a beautiful, ornate entrance, located on the east side of Glasgow City Chambers. It's a wee hidden gem in the heart of the city.
There are two rooms available for civil wedding ceremonies. The largest is The Kelvin room which can accomodate up to 30 guests. The Clyde Room is more petite, and can accomodate up to 15 guests.
Wedding Photography
I love photographing weddings at 23 Montrose Street. The architectural details of the Glasgow City Chambers buildings provide a range of stunning backdrops that are perfect for both wedding group photos of family and friends, and creative couple portraits.
I visit wedding venues with every couple, so we'll be able to chat options and can discuss your preferences for locations for photos.
My wedding photography style is very informal and relaxed, mainly focussing on natural, documentary coverage of events without any interruption. I combine this with creative couple portraits using the surrounding space.
Couple Portraits
If you're planning your wedding ceremony at 23 Montrose Street, but looking to have some gorgeous couple portraits that feature the greenery the city is famed for, we can head to one of the city parks after your ceremony to create some portraits of you both.
I can follow behind your wedding car, or if you have not arranged transport, I'm insured for wedding couples to travel in my car. This means we could head to a park, and then onto your reception venue together.
There is usually a fee for wedding photography in Glasgow's parks. Visiting a park would need to be planned for more than a month in advance of the wedding. At least a couple of months before the wedding would be ideal.
This is a key benefit for visiting the wedding venue and chatting photo options. Often couples getting married are unaware of fees for park photos, and the arrangement timescale for permission. Covering this in advance enables couples to get the wedding portraits they want.
The Kelvin Room
This small intimate wedding took place in the Kelvin room, one of the ceremony rooms, in January 2021. This room has lots of lovely features and was adorned with flowers. The wedding ceremony was to take place at 3:30pm. Sunset was 16:01 on that day, so the wedding photos were going to be taking place after dark.
I met with the couple before the wedding so we could get a couple of photos in daylight.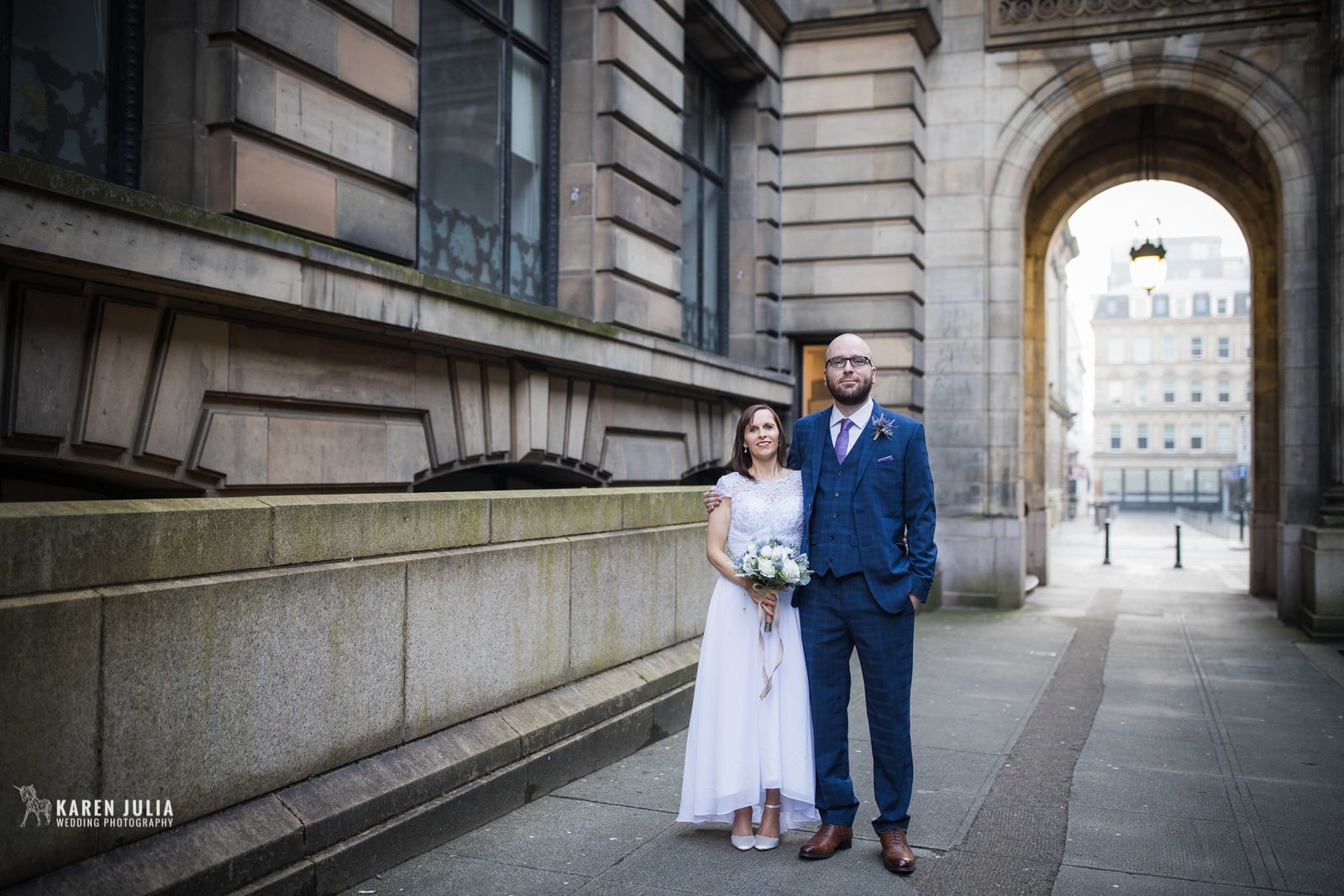 The couple exchanging rings as their witnesses watch on: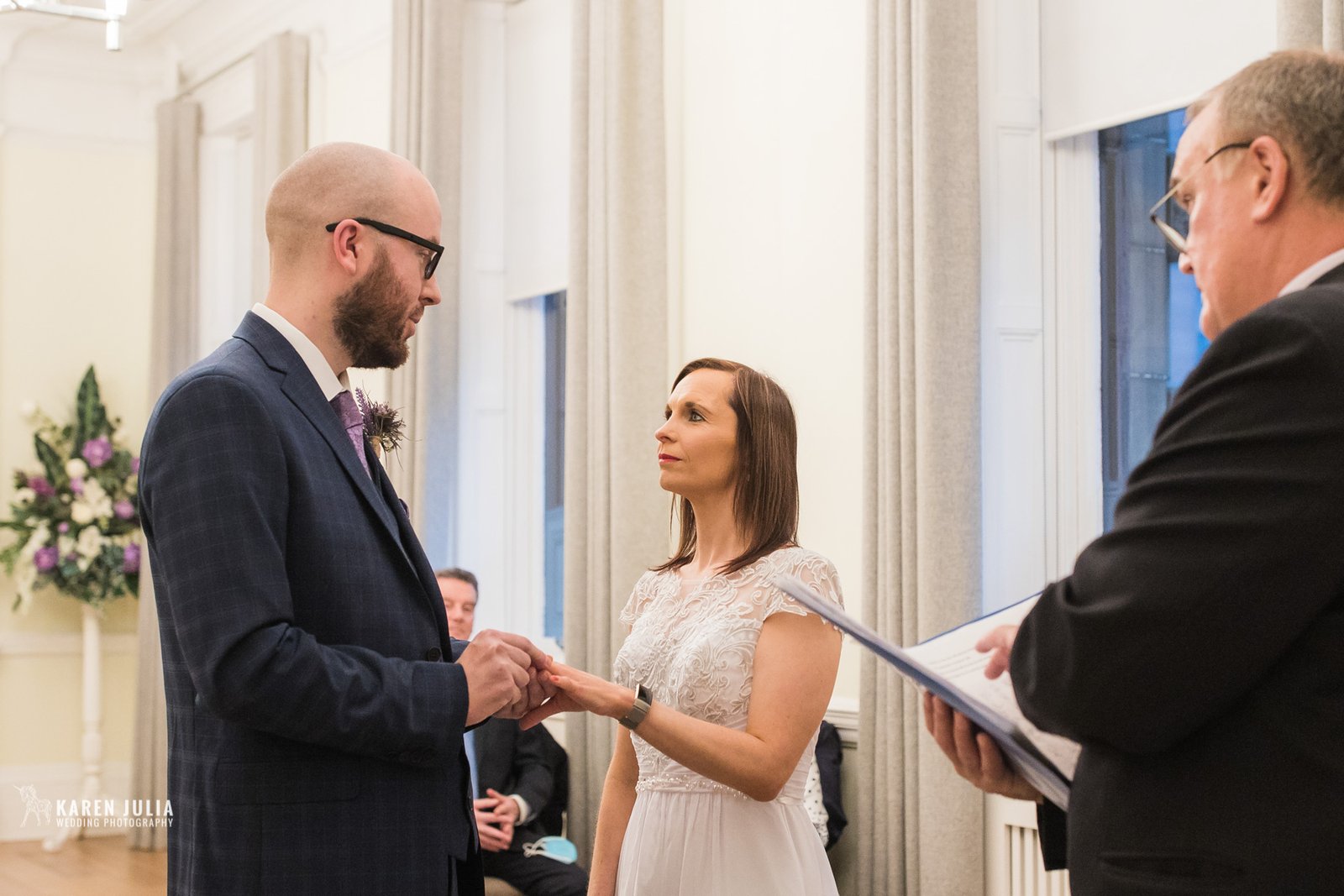 The couple celebrate exchanging vows with a traditional Scottish Quaich. Drinking from the Quaich is an ancient Celtic tradition symbolising love and trust, as newly wedded couple share their first drink together.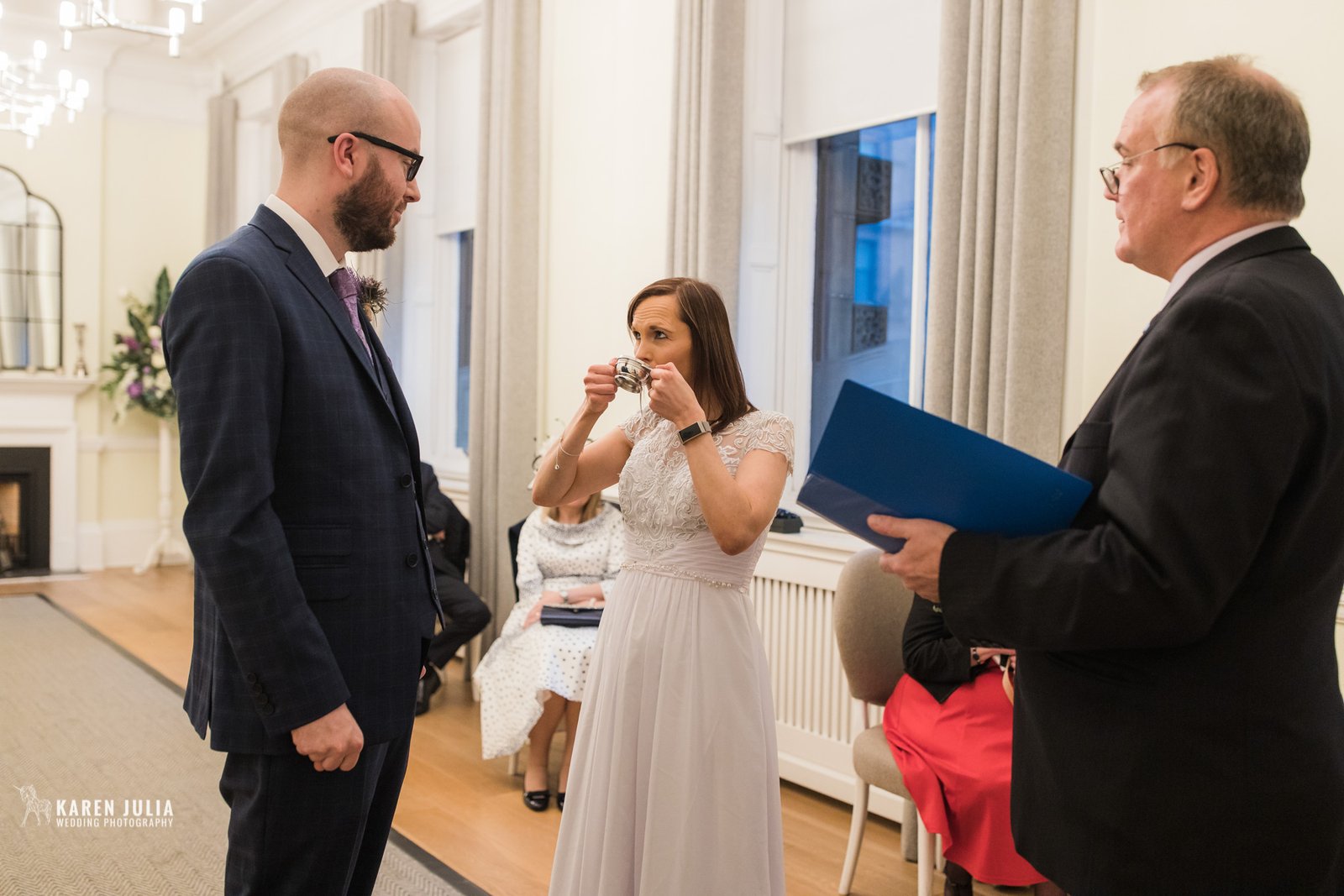 After the wedding ceremony, there was time for a few photos with the register.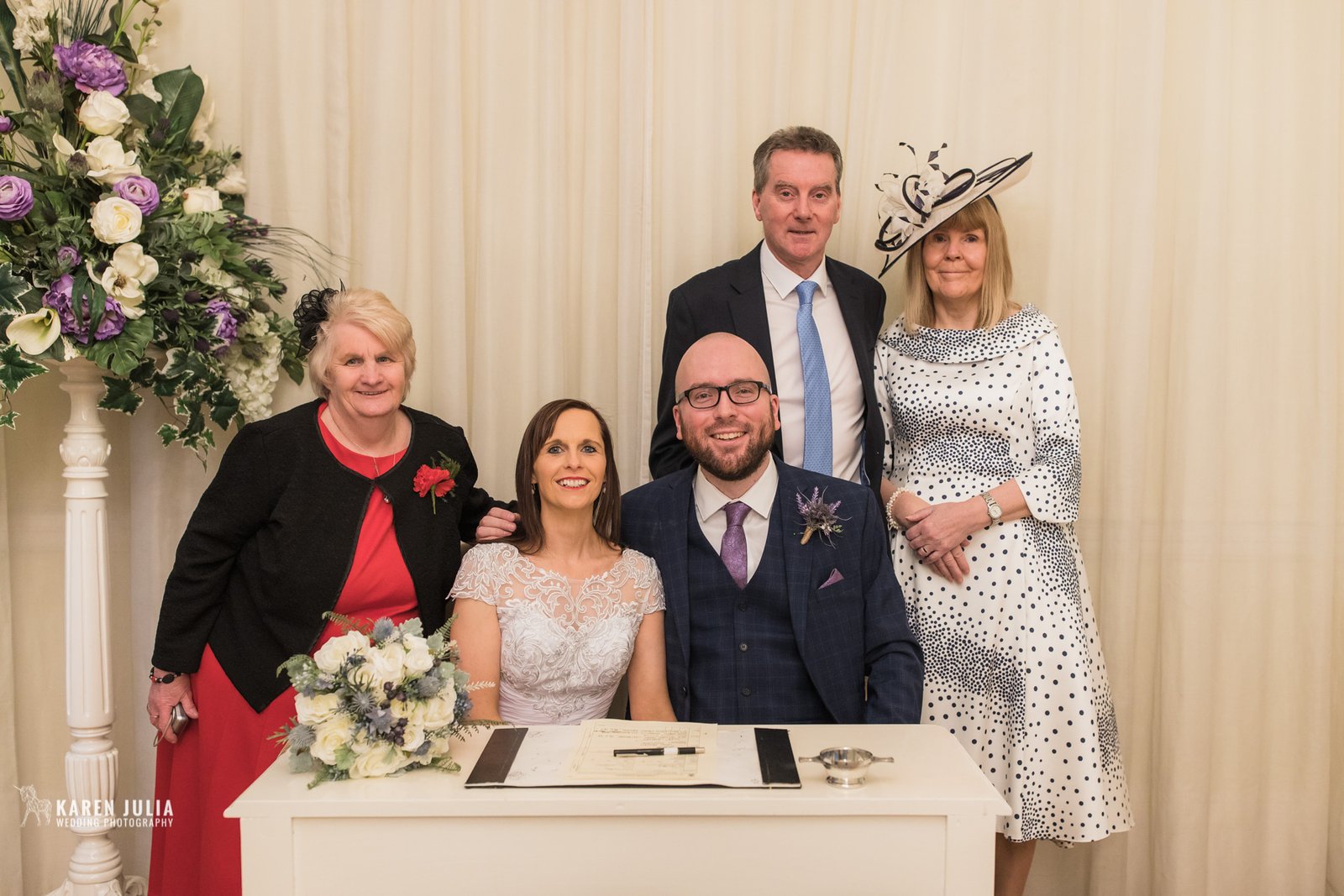 Winter Wedding Portraits
By the time we photographed some group photo combinations in the warmth on the Kelvin Room, the sun had set. I had brought additional lighting for the wedding portraits, and my professional camera lenses mean I can keep shooting in the dark. Thankfully it was not raining, but there was a post-rain misty vibe. I thought it was ethereal, but Lee thought it was a bit more horror-movie esque. Anyway, that was what we had to work with, so we used the space and my lighting, and they got some cool horror movie wedding photos.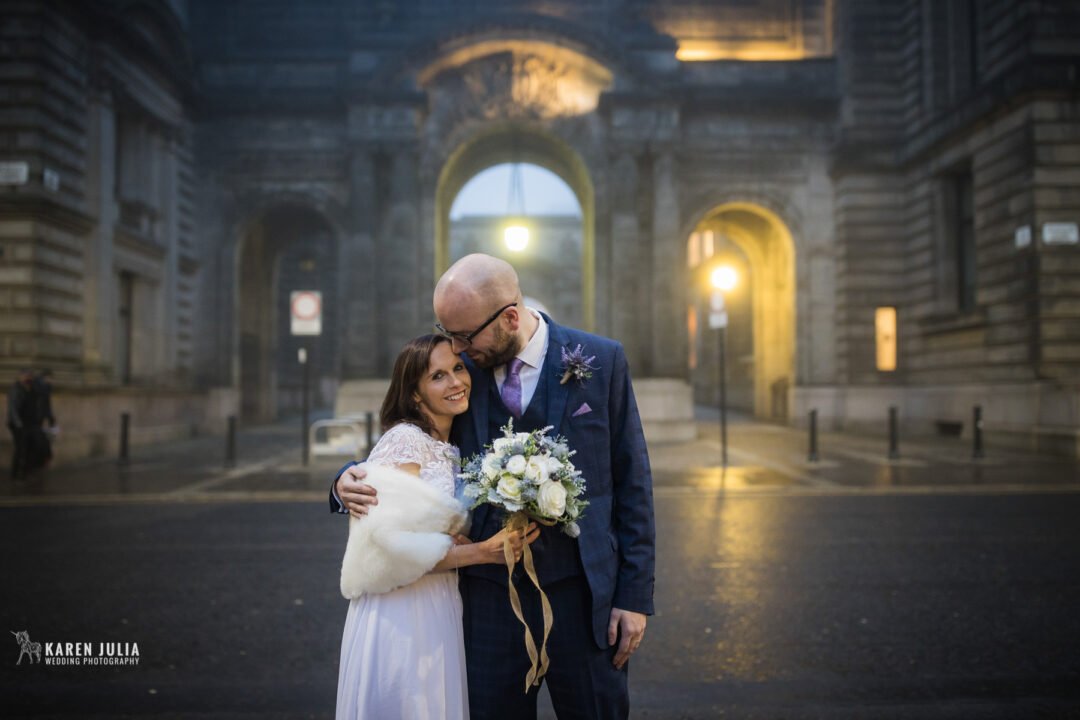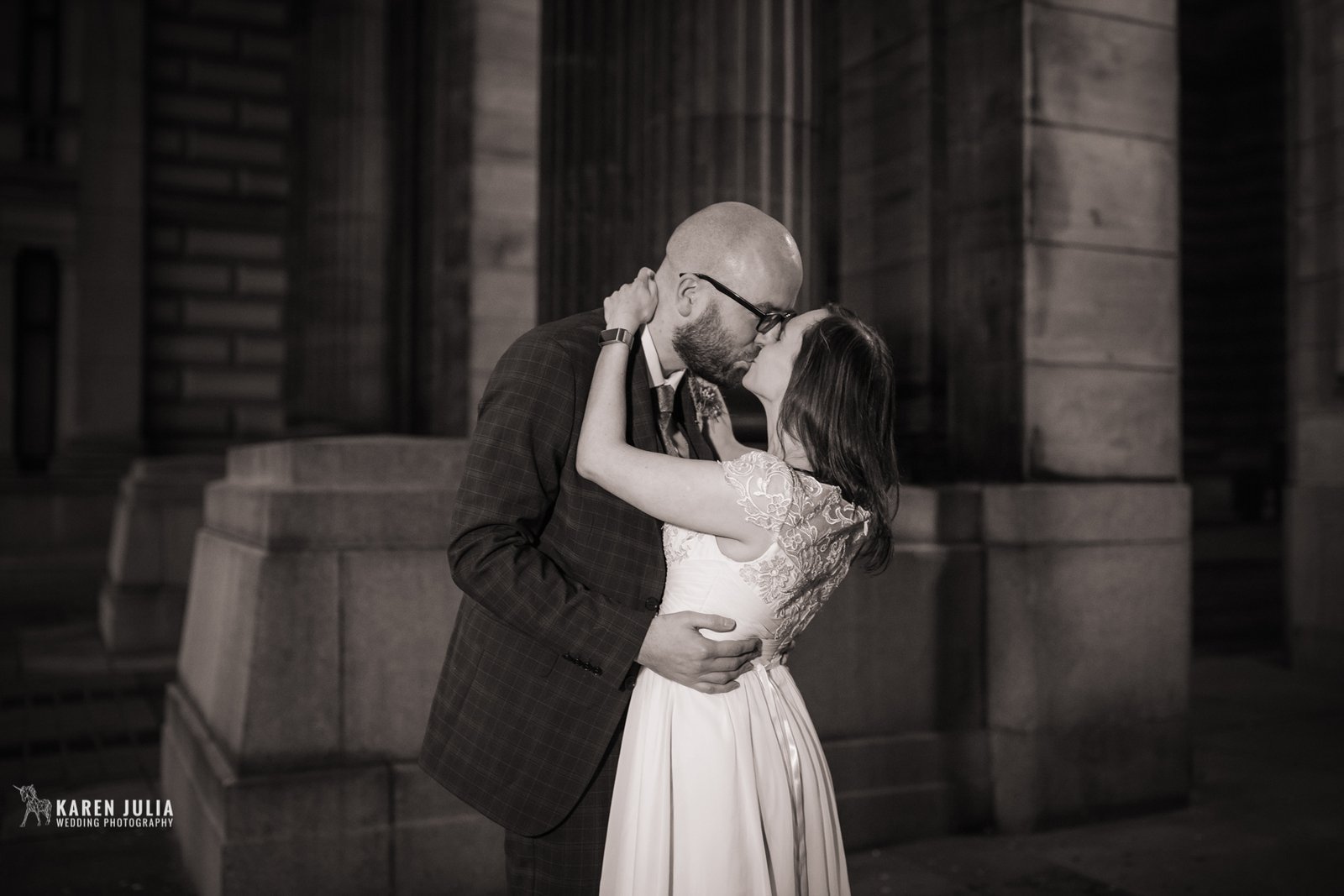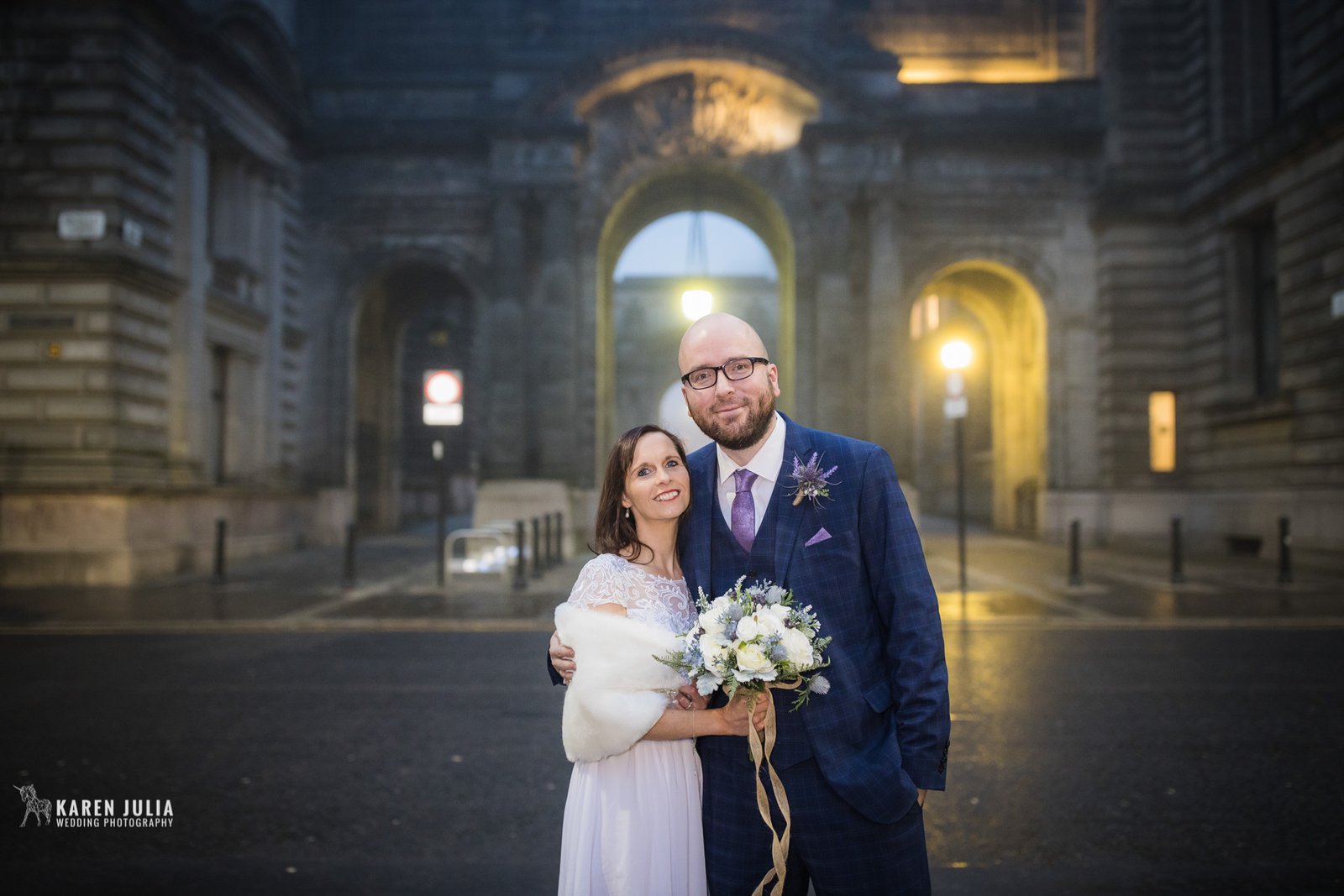 The happy couple received a selection of 150 images from their wedding day which featured a combination of ceremony portraits, couple portraits, and group photos with witnesses/guests.
23 Montrose Street Info
Wedding venue website: Glasgow City Council Ceremony Rooms Info
Address: 23 Montrose Street, Glasgow, G1 1re
Parking: There are parking bays directly outside Montrose Street, with parking allowed for up to 2 hours. There are bays on other nearby streets, including further up Montrose street on the hill, opposite NCP George Street. NCP George Street is the nearest multi-storey car park. Glasgow provides a park-by-phone service for on-street parking. This means you can call the number on the parking meter and pay with a card.