Disclaimer: https://karenjuliaphotography.com is a participant in the Amazon Services LLC Associates Program, an affiliate advertising program designed to provide a means for sites to earn advertising fees by advertising and linking to https://www.amazon.co.uk/. As an Amazon Associate, I earn from qualifying purchases.
In the US, it's a popular trend to have a sparkler send-off at the end of the night. Wedding schedules in the UK tend to be a little different. With that in mind, I wanted to write a post, especially for UK brides and grooms. So if you'd love a wedding sparkler group shot at the evening reception, read on.
To get the best possible results, there's a bit of planning involved, and a few mistakes to avoid. If you're a photographer, there's some useful info at the bottom of the article both about lighting and legalities.
I make some personal recommendations about what wedding sparklers are best on this page, based on my experience of trying out lots of different types. I provide links to them so that they can be purchased directly through Amazon or the supplier website. As an Amazon Associate, I earn from qualifying purchases.
#1 – Forgetting to ask Permission From Your Wedding Venue!
It's best to get permission first, as some venues won't allow sparklers for insurance reasons. National Trust venues may require a risk assessment, so it's important you speak to both the venue AND your photographer well before the wedding to ensure any paperwork can be completed in advance of your wedding. There will be some health & safety precautions to take to minimise risk to guests, so having a sparkler group photo at your wedding is something best planned in advance.
#2: Buying the Wrong Sparklers
Sparklers that are advertised as 'Wedding Sparklers' are typically fairly short, but ideally what you need is extra-long, slow-burn sparklers. The extra-long length keeps the hot bit further away from dresses, and the slower burn time will give your photographer a little extra time to nail the shot.
Look for sparklers with a burn time of at least 1 minute.
I've previously used these: 18-inch Sparklers

At 18 inches long and with a burn time of over a minute, they're perfect. (It's best to wear gloves to protect your fingers though!)
#3 – Forgetting to Speak to Your Photographer in Advance
This is not the type of photo to ask your photographer to shoot at 5 minutes notice! In my opinion, the best results are achieved by using off-camera flash. This is when the flashguns are mounted on stands or held by guests, rather than be attached to the photographer's camera. For this to work, the photographer will need radio triggers. Not all photographers use these as standard, so it's best to mention you'd like a sparkler photo with as much notice before your wedding as possible so that the photographer can potentially order radio triggers and practice using them.
Wedding Photographers – there's a section at the bottom of this article if you're researching settings & light position.
#4 – Using Matches
Matches are probably the worst thing to try and light a sparkler with. They're short, not consistently reliable, and they are simply not hot enough. I take control of lighting the sparklers when shooting a group photo, and there are a few reasons for this. It's best that all sparklers are lit at a similar (but not the exact same) time, and it's best that ignition is as far away from guests clothing (and the bride's wedding dress!) as possible.
#5 – Not Planning Your Sparkler Photo Around Sunset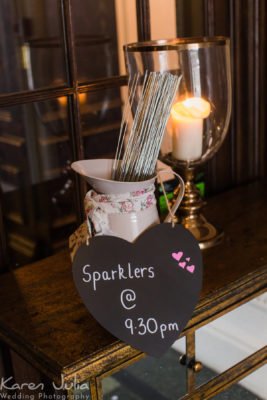 The best time for your wedding sparkler photo will depend on the final look you'd like to have. My favourite time for a sparkler photo is at dusk rather than after dark. There's a couple of reasons for that!
Firstly, I think a deep blue sky and a little ambient light on faces look great.
Secondly, doing the photo earlier in the evening when everyone is (probably) a little soberer is a bit less risky. If your guests have been doing Jaeger bombs at lunchtime, then it's probably best to fake it and have a specialist retoucher work some Photoshop magic!
Once you've agreed a time, remember to let guests know!
Wedding Sparkler Photo Examples
The first photo below is an example of a sparkler photo at dusk.
This photo was taken on 28th August. Sunset on that day was 20:07, and this shot was taken at 20:22.
That deep blue sky look lasts about 15-20 minutes after the sun has set, depending on whether you have a clear blue sky or not.
Settings for the photo below: ISO 2500, 1/60, f4.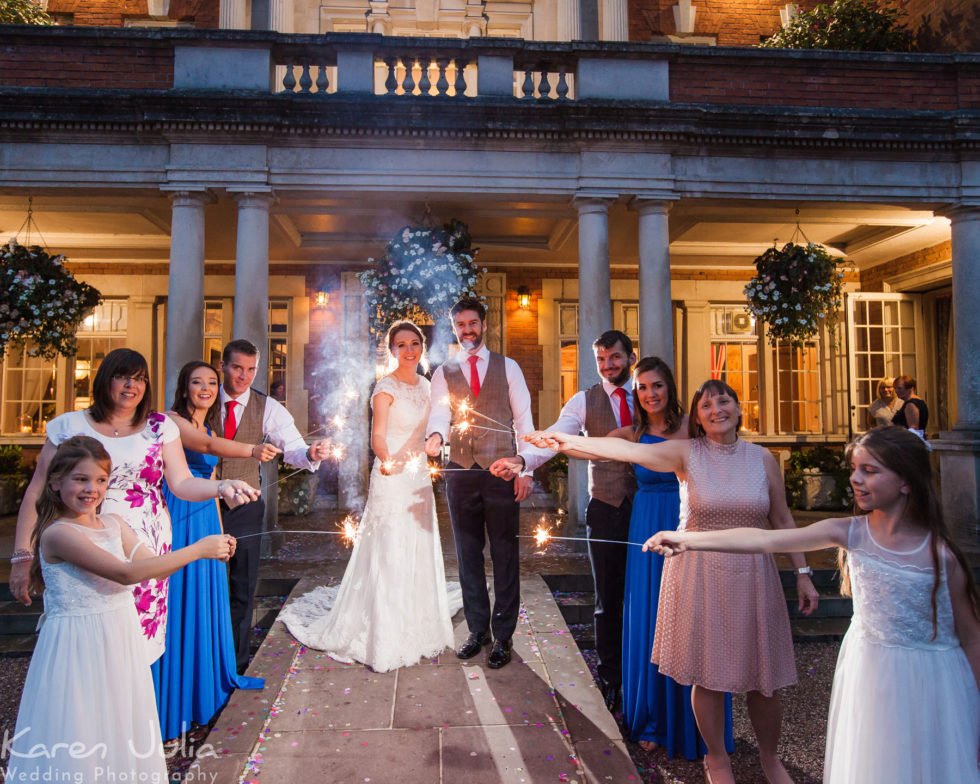 The photo below was taken after sunset at a winter wedding in November at Heaton House Farm.
Settings for the photo below: ISO 800, 1/6, f4 used with shutter drag. (rear curtain sync)
Couple Portraits With Sparklers
This is my favourite way to include sparklers. There's a couple of different looks to go for depending on personal preference and the wedding venue lighting. The examples below were from an Autumn wedding at Mottram Hall. This venue has gorgeous purple lighting, so photos without flash look better than if it was orange lighting or no lighting.
The first two photos were taken using backlighting from a flashgun only.
Settings for the two photos below: ISO 2500, 1/60, f4.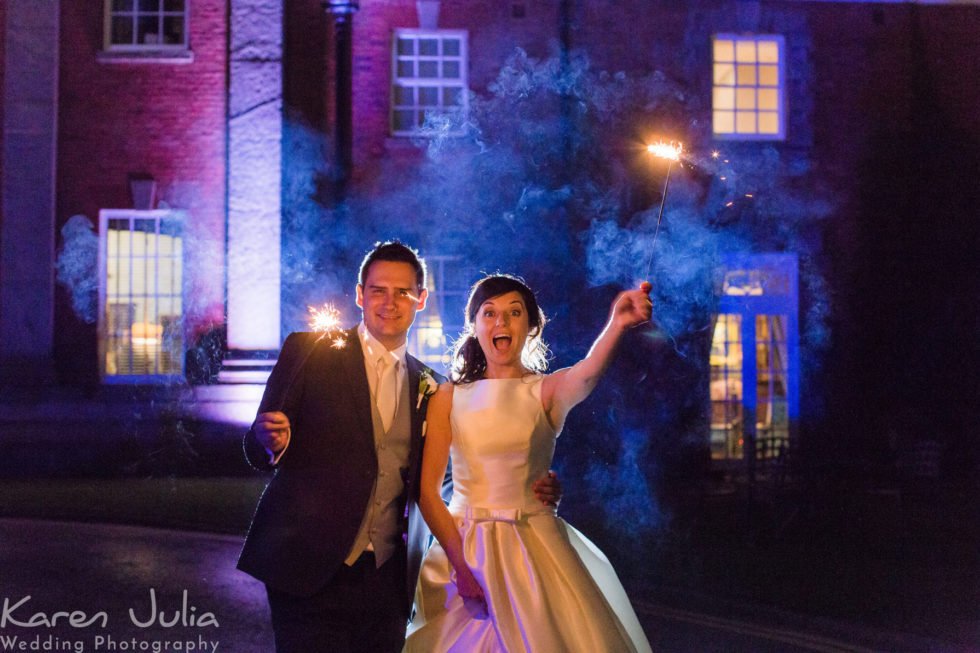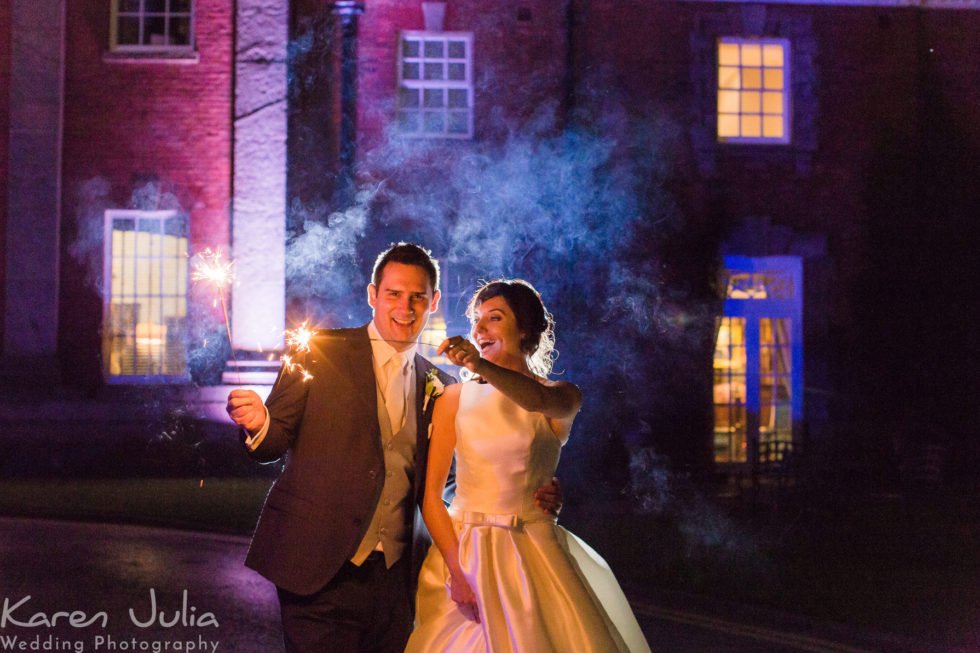 The photo below was taken with on-camera flash, plus a flash backlighting the couple. I think this is my favourite shot from the set. The on-camera flash cuts down the visible smoke.
Settings for the photo below: ISO 2500, 1/60, f4.
For the shot below, I used a flashgun for backlighting, and a shutter drag technique (rear curtain sync) to capture the movement & light trail of the sparklers with the on-camera flash.
Setting for the photo below: ISO 2500, 1/13, F5.6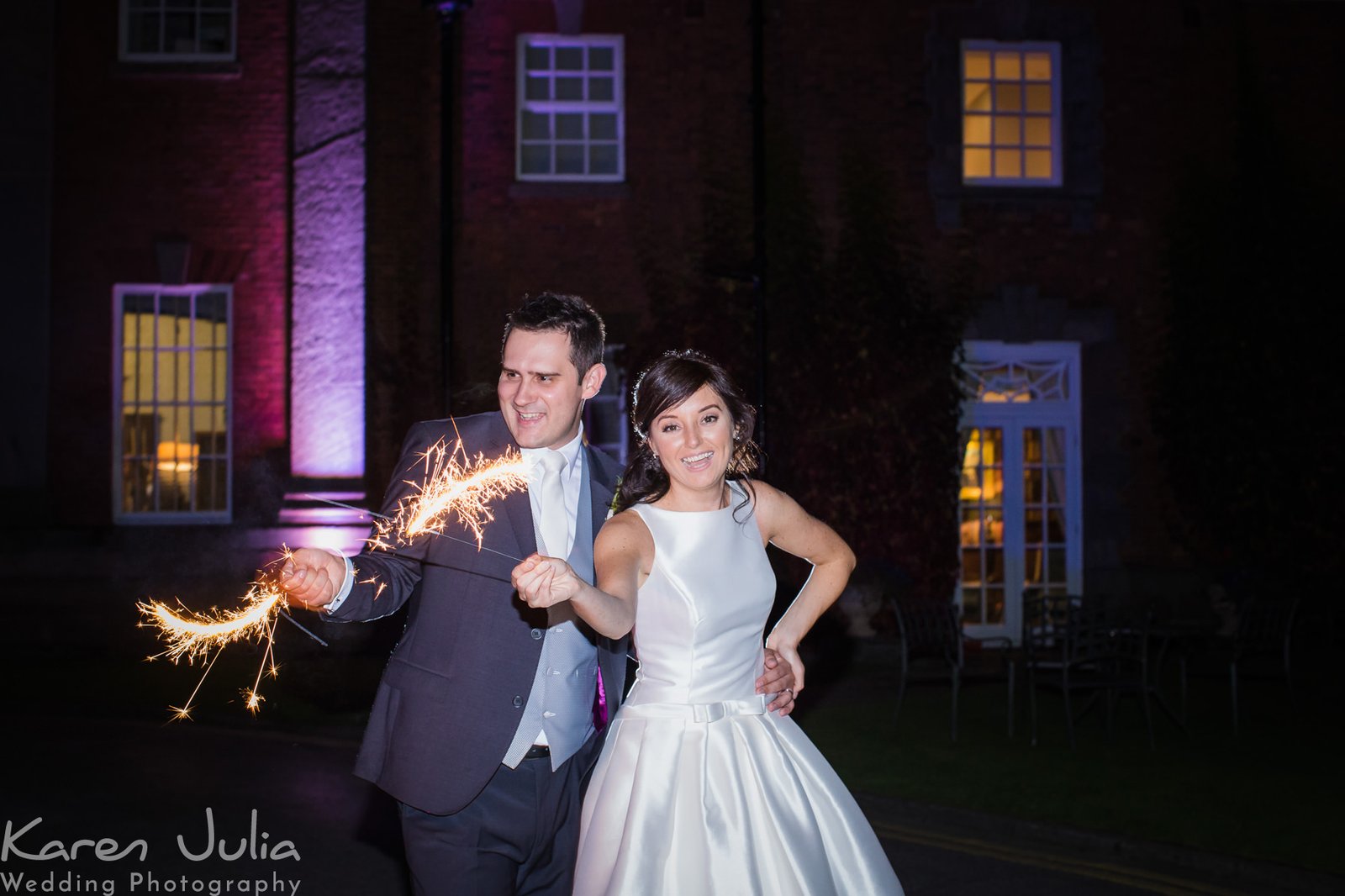 Safely Using Wedding Sparklers
Sparklers can get 6 times hotter than a pan of cooking oil, so it's important that guests holding them are aware of this. Using extra-long sparklers means than the metal the guests are holding may get hot before the sparkler has gone out, so it's important they understand to drop it in the provided bucket of water* before the metal gets too warm. I always recommend gloves, but not everyone wants to wear them. If you'd like to provide gloves for guests to protect them, I'd recommend some cheap magic gloves (black) from eBay or Amazon.
*A metal bucket should be used for this. Sparklers can stay hot for ages afterwards, so they should not be left on the ground. If there's no metal bucket available, wet grass is probably the best alternative.
Handy Sparkler Links
Wedding Sparkler Suppliers
These are the sparklers I've previously used for group photos:
Wedding Sparkler Safety
Here are a few links to sites that offer information and advice on the safe use of sparklers:
Cheshire Fire & Rescue: Sparkler Safety
RoSPA: Sparkler Safety
Wedding Sparklers | Advice for Photographers
This is the typical lighting set up I use for sparkler photos. The light behind separates the group from the backdrop and will also highlight the smoke from the sparklers. Make sure everyone is not packed together too closely or it won't highlight the smoke properly.
Here are the settings I usually start with. I then adjust these to fit the surrounding ambient light/space.
Rear flash: 1/8th full power, no diffuser and not zoomed in
Front flash: Positioned roughly at 45º angle. I typically have the flash pointed straight up & use the Gary Fong Lightsphere with Amber Dome with my flash on 1/16th or 1/32nd of full power.
If I'm using a shutter drag (rear curtain sync) technique, my settings would typically be ISO 800, 1/6 or 1/8, f4 or f5.6. With the shutter drag option, I'd have the flash pointing directly at the guests and set so around 1/32 or 1/64.
Thanks to http://strobox.com/create and the guys at http://www.lightingdiagrams.com for allowing me to use this awesome diagram creating tool for photographers.
Wedding Sparklers | Photographer Legalities
You may be wondering how things stand legally around wedding sparkler use. If you supply them, are you liable for any injuries? If you're a member of one of the professional photography associations, you'll potentially have access to free legal advice around this, but your insurance company will also be able to offer advice.
I spoke to my own insurance company (Hiscox) and they advised that supplying sparklers to wedding guests would require additional product liability insurance, as supplying them would effectively mean they are being sold as part of the wedding package. I was advised I could avoid liability by not supplying them, and instead encouraging couples to buy them directly.
It's best to speak to your insurance company before using sparklers, just to ensure you're compliant with any terms they have in relation to this.
The same situation would likely apply to smoke bombs.