Many of the wedding questions I get from couples are around wedding day timings. As planning progresses, you'll be building up a picture of the day (pun intended!) and it will be really helpful to know the typical durations of various parts of the day to help you plan things.
I include a planning meeting with every couple where we'll go through timings and I can share advice, but if you're in the early stages of planning, this guide should give you a rough idea.
When it comes to photos, it's best to consult with your photographer as there are many different approaches. I specialise in largely informal, natural documentary photography, combined with classic style group photos. The photo timings shown below will reflect that mix.
I've included a sample schedule below to help you with your planning.
First up, Bridal Preparations!
It's always best to check with your chosen make-up artist/hairstylist, but as a rough guide, allow 45 minutes for make-up and 45 minutes for hair per person. Usually, the bride has her make-up done last but remember to allow time to get your dress on. Bridesmaids usually help with the dress so it's best that bridesmaids and your Mum all have their dresses on before they help you in to your dress.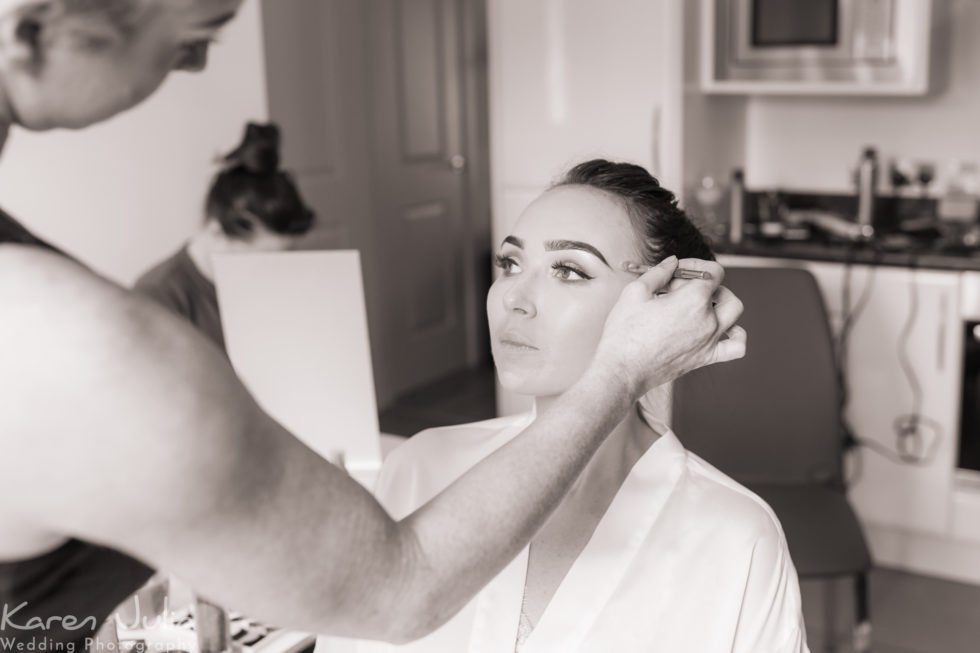 If your dress has a zip with buttons, have a crotchet hook handy as it's easier to do up. If your dress is a lace-up style, ensure the person who's helping with that on the day has attended your dress fitting.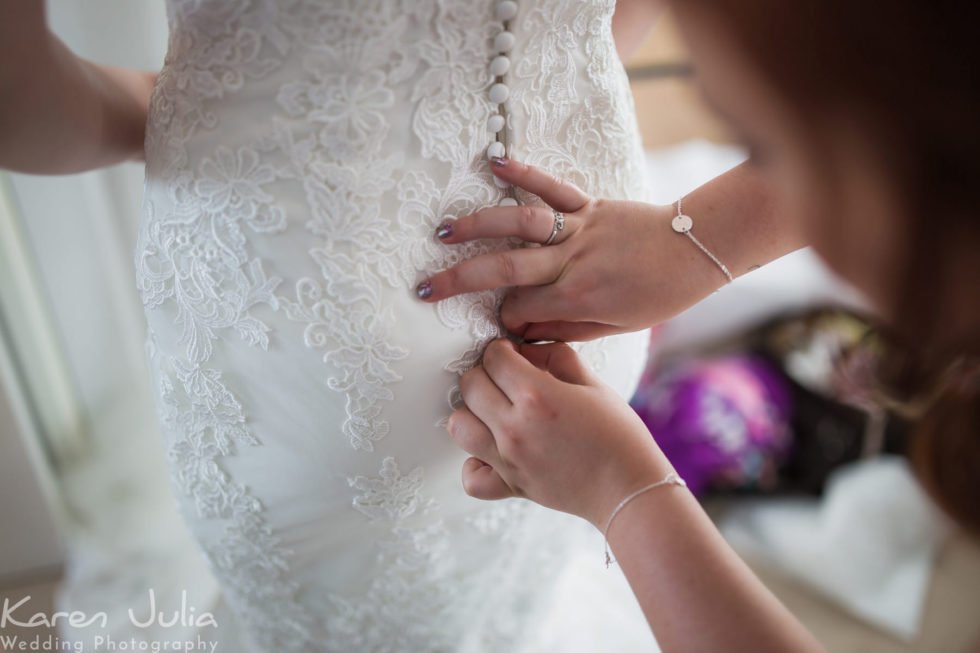 The Wedding Ceremony
The type of ceremony you're having will influence the duration.
Here are the main types:
Register office ceremony – Typically around 20-30 minutes. Having a couple of readings during the ceremony means it will be around 30 minutes.
Civil ceremony at a hotel or wedding venue – At 30-40minutes, these are typically slightly longer than in a register office, often with the opportunity to add in additional personalised vows and up to 3 readings. This can vary in different areas of the country though, so it's best to check with your local register office.
Church ceremonies tend to be around 45 minutes.
Catholic church ceremony – Catholic ceremonies are usually at least 1 hour, but if you're planning a mass at the end, allow for 1 hour and 30 minutes.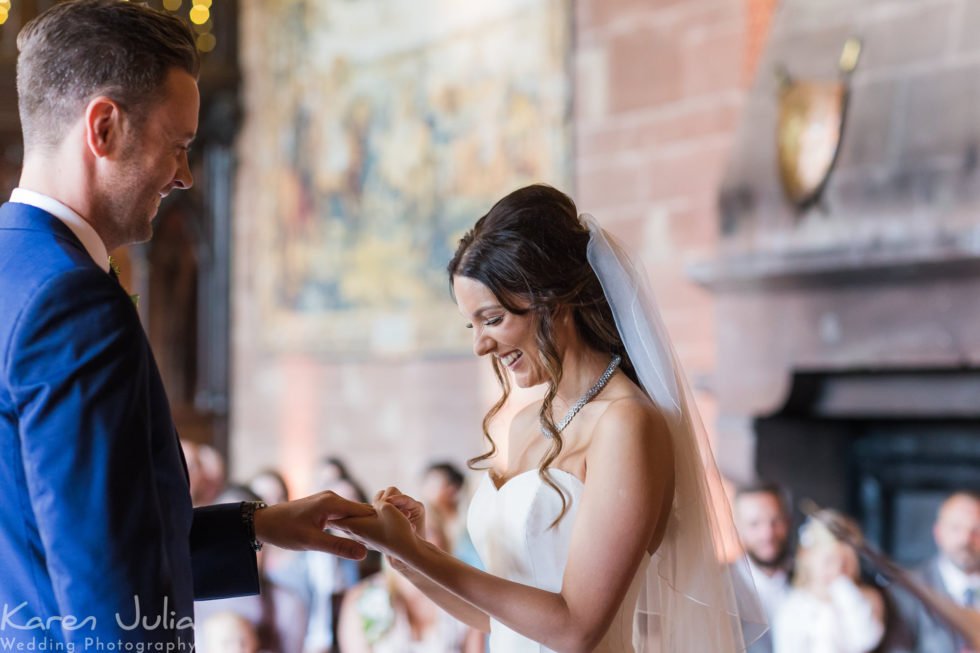 Photography during the church ceremony
Churches do not have one standard rule for photography. Whether photography is allowed or not is down to the church representative who will be officiating your wedding. If ceremony photos are important to you, it's best to check permission before you book the church.
Tip: The guidelines churches give out can state photography is allowed. Sometimes this refers to the signing of the register that takes place after the ceremony rather than the ceremony itself.
Questions to ask your vicar/priest:
Will photography be allowed during the ceremony, including the exchange of rings?
Will the photographer be allowed at the front of the church or will they be shooting from the back?
If photography during the exchange of rings is not allowed, would this rule be relaxed if the photographer's camera was completely silent?
Will the bride & groom be asked to kiss at the end of the wedding ceremony? (Sometimes this is not included, so best to ask in advance).
The reason photography is forbidden in churches is often down to the priest or vicar not wanting there to be any distractions during your wedding ceremony, but with developments in technology, the digital cameras professional photographers now use often have a 'quiet' shutter setting or no sound at all.
I usually attend church rehearsals with my couples to speak to vicars/priests about this directly, so if your church has strict photography rules, but you'd really love a few photos for your wedding album, it may be an idea for your photographer to contact the church directly, or attend your wedding rehearsal.
What Happens After the Ceremony?
In the lead up to your wedding, many people will offer advice and words of wisdom and one thing you'll hear over and over is that your day will fly by. For this reason, I tend to recommend couples spend time with guests and each other after the ceremony.
This is a great time for not only grabbing the champagne and speaking to friends and family, but for your photographer to shoot some natural, unposed documentary-style photos after the ceremony.
If your wedding day is at the same venue all day, allow at least 90 minutes between the end of the ceremony and the start of the wedding meal as it allows plenty of time for you both to relax with guests.
Tip: Getting married in a church? Allow 10-15 minutes to chat to guests afterwards. It can take a good 10 minutes or so for 100 guests to leave the church.
Group photos
Whether you'd like some classic group photos and how many is totally down to you. I find the biggest worry couples have around group photos is to do with how long they will take. They don't have to take that long at all!
Planning your group photos in advance and booking a photographer that's really good at organising people will mean your group photos can be completed quickly and efficiently.
Here's a couple of tips to ensure this part of the day doesn't take to long and you can get back to mingling with guests!
Tip: Planning the photos you want in advance and giving the group photo list to your photographer means they can work out the most efficient order of things in advance, leaving you both with more time to enjoy the drinks reception.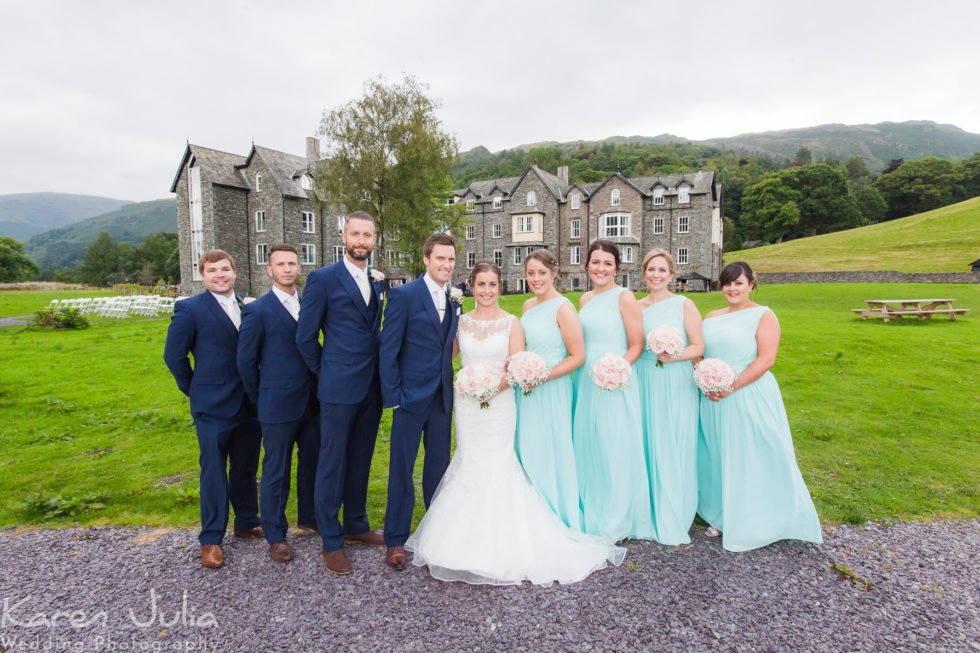 Share Wedding Day Timeline info with guests
Including a start time for photos on the order of service or a chalkboard means guests will know when they're needed and are a little less likely to not be available at the right time.
If you start off with a large group photo of everyone first, your guests are all in the right place for the smaller combinations. The big group photo always takes the longest time to set up, but doing this first will substantially reduce the overall time for group photos.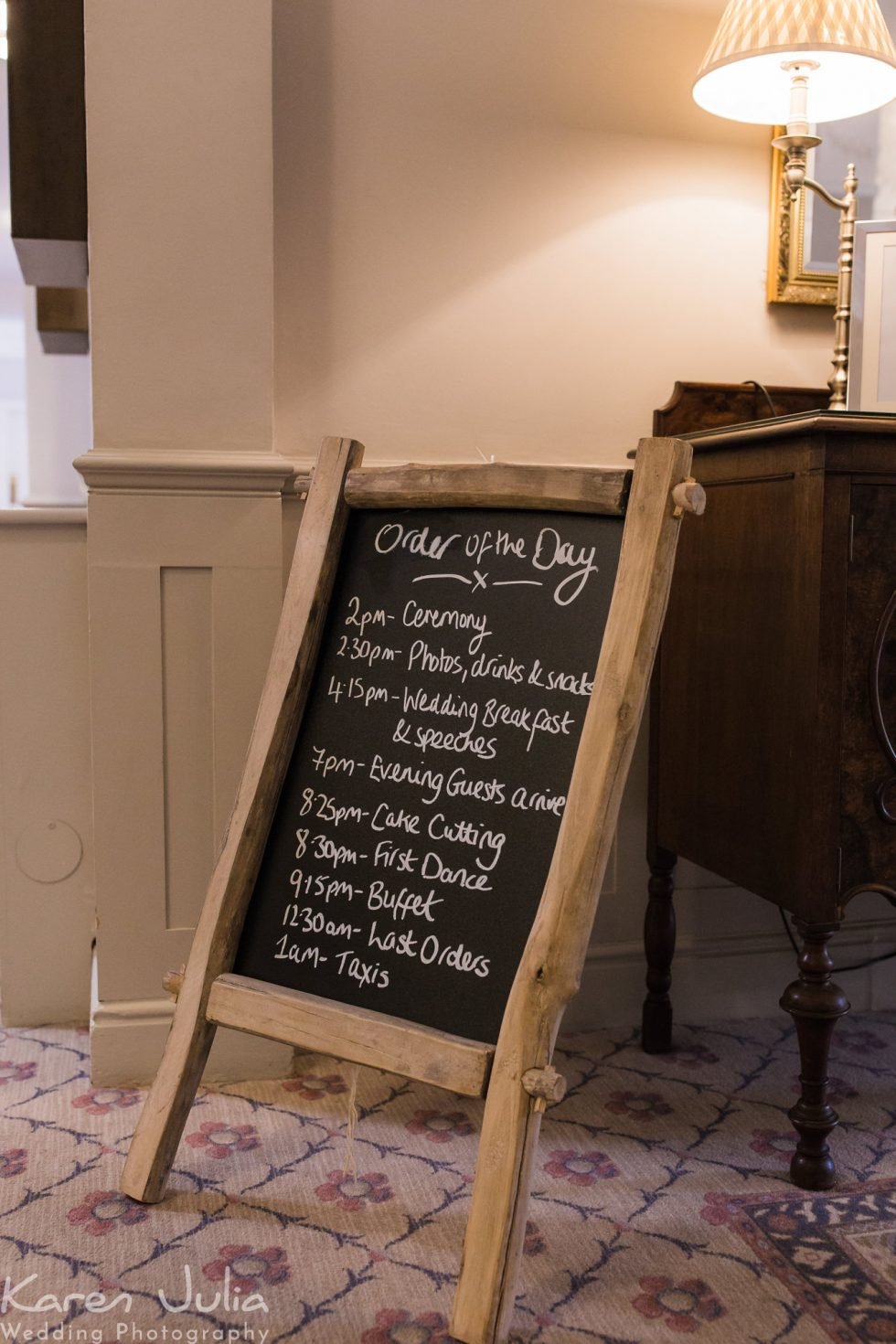 The Wedding Meal
A 3-course meal typically takes 90 minutes. If you're having 4 courses, allow for 2 hours. Always check with your venue though, as some do vary a bit in service length.
Having a Band?
Most bands will do two 45 minute sets. So if you're having an evening buffet then it works really well to plan the food to take place between sets.
Wedding Day Timeline for a 2pm Ceremony
Having your wedding day at the one venue?
Here's a rough outline of what the layout of your day could look like:
14:00 – Ceremony
14:30 – Drinks reception – Tip: Leave enough time to relax and chat with friends and family
15:00 – Group photos
15:30 – Couple portraits for 10-15 minutes
16:00 – Wedding meal
17:30 – Speeches
18:15 – Speeches finish. (most venues need at least 1 hour to change the room for the evening)
19:30 – Evening starts
20:30 – First dance
20:45 – Band 1st set (usually around 45minutes per set)
21:30 – Evening buffet
22:00 – Band 2nd set
Wedding Day Timeline for a 1pm Ceremony
Are you having a Church ceremony with hotel reception?
If so, a slightly earlier start time helps avoid things feeling rushed later in the day.
Here's how that could look:
13:00 – Ceremony (Usually 45min for CofE, 60-90 minutes for a catholic ceremony)
13:45 – Couple exit church followed by mingling with guests
13:55 – Quick couple portrait in church followed by confetti
14:00 – Everyone travels to reception venue
14:30 – Drinks reception at reception venue.
Tip: Allow a little extra time for guests to arrive if they are travelling in their own cars. There's always that one person that gets lost! Use the what.3.words. app to help avoid guests getting lost!
15:00 – Group photos
15:30 – Couple portraits for 10-15 minutes
16:00 – Wedding meal
17:30 – Speeches
18:15 – Speeches finish (most venues need at least 1 hour to change the room for the evening & for the DJ to get set up.)
19:30 – Evening starts
20:30 – First dance
20:45 – Band 1st set
21:30 – Evening buffet
22:00 – Band 2nd set
If you're having a 12 noon or 1pm ceremony, and the wedding is all at the one venue, this will allow time in the afternoon for lawn games.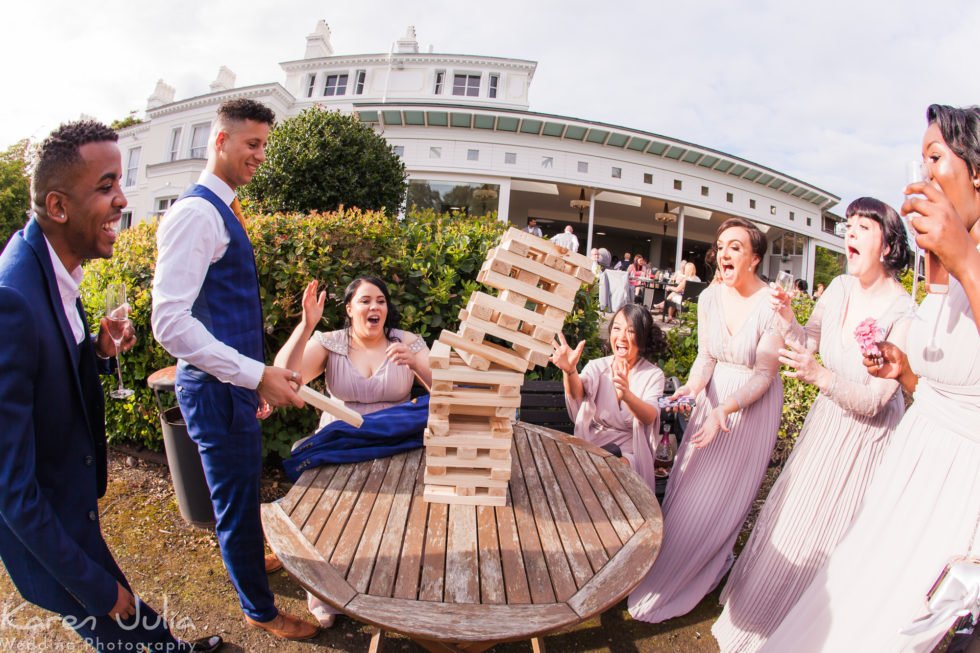 I hope that helps give you some ideas around timings for your wedding!