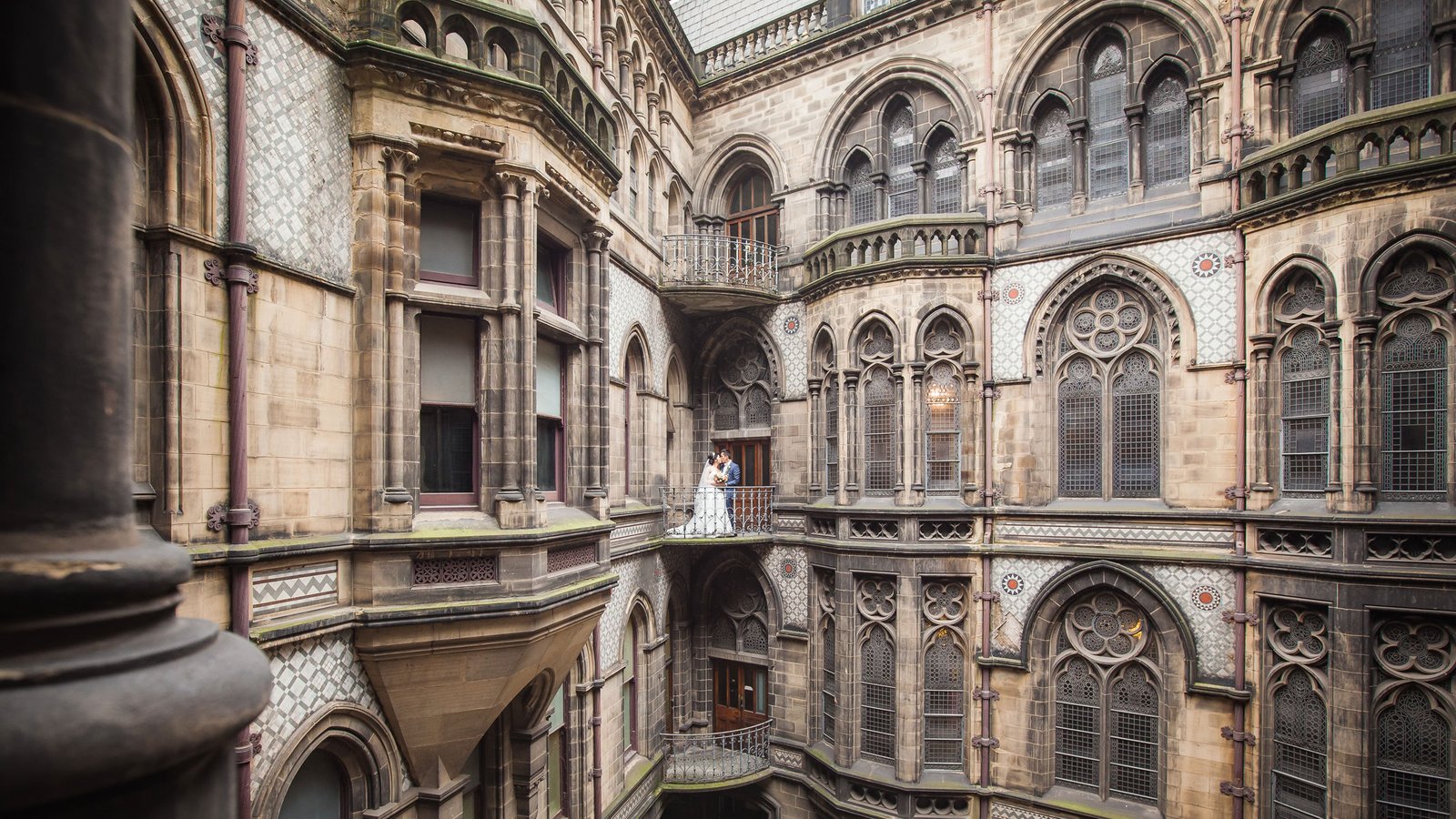 Glasgow Wedding Photographer
Creative, Classic & Documentary Wedding Photography in Glasgow's West End & Throughout Scotland
My wedding photography style is a mix of informal documentary coverage, classic style group shots and creative portraits. I'm a photographer who makes the most of the light, the weather, and your chosen wedding venue whilst blending in with guests like a wedding ninja.
As a professional Glasgow wedding photographer who's recently moved back home to Glasgow, I'd love to shoot in some of Glasgow's unique and quirky wedding venues. I specialise in capturing natural moments at small, intimate weddings. I'm Based in Glasgow's west end which is an area full of stunning Victorian architecture and an abundance of green space, making it an ideal location for weddings.
I'm fully qualified and fully insured, with a wealth of wedding photography experience gained from my many years of shooting hundreds of weddings. By hiring a professional, you don't have to worry about the weather. I enjoy using the weather to creative effect whether that's a clear blue summer sky or a downpour. Rain or shine, you'll have beautiful photos to treasure for a lifetime.
Planning an Intimate Wedding?
With the recent changes in the wedding industry in 2020, you may be considering a small, intimate wedding at one of Glasgow's small wedding venues, or in a beautiful coastal location surrounded by nature. Maybe you're thinking about a micro wedding in a Lanarkshire Mill, a small historic venue in Edinburgh or a highland wedding venue with stunning mountain landscape as a scenic background. I have created a selection of mini wedding photography packages that will provide flexible coverage for small but beautiful occasions celebrated with close family. Wedding photography coverage duration is available for your special day from as little as two hours, ensuring you can have great quality photos to share wedding day stories with friends and family not in attendance. Whilst I'm a Glasgow wedding photographer based in the west end, I'm happy to travel throughout Scotland, from the Scottish Borders to the Isle of Skye, from Ayreshire to Aberdeen and beyond. I'm also happy to provide a wedding photography service to Orkney and the Shetland islands for 'destination weddings' in Scotland.
What's Documentary Wedding Photography?
I'm mainly a documentary wedding photographer. This means I mostly shoot weddings in a documentary style (also called wedding photojournalism or reportage photography). This approach involves capturing unposed natural moments as they happen. I usually start in the morning with the bride and or groom and mix this style of documentary photography coverage in with editorial style photos of details, and a few photojournalistic style group photos.
Then throughout the wedding, whether that's capturing candid moments during wedding speeches or guests mingling with the bride and groom during the drinks reception, documentary coverage is great for telling the story of your wedding celebration, capturing authentic emotion during meaningful moments and really being able to see everyone's personalities in the photos.
Most of all, it's these fleeting moments, the connections between people, and of couples in love, that you'll look back on and treasure for years to come. I have a passion for recording wedding events authentically, with creative compositions and in a mixture of colour and black and white photos.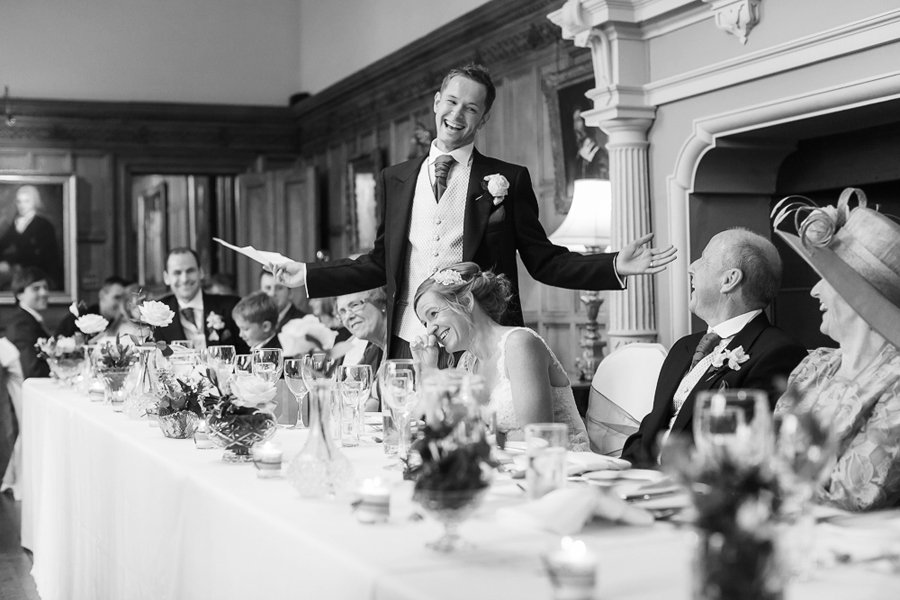 My approach to any wedding day as a professional wedding photographer is to take what's there and make the absolute most of it creatively. I believe that weather is just part of the day and whilst everyone loves a perfectly clear blue sky, it can never be guaranteed.
Furthermore, your wedding photos should never be limited due to weather, and by bringing the right specialist equipment to your wedding and using my many years of experience I can work with pretty much anything. On a cloudy day that may mean accentuating a sky to create a dramatic portrait, or adding light where there is none (Group photos after sunset? No problem!)
My car is fully equipped with a selection of umbrellas and my kit is weatherproof, so whilst you may not want to go outside in the rain, I'm all for using a downpour and creating something beautiful.
I love working with couples to talk creative ideas about photography options on their big day. This is one of the reasons I think visiting wedding venues with my couples is important. It's a great opportunity to look around the wedding venue together and chat ideas.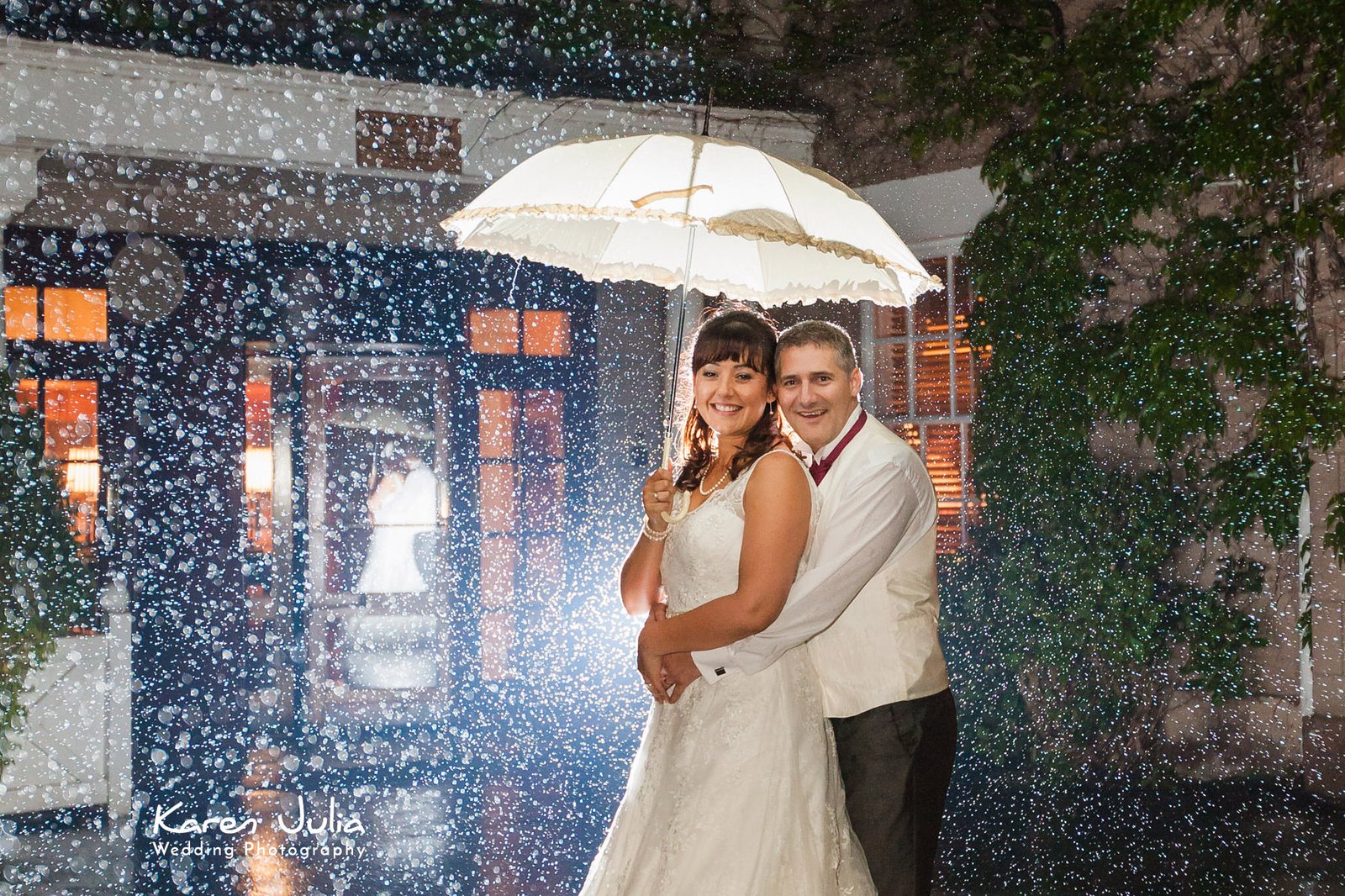 Photography of The Evening Reception
The evening reception is a big part of the wedding and as a documentary photographer, I love staying late enough to ensure that I capture evening guests arriving, informal group photos of your friends, and not only the first dance but some dance floor action in your wedding imagery as well. These are the fun photos with a playful vibe that will provide great memories.
I tend to find by 10 pm I have enough coverage to tell the story of your wedding, but if you have fireworks planned, I'm more than happy to stay later (I love my job, so I'm never in a hurry to leave). If you'd like sparkler photos, I can advise on the best ones to buy, and I do love shooting a quick end of night couple portrait, whether that's with a sunset or some creative lighting.
Because I stay later, you get more in-depth coverage of evening guests, and the opportunity for a few impromptu group photos if you wish (as well as lots of photos!).
I usually cover the full wedding, from preparations in the morning to the speeches after the wedding breakfast and on until the first dance and the party. I offer shorter coverage options for Glasgow city centre and west end weddings.
Wedding Photography Packages
Wedding photographers typically offer a wide range of different packages and prices to suit different wedding sizes and durations of coverage. (Learn more about price information).
I have a selection of options geared towards weddings and elopements of different sizes and in different locations (local or on one of Scotland's beautiful islands) designed to fulfil your wedding photography needs and price budget. There are features that I include in every wedding commission, which are:
A wedding venue visit for every couple.

Help planning a group photo list for couples who would like group photos of guests.

Attendance at your wedding with pro level camera and lens equipment.

All high resolution wedding pictures delivered via an online gallery, so that these can be downloaded and shared with friends and family.

Your password protected gallery will stay online for at least 12 months, enabling you to download your images at a later date.

Full printing rights, so that you can obtain your own prints if you wish. (I can also provide professional prints of your photographs).

High resolution pictures supplied on a USB drive.