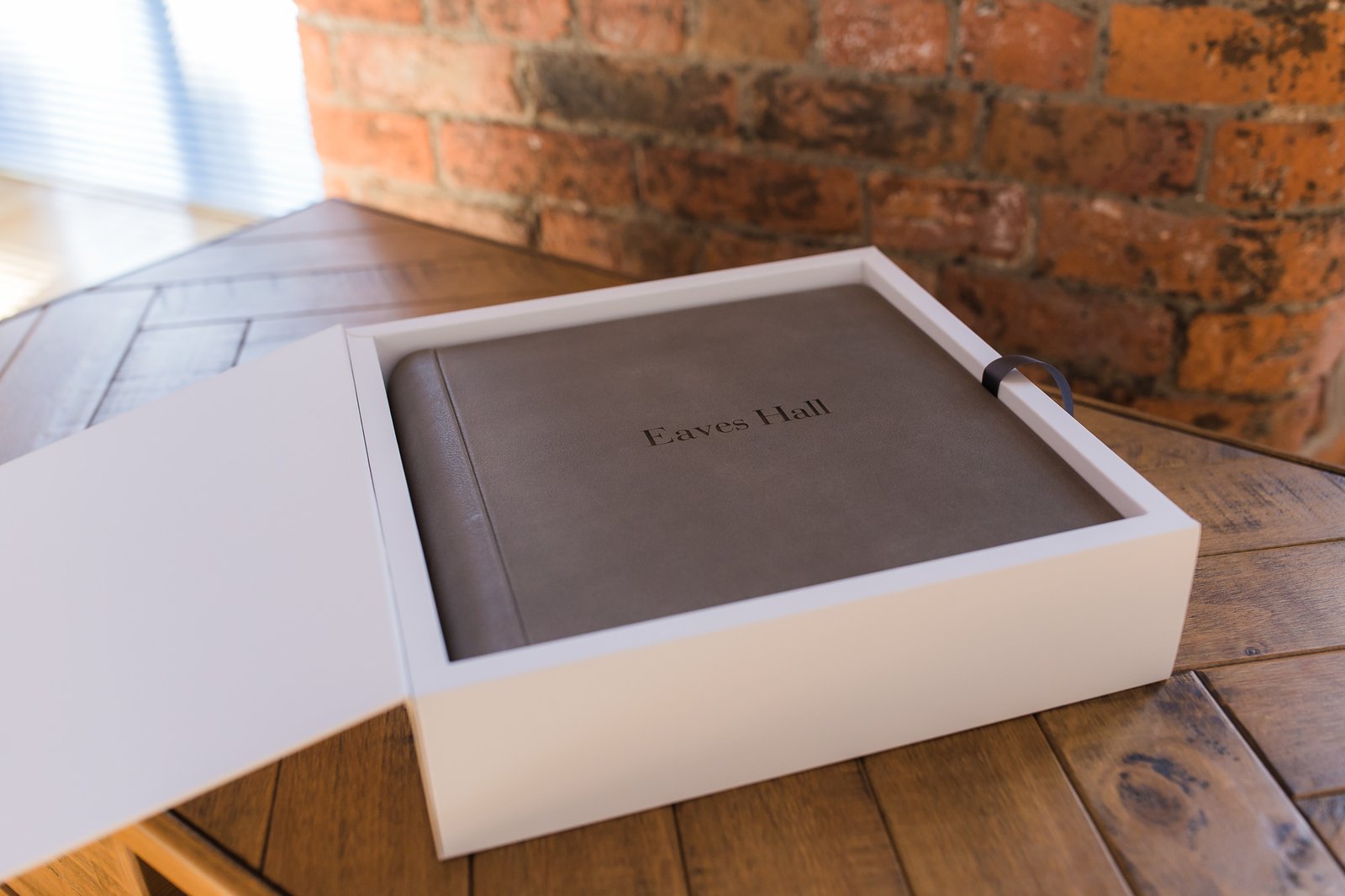 From the beginning, I've sought out wedding albums for my clients that would showcase their wedding day story and do the wedding photographs justice; hand crafted products featuring expert craftsmanship that would stand the test of time.
Whether you're looking for an affordable photo book, a designer Italian wedding album or traditional album in luxurious leather, you'll find a personalised and bespoke service where your dream wedding album will be designed in collaboration with you.
Finally, a wedding album design service without compromise.
I design and supply albums from the worlds finest book & album companies, many of whom only supply to professional photographers including Graphistudio & Loxley Colour.
I believe your wedding photos should be printed on only the finest materials and displayed without compromise. All of the fine art albums I supply are seamless in the centre (as shown above) to ensure no details are lost, with the printing being on acid free papers. All fine art wedding albums feature edge to edge printing, and have the options of leather or linen book covers.
The only limit is your imagination.
Traditional or Contemporary?
Traditional matted albums are making a comeback, but the construction has changed from the methods used in your parents wedding album. In addition to a choice of printed surface (fine art or photographic paper?) There's a huge choice of mats, page edgings and cover details that ensures you can have a wedding album that's really personal.
The latest contemporary style of wedding albums have more of a book than album feel, and can be personalised using innovative printing technology that means any design can be printed on the cover or box. There's no longer limitations on printed fonts, even the page edges can be printed in any colour you'd like.
I love seeing photos in print, and really love designing beautiful, personalised wedding albums and book. Because of that I do have a pretty huge selection of choices when it comes to albums and books, so I've put this page together to tell you a bit more about my wedding album design service, and how things work.
The Traditional Matted Album Collection features a luxury Italian wedding album with the photos presented with a traditionally matted overlay. The matt surface is Tintoretto art paper, with a black core that beautifully frames each photo.
The cover features stitched leather as standard. There are four different leather options to choose from including Nappa, distressed leather and Sequoia.
This album is 30x30cm in size and features 30 pages (15 spreads) This album will hold around 60-80 photos of your choice.
The downsized parents books feature a design layout that is an exact copy of the main book. The parent's books have hard back covers and the photos are printed on smooth press printed paper.
'Parents books' are a pack of two hard back books (15cm x20cm) with press printed pages.
'Guest books' are available in a pack of eight (10cm x13cm or 10cm x10cm) and feature flexible covers.
Both styles of books feature a photo layout design identical to the main album.
Book Cover Fabrics & Leathers
The photos below include Leathers, cloud leatherette, linen finishes and ribbon colour options, but there are other finishes available too. See them all by arranging an appointment to pop in to my album gallery.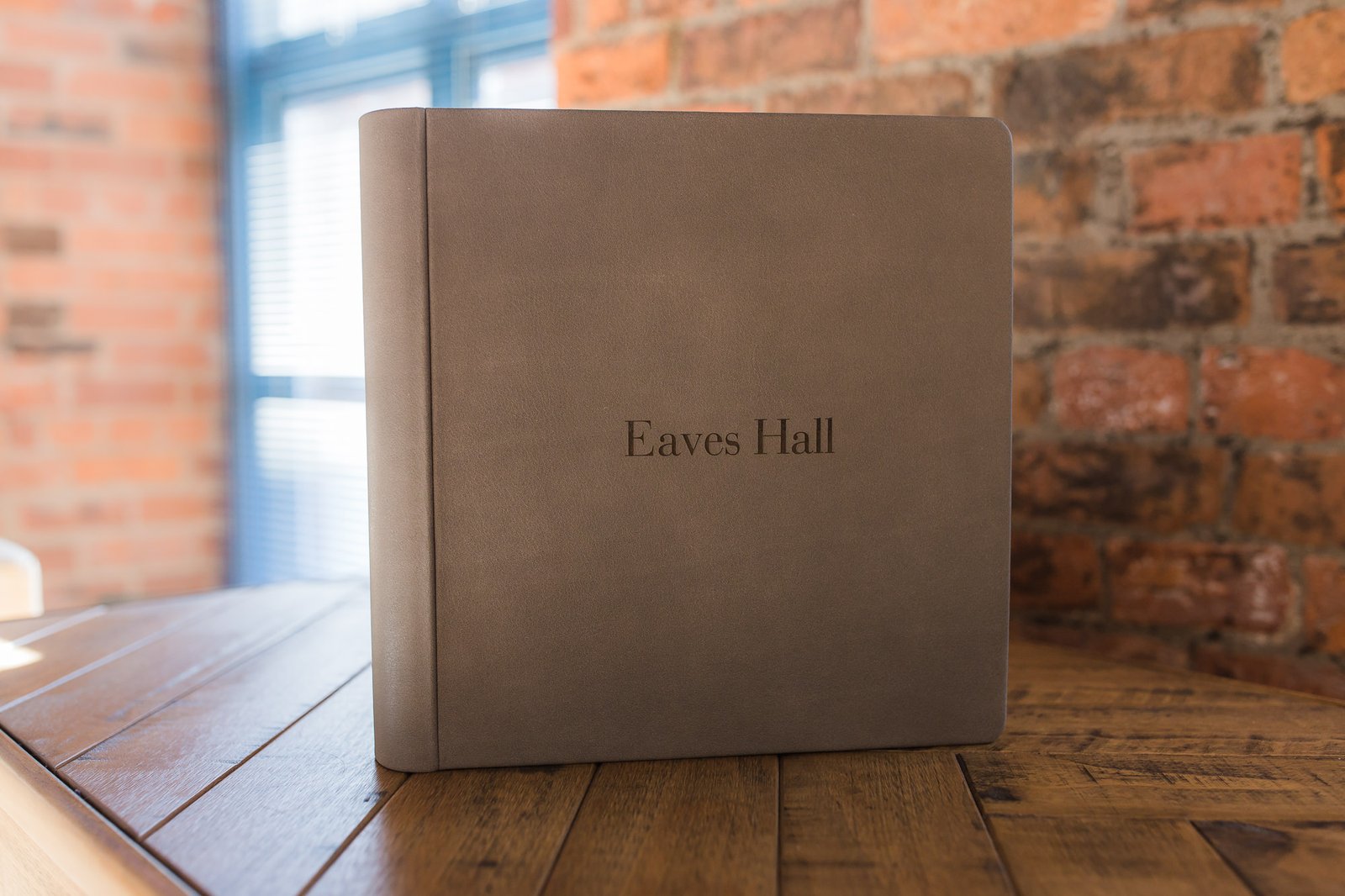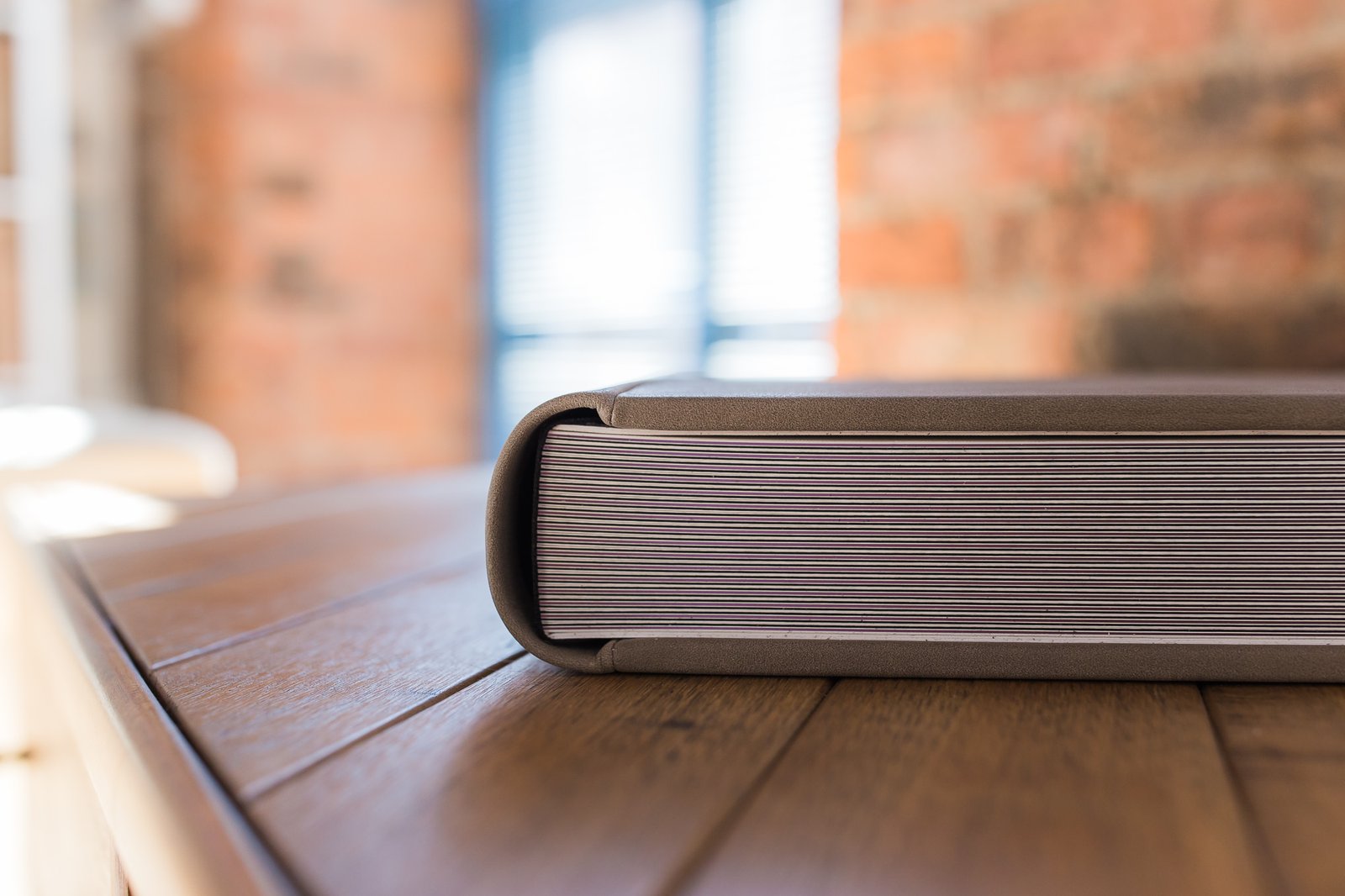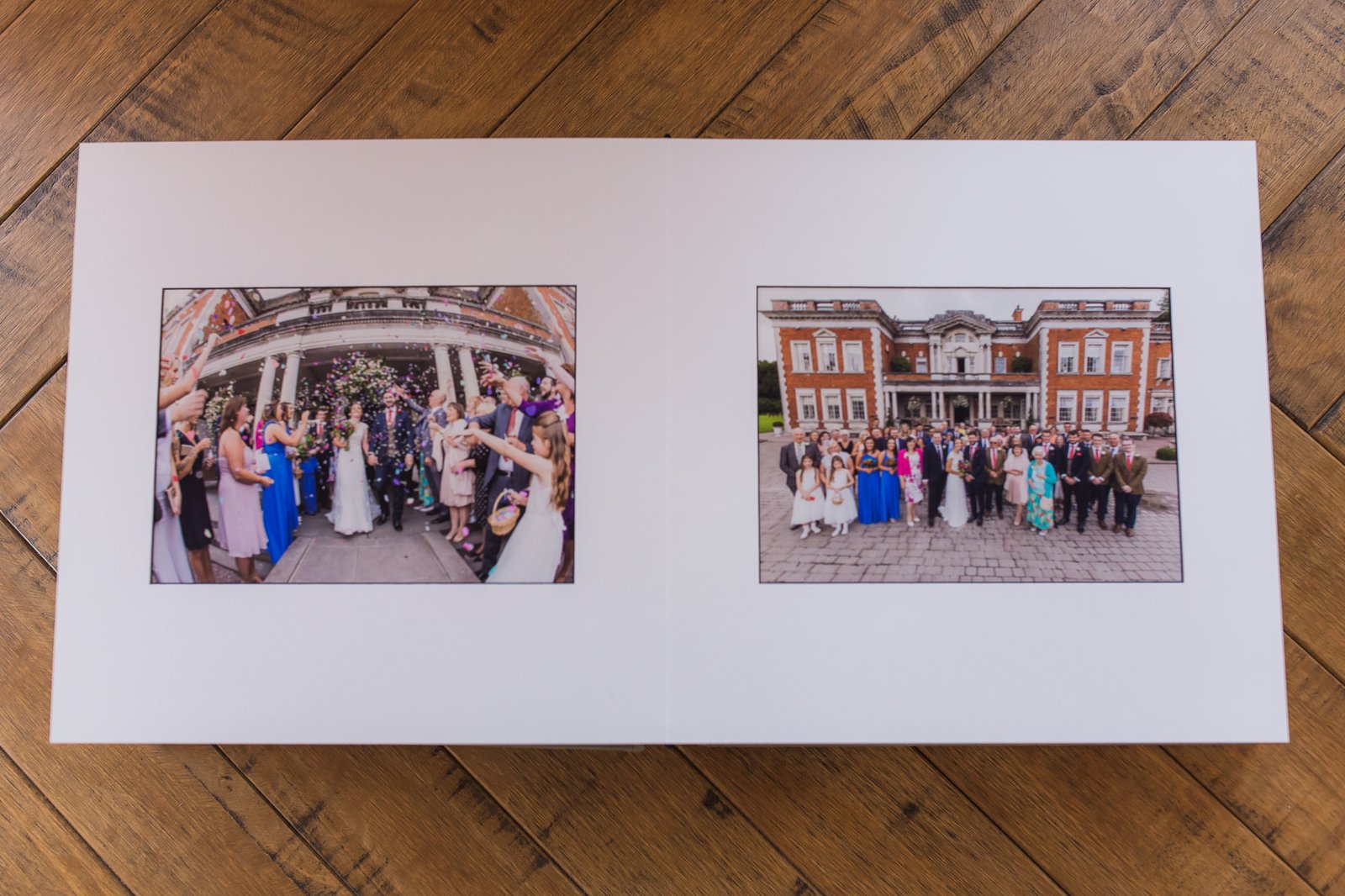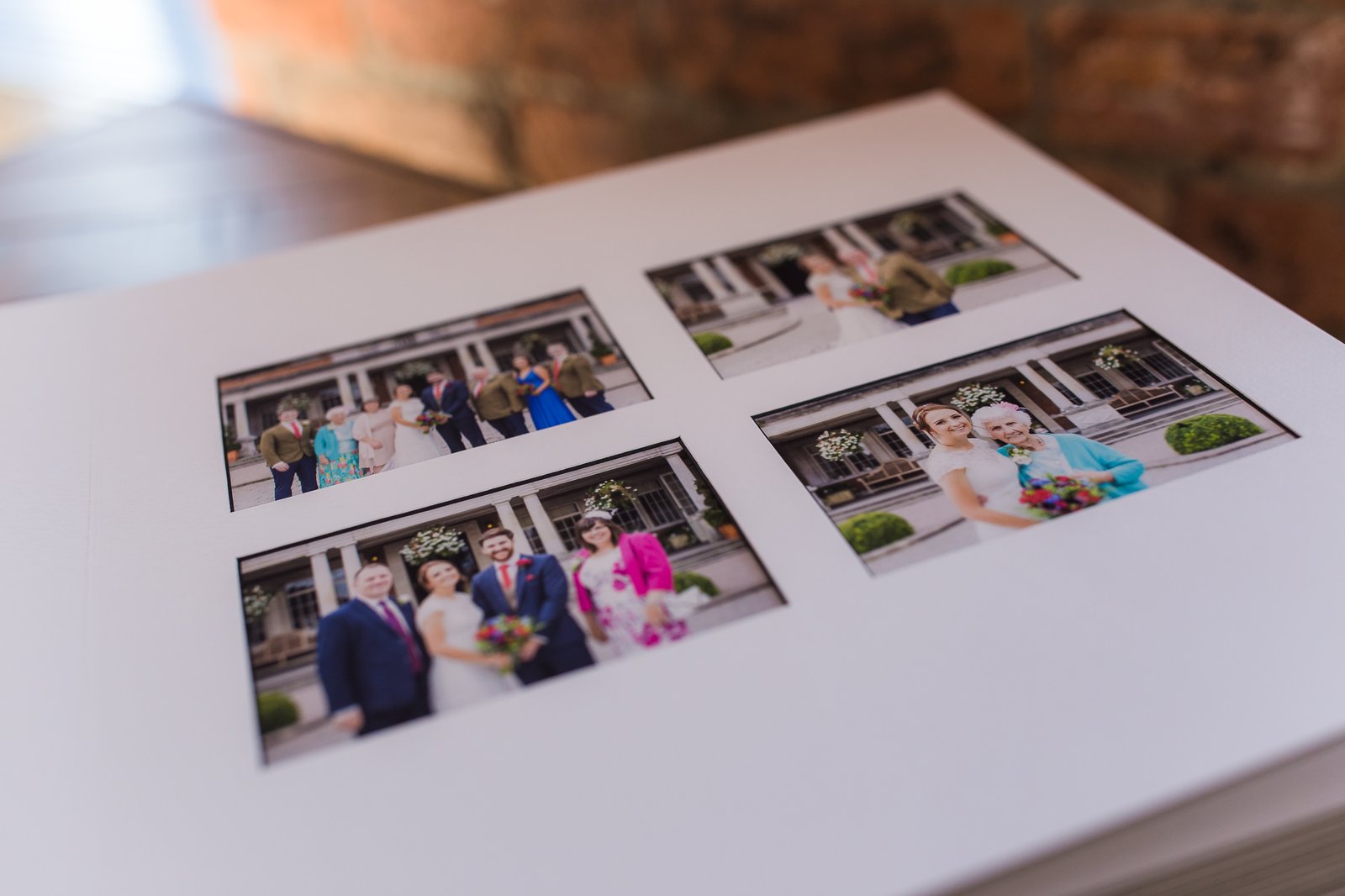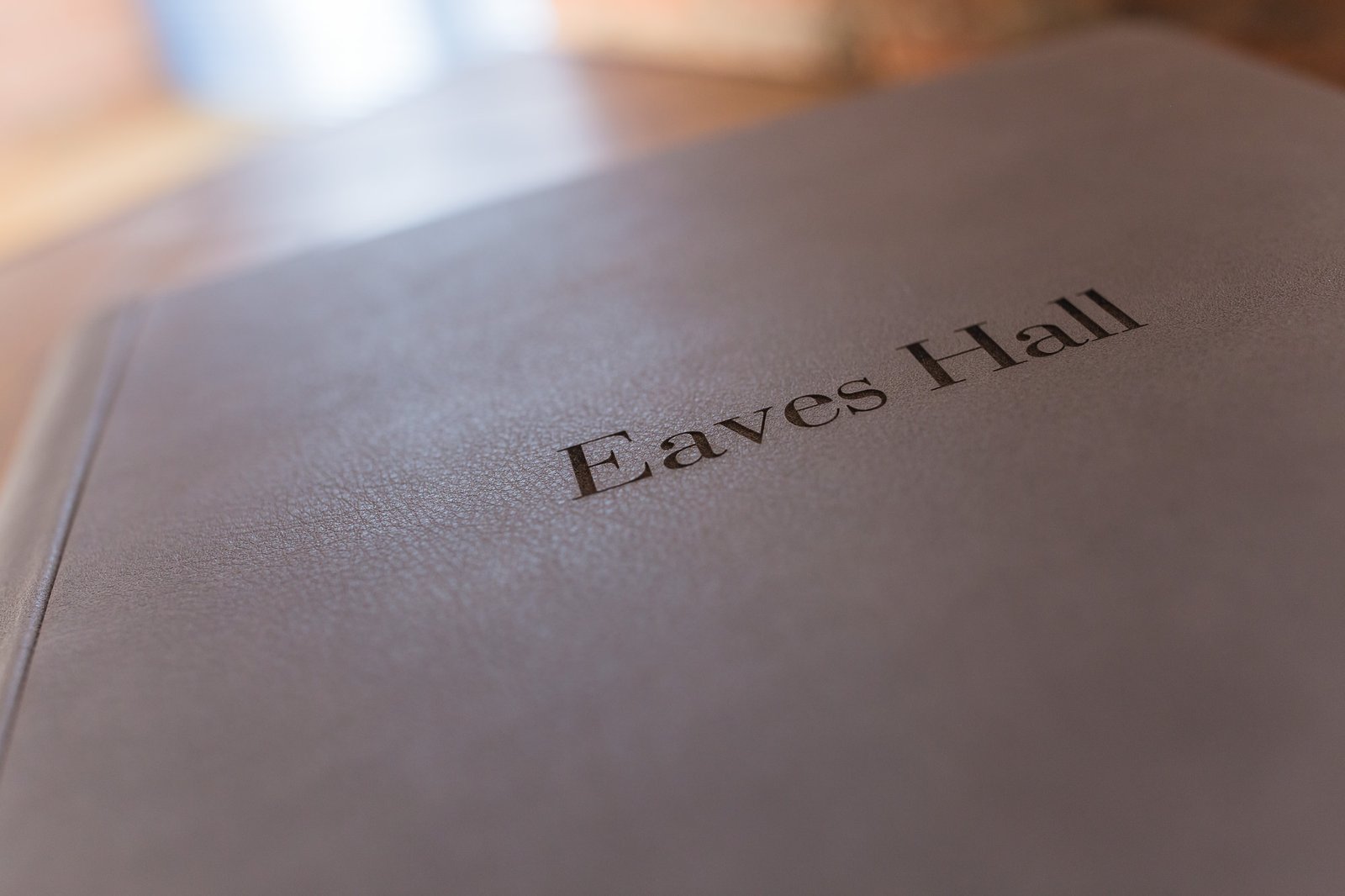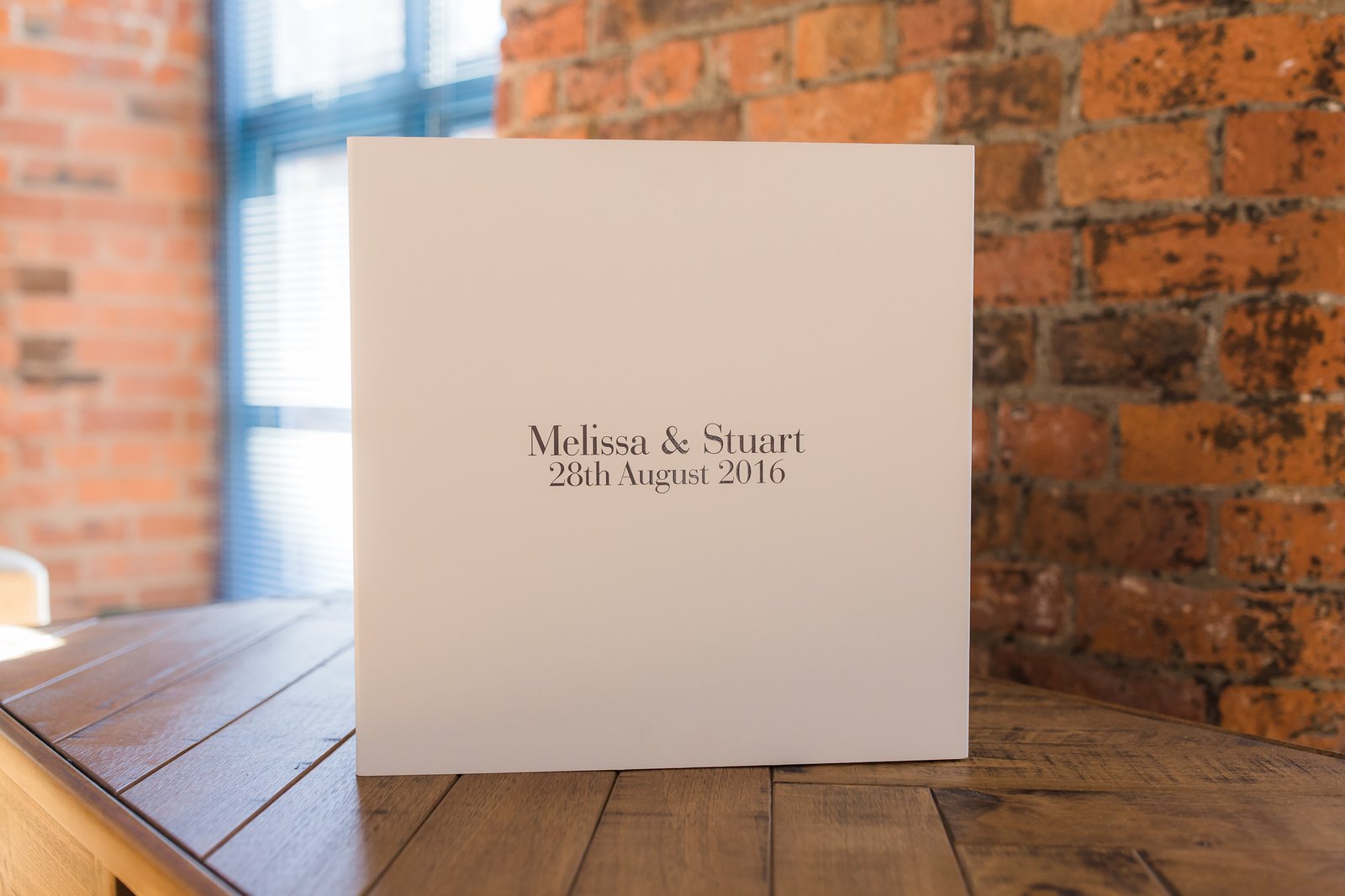 The Graphistudio Wedding Book
The Signature Album Collection features a choice of luxury Italian wedding albums in a classic or fine art style. There's a huge range of finishes available with over a hundred cover options to choose from, and you'll have an album consultation after the wedding where we can work together to create a personalised combination of colours and materials.
The included album is 30x20cm in size and features 30 pages (15 spreads), but other sizes and page combinations are available if you'd like to upgrade. This album will hold around 80 photos of your choice.
The pages can be traditional photographic paper or a beautiful fine art paper.
The downsized parents books feature a design layout that is an exact copy of the main book. The parent's books have hard back covers and the photos are printed on smooth press printed paper.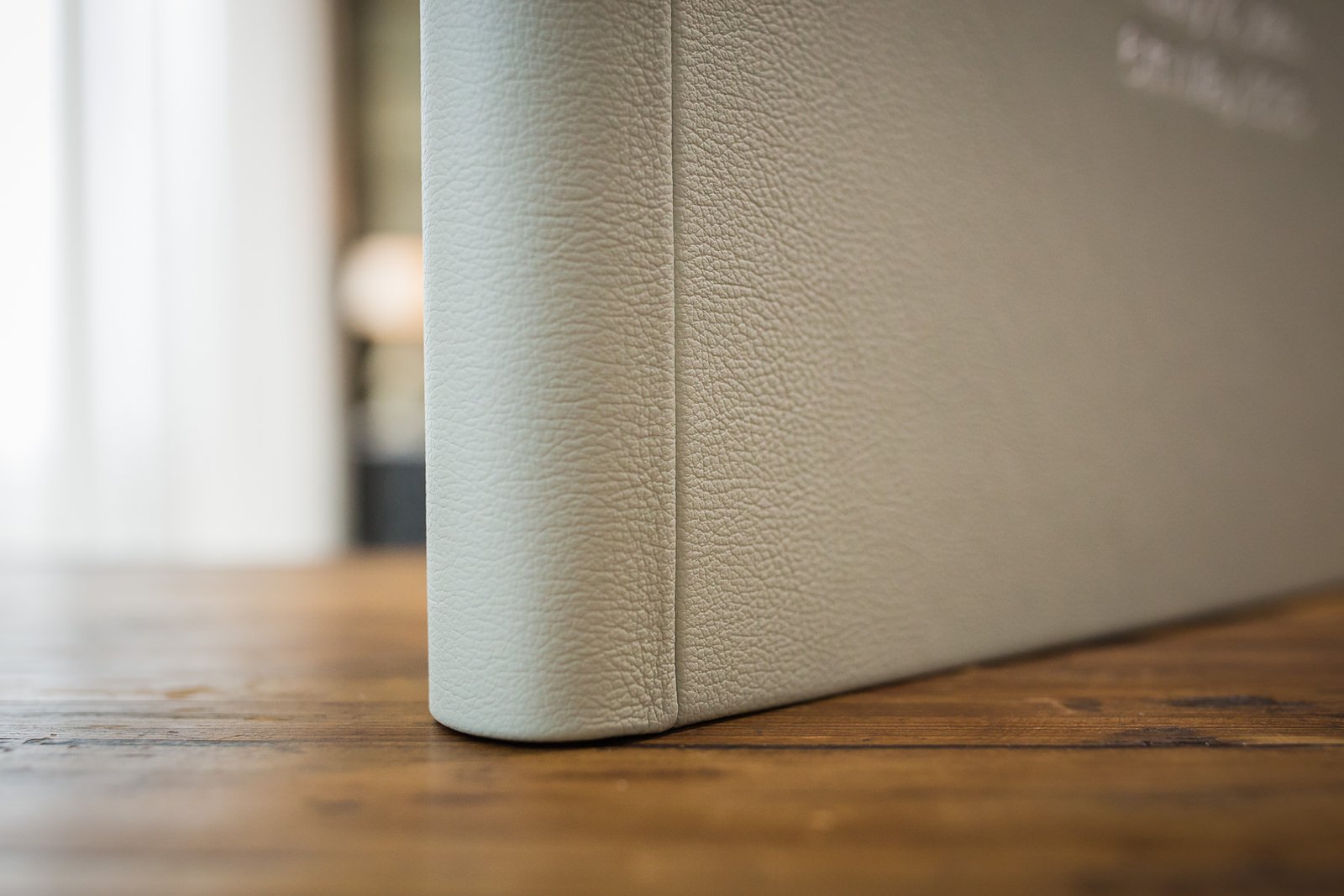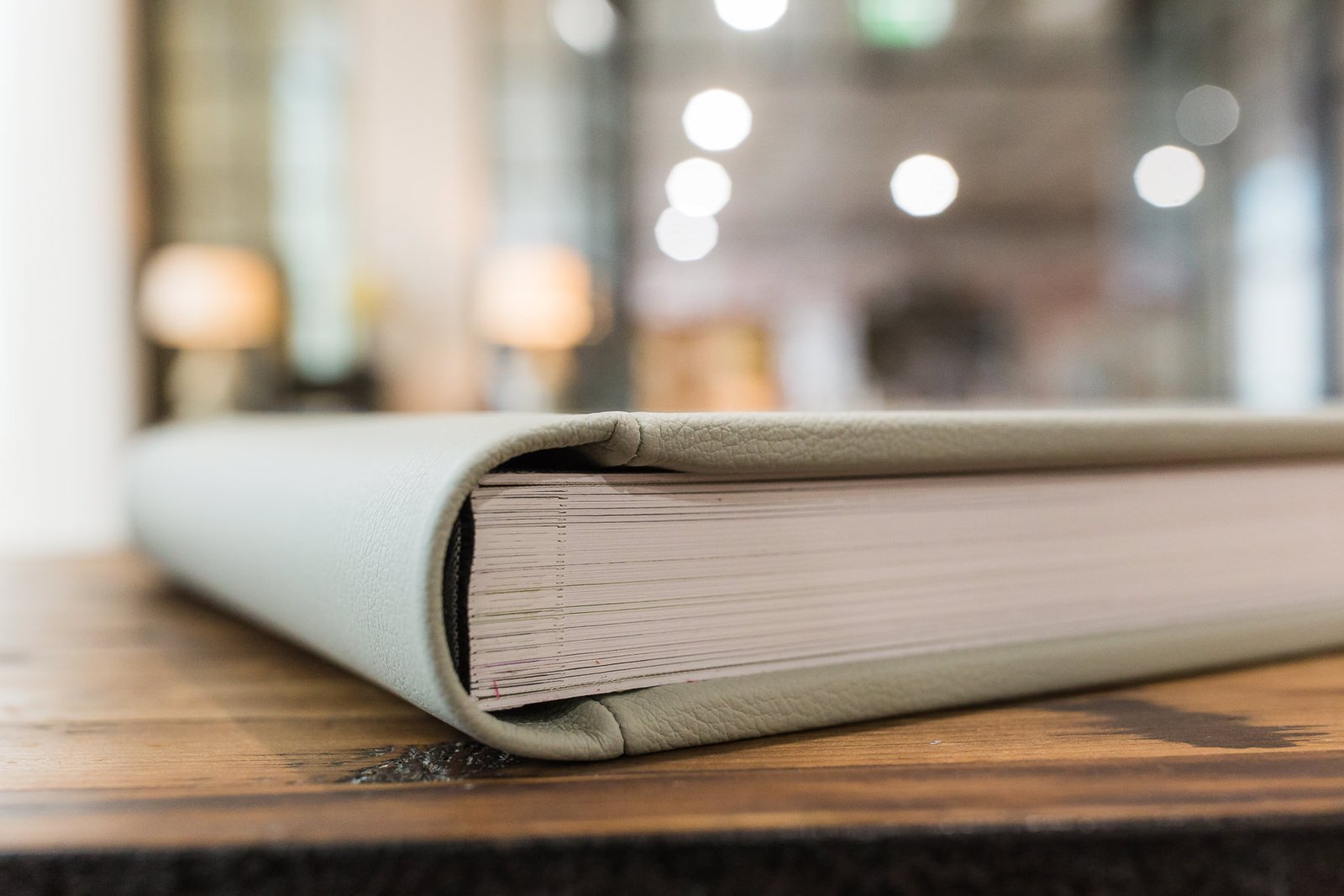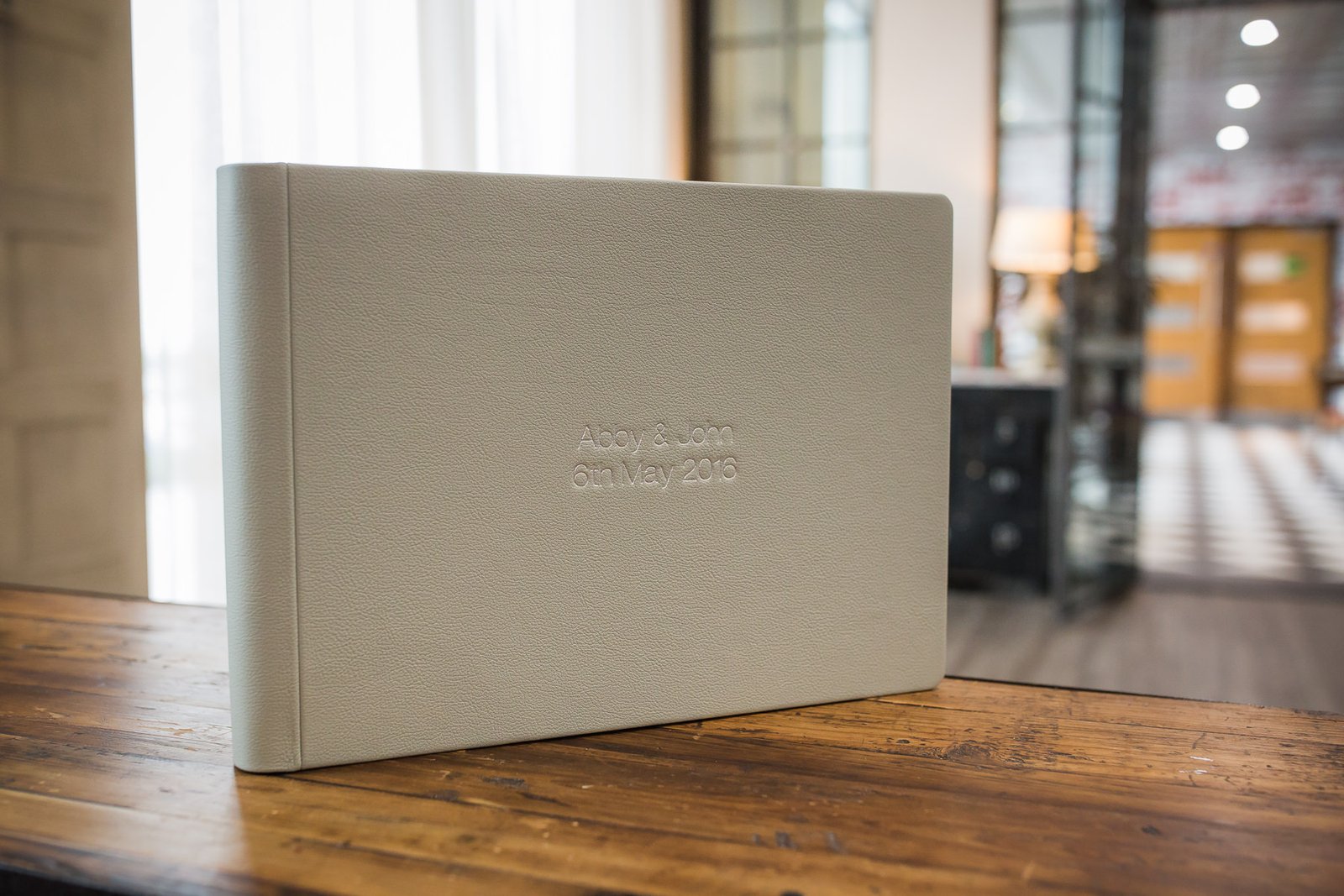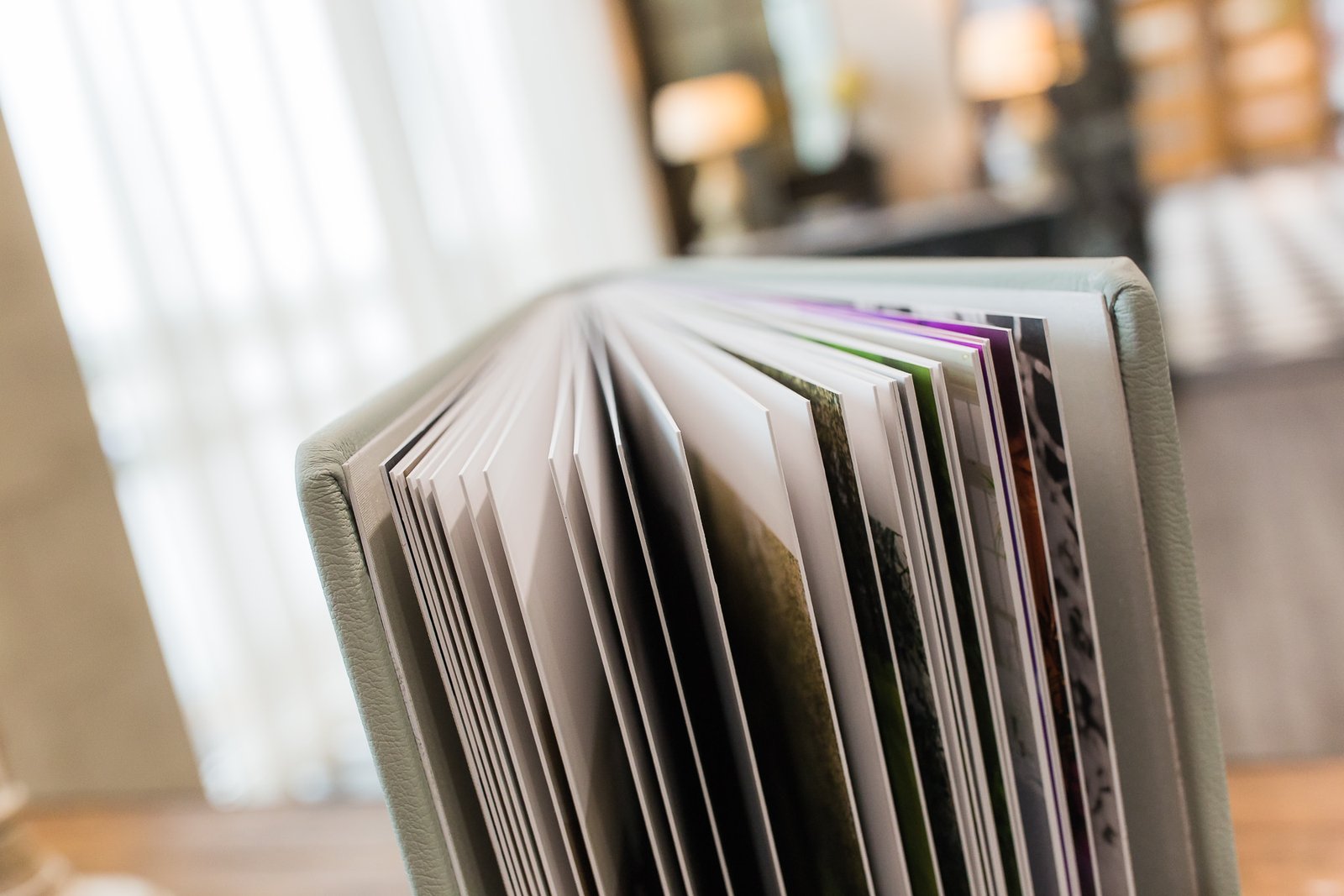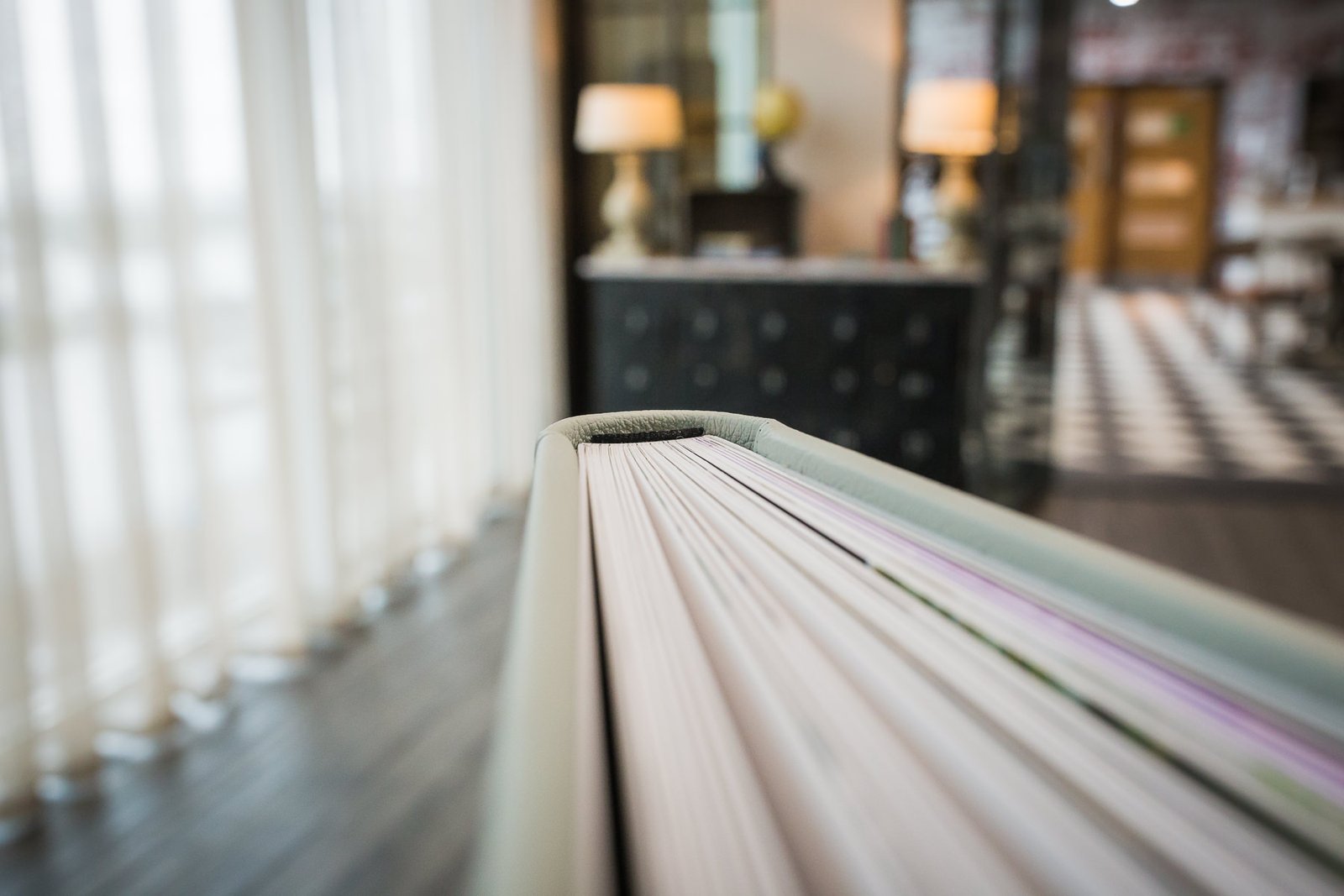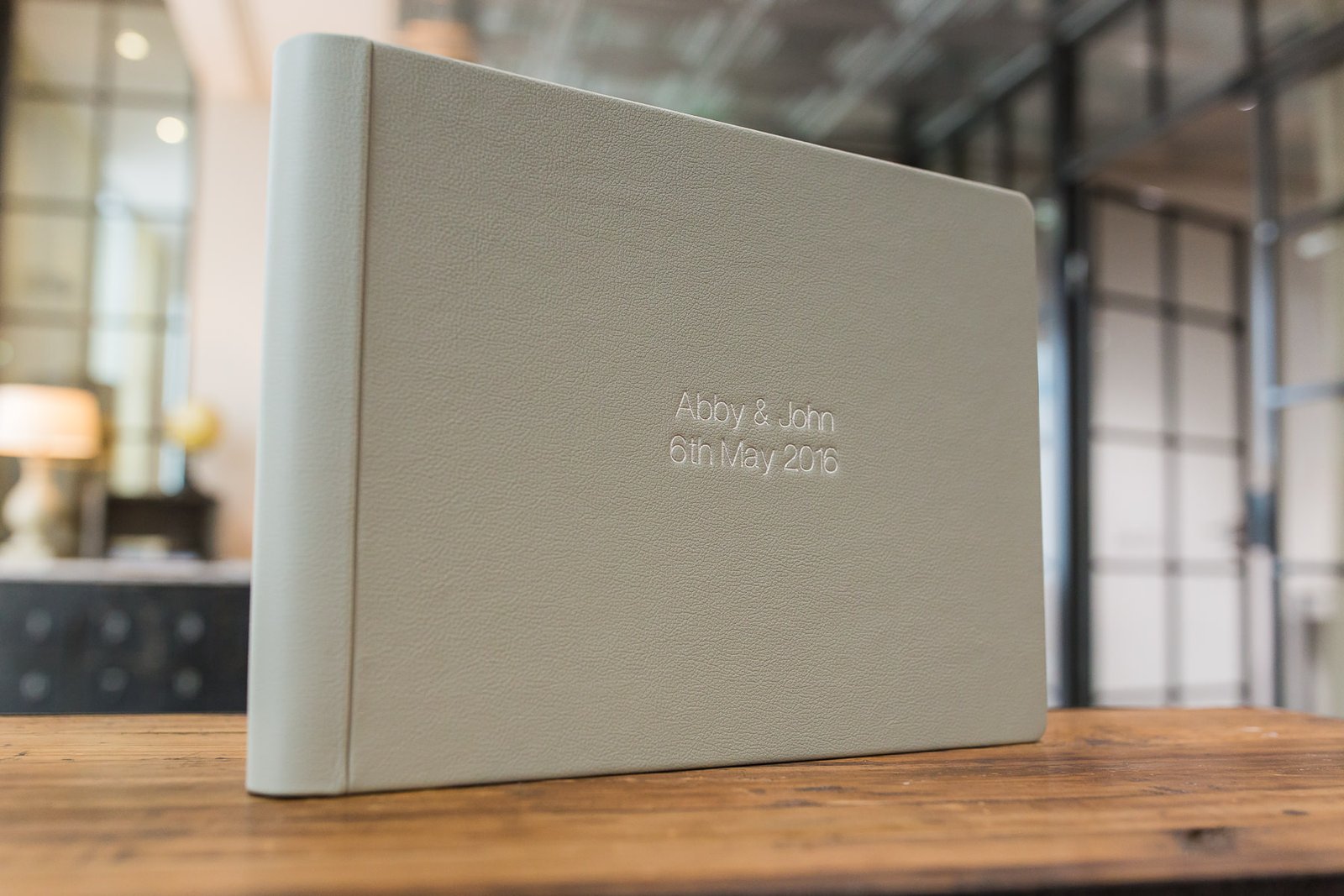 The Young Book is a new contemporary wedding album from industry leaders Graphistudio. The book features lay-flat photographic pages with no loss of detail at the centrefold. I recommend the optional matt finish for the pages for a crisp, contemporary feel.
My favourite aspect of this book is how you can combine the different elements to create something unique to you both and your wedding, whether that's traditional colours, or something more alternative and quirky.
The box has a hinged lid with magnet closure, and is opened to reveal a book that takes all the best bits from the traditional wedding album, and presents them in a chic contemporary way. The thick pages are real photographic paper, with edge to edge printing and no loss of detail at the centrefold.
There's a variety of leatherette, linen & other material finishes for both the book cover and box.
The box is also available in the same material options, with 28 ribbon colours to choose from.
Graphistudio Young Book Gallery
First up in the gallery below is my Maple finish sample featuring the wedding of Becky & Ashley. The contrasting wood effect finish coordinates with their rusting, woodland, countryside wedding. The ribbon coordinates perfectly with the colours of the bridesmaid's dresses.
Next up in my second Graphistudio Young Book sample is a Manchester city centre wedding with a completely different feel. Bright blue bridesmaids dresses, a black wedding dress, and the streets of the Northern Quarter are what you'll find within this book, and the bold blue colour hints at the alternative feel of this wedding.
My third Graphistudio Young Book sample features the wedding of Jessica & Scott and is in a gorgeous ivory, which is a more traditional wedding colour. The box has baby pink highlights which coordinate with the baby pink bridesmaids dresses.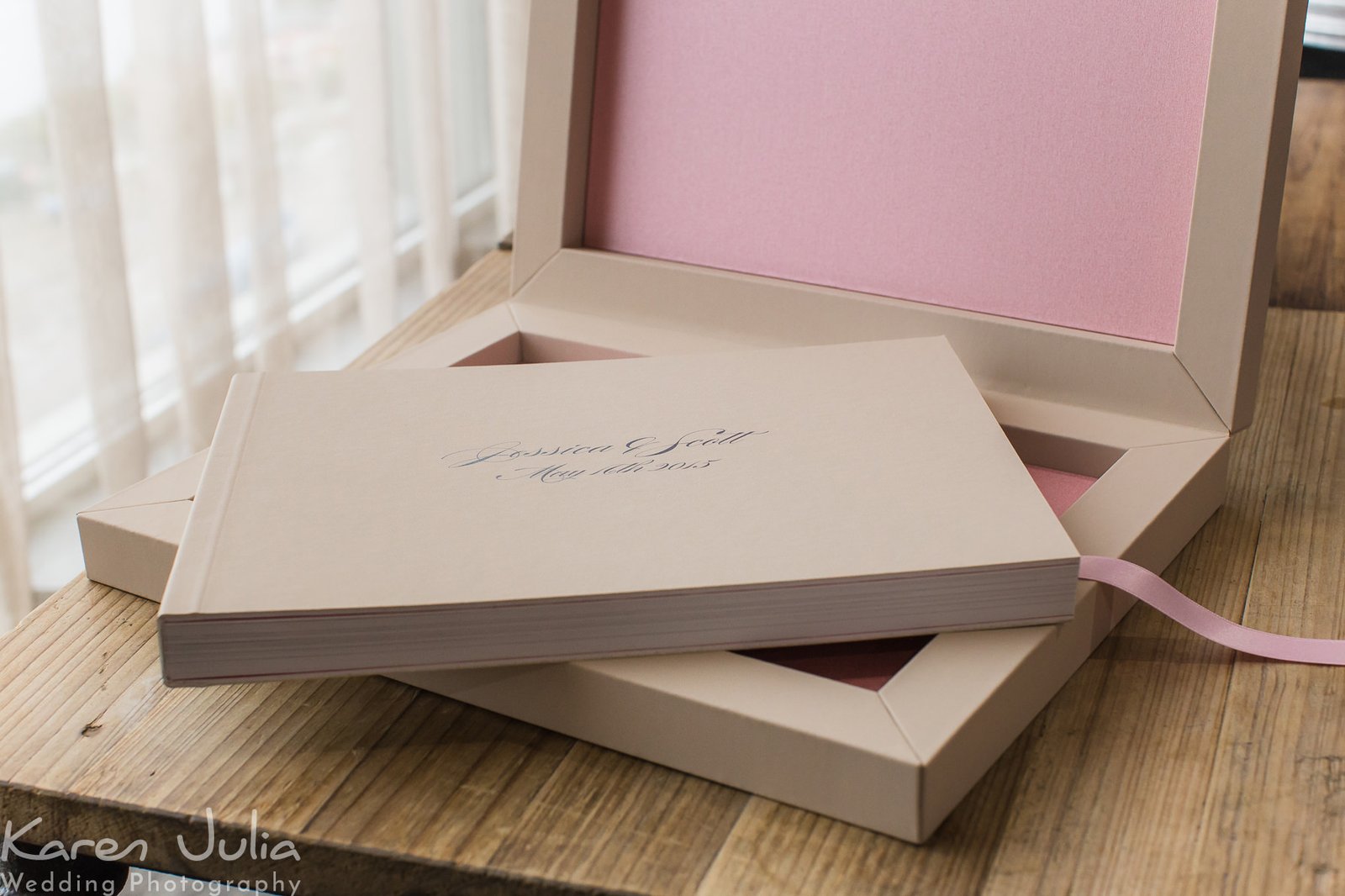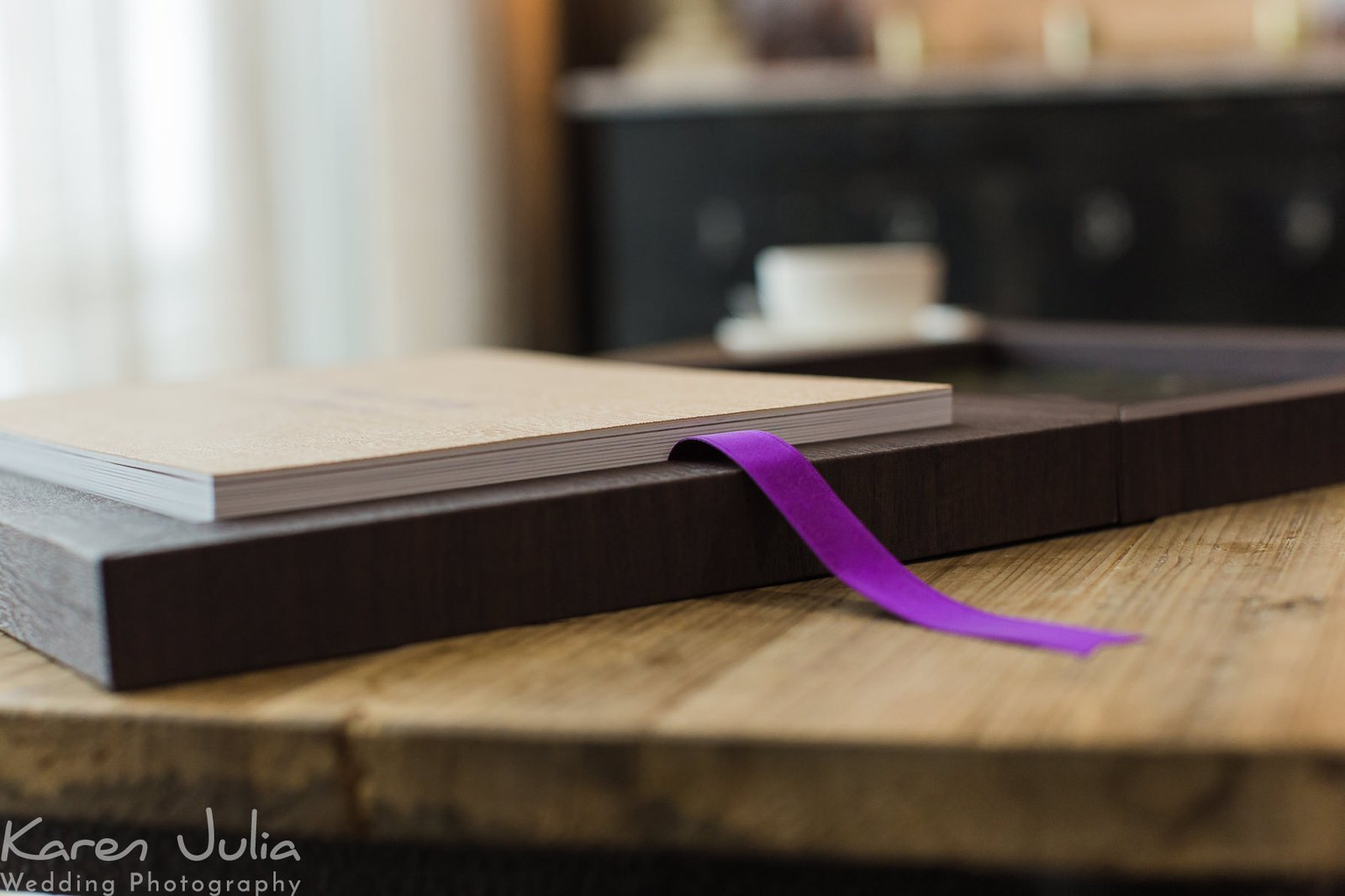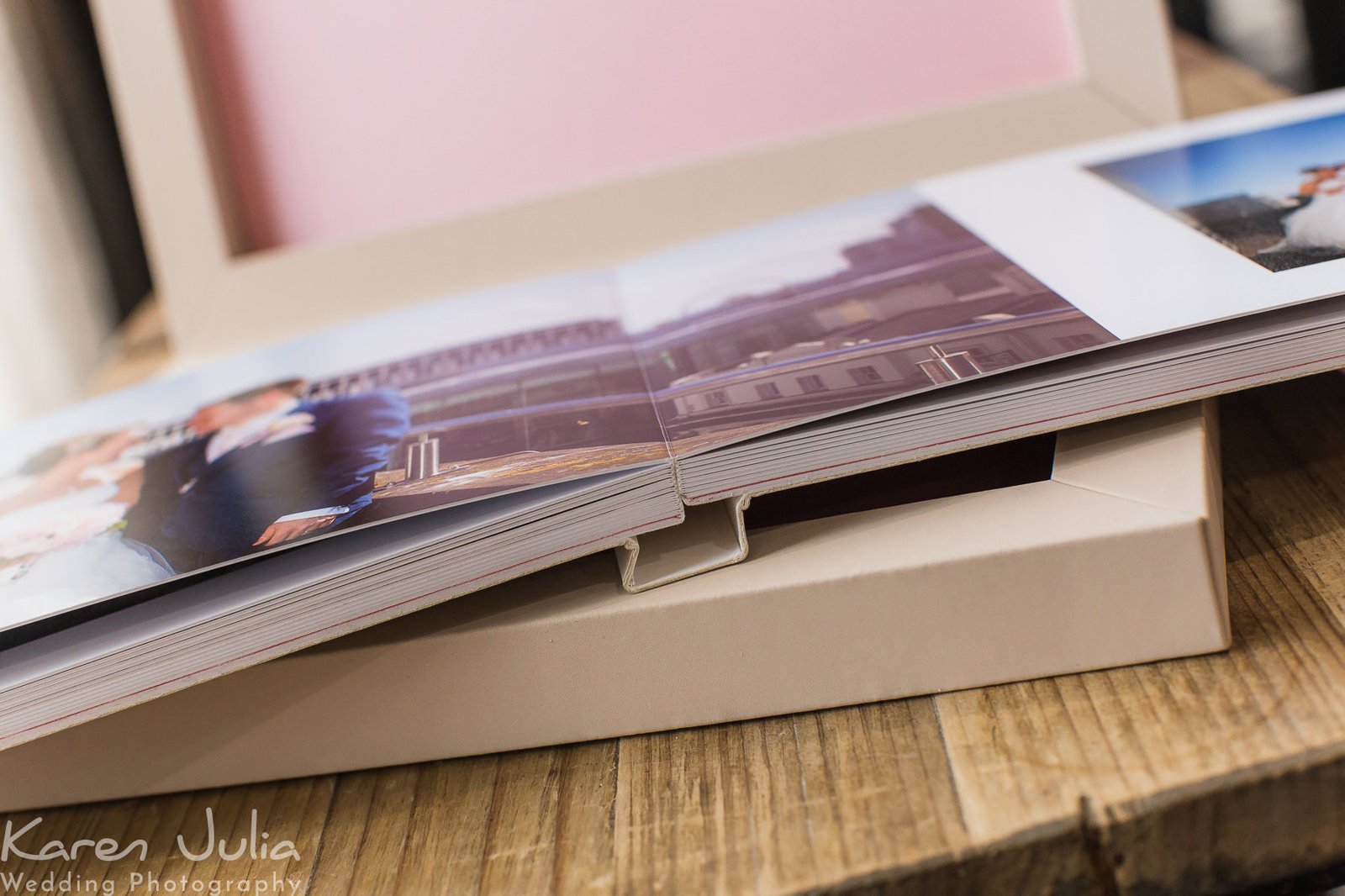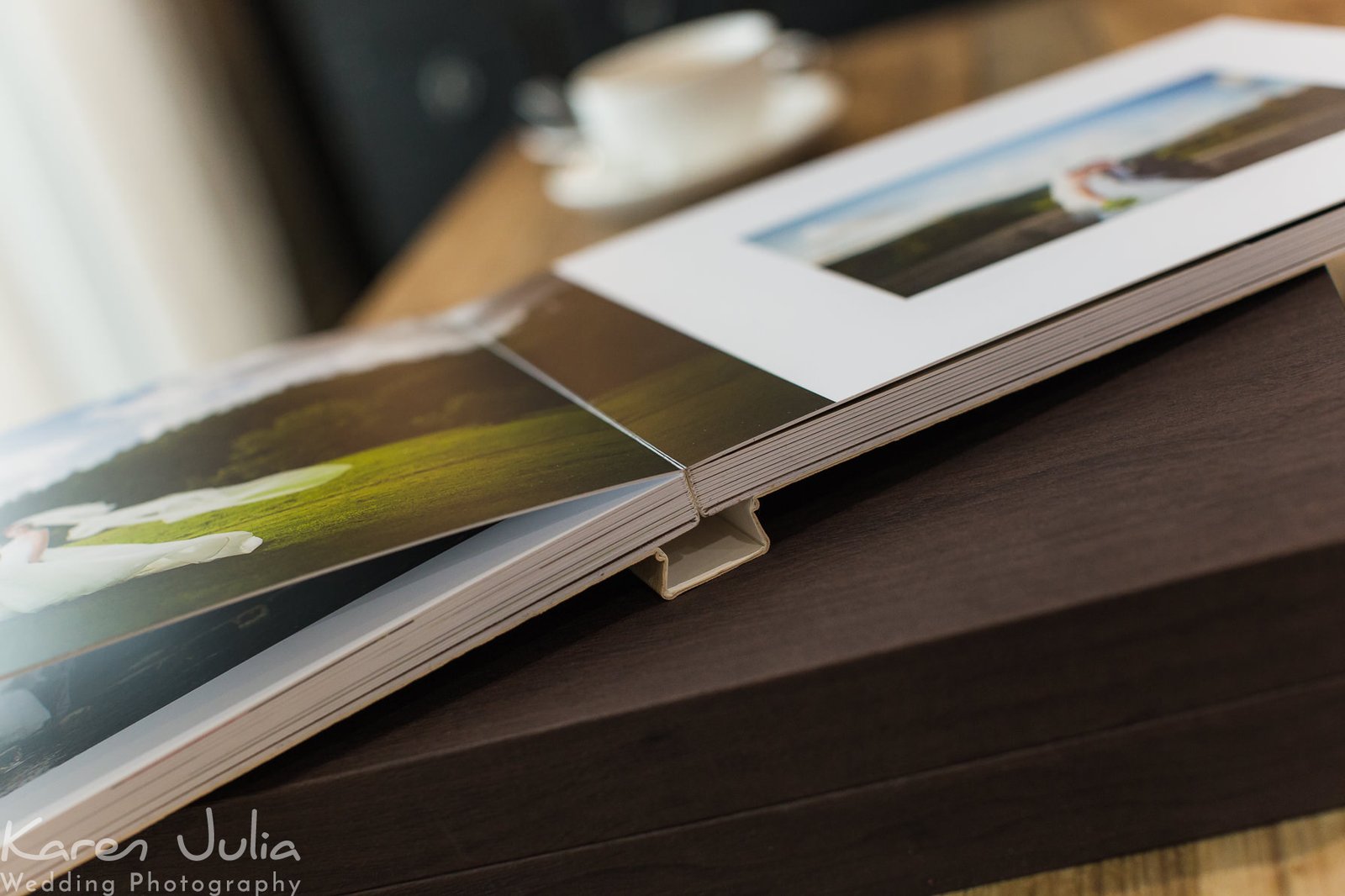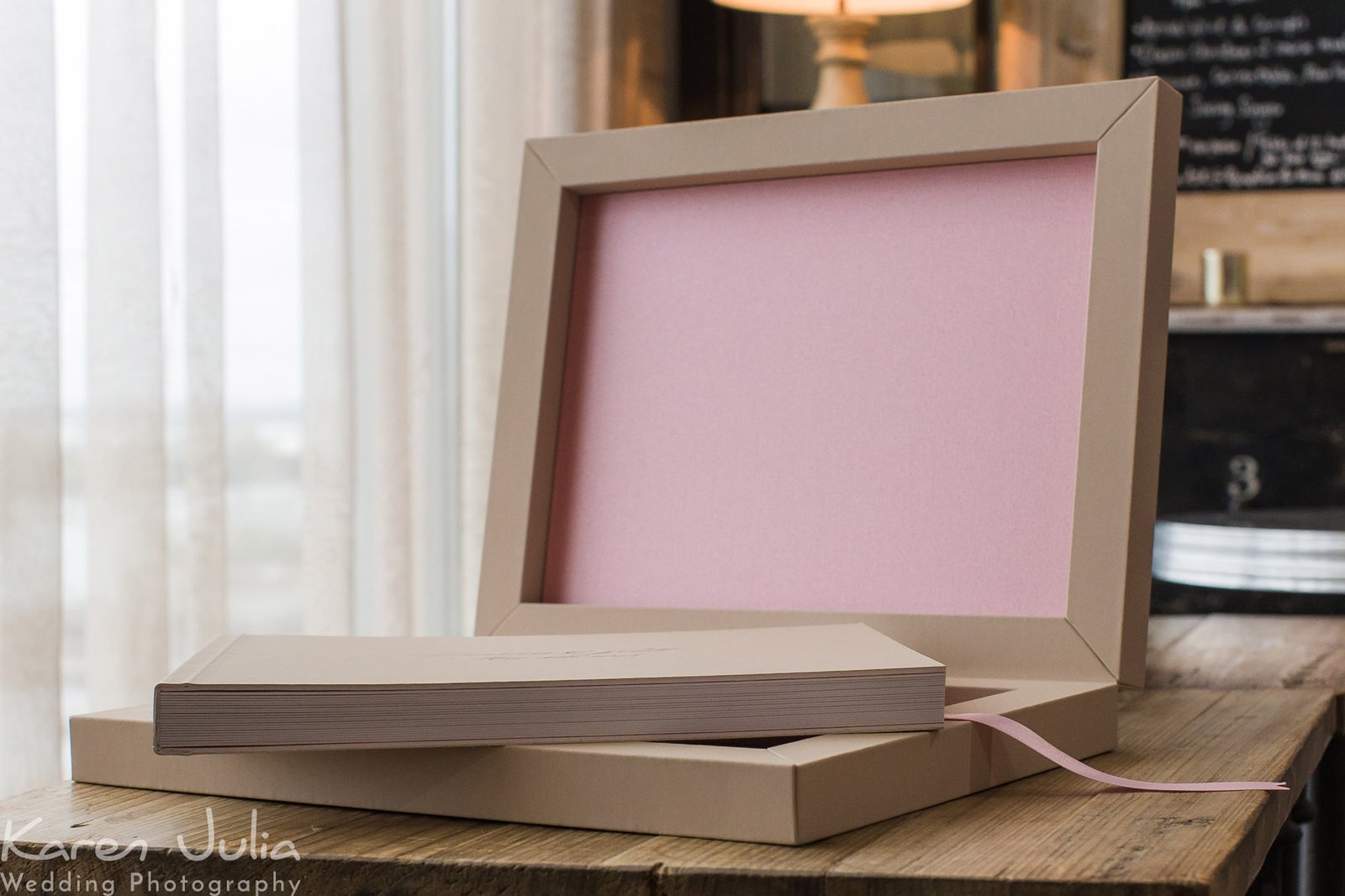 How to Order Your Wedding Album
If you're local, book a consultation at my studio here: Book Album Consultation
If you're not local to Glasgow, book a video consultation: Video Consultation
When I receive your photos, I'll get to work on designing your album. When I've finished the design, you'll receive a gallery link so that you can check over the layout. If you would like to make changes or try some alternative layouts, book in for a video chat and we will work on it live together. I find this is the most efficient way to make layout adjustments.
Here's the link to my Album Shop
Payments can also be made via bank transfer if you prefer.
There's a number of ways to send photos. You could send me a link to a Dropbox folder or pop a USB in the post. (I'll return it when I deliver your album).
Any changes will be then re-uploaded in a new gallery for you to check
As this is an individually commissioned product hand-crafted especially for you, it's not returnable, so it's really important to take time to ensure you're both happy with both the design and materials.
Your wedding album or book will be hand delivered by me, or by courier, depending on where you live.
Once I've advised that your book has been delivered to me and is ready for delivery to you, if I'm hand delivering it your preferred delivery time can be booked using my online system: book your appointment (please choose a time not too close to rush hour if possible).
Your album / book is sensitive to both temperature and humidity, so it should be stored at room temperate. All albums and books should be stored flat to protect the spine, with the exception of the Go Book.