On Thursday, I had the pleasure of photographing Beccy & Graeme's fabulous winter wedding at the Hard Day's Night hotel. I do love a good wedding day surprise! I was really excited when Graeme got in touch to tell me he's arranged surprise reindeer for Beccy.
Beccy had really wanted reindeer at the wedding, but Graeme had told his bride-to-be that he could not get a permit.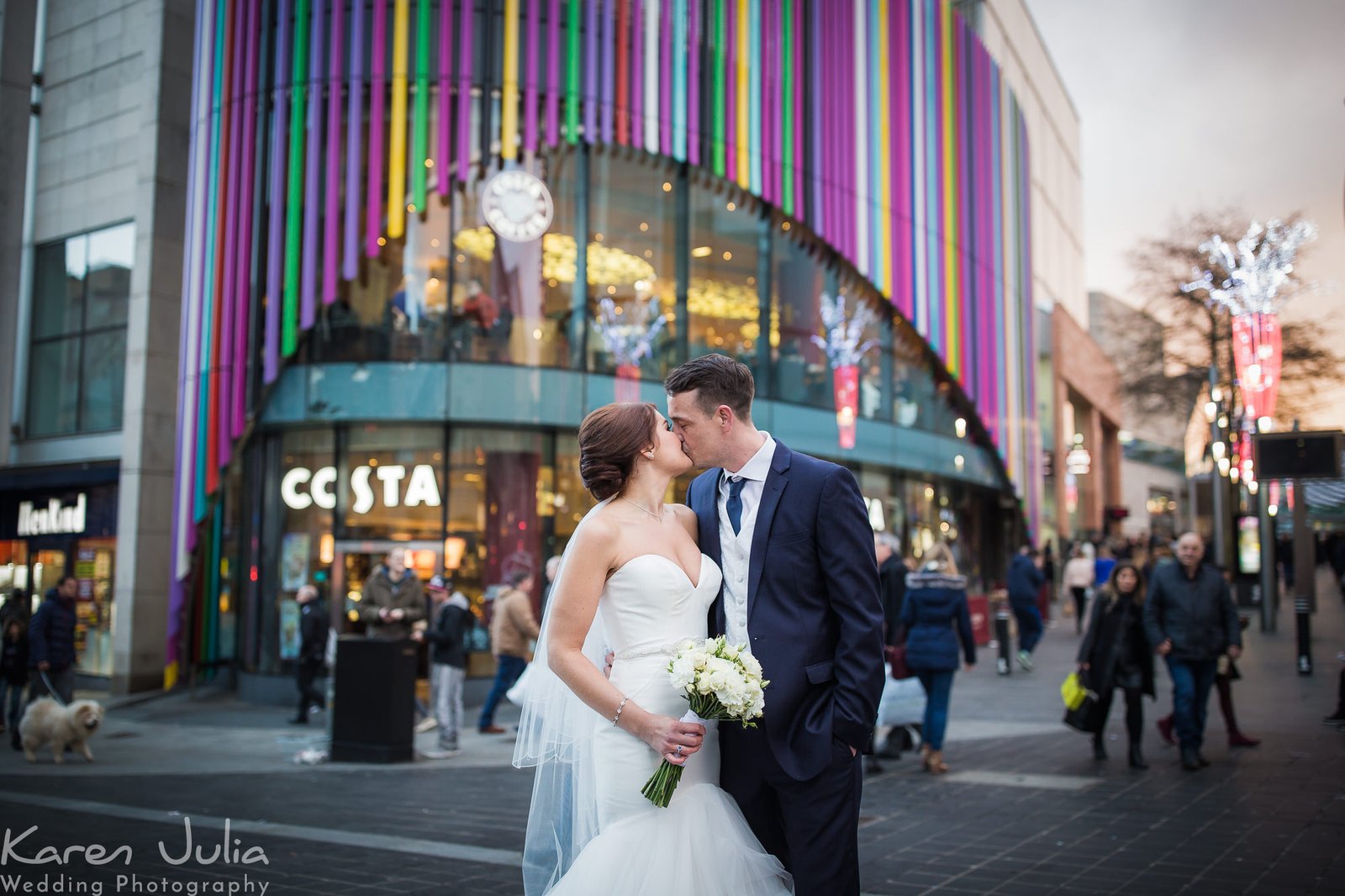 I've not editing the wedding yet, but wanted to tell you all about it, and share some sneak previews from the wedding day.
Winter Wedding with Reindeer
We'd planned everything in advance, so we were to take a trip over to the Liver Building in a taxi. Beccy thought she's be having some portraits with Graeme in St Nicks church gardens. We'd be heading to Canada boulevard instead to meet the reindeer. However, I learned that a photographer shooting a wedding at the Hard Day's Night had been shooting in the same location the previous day. She'd had been moved on by security whilst photographing bride & groom. It turns out a permit system is now in place in the dock area, which is a new change we were all unaware of.
Phone calls were made, and the location was changed to outside of the hotel for 2:30pm. This would give bride and groom time to mingle with guests before the surprise.
After the ceremony, we were met by elfs in reception who had advised the wedding coordinator that we only had 20 minutes with the reindeer due to a limit set by the council. There was no time for bride and groom to chill out with guests first, so I figured we may as well just get everyone outside for a group photo. The reindeer were still in their transport vehicle at this point, so Beccy was still unaware of the surprise.
Organising 84 people for a group photo in the city centre during a busy time of year was fun. This time though, I had a reindeer related deadline.
A huge thanks to all guests for being awesome!
Wedding Highlight Photos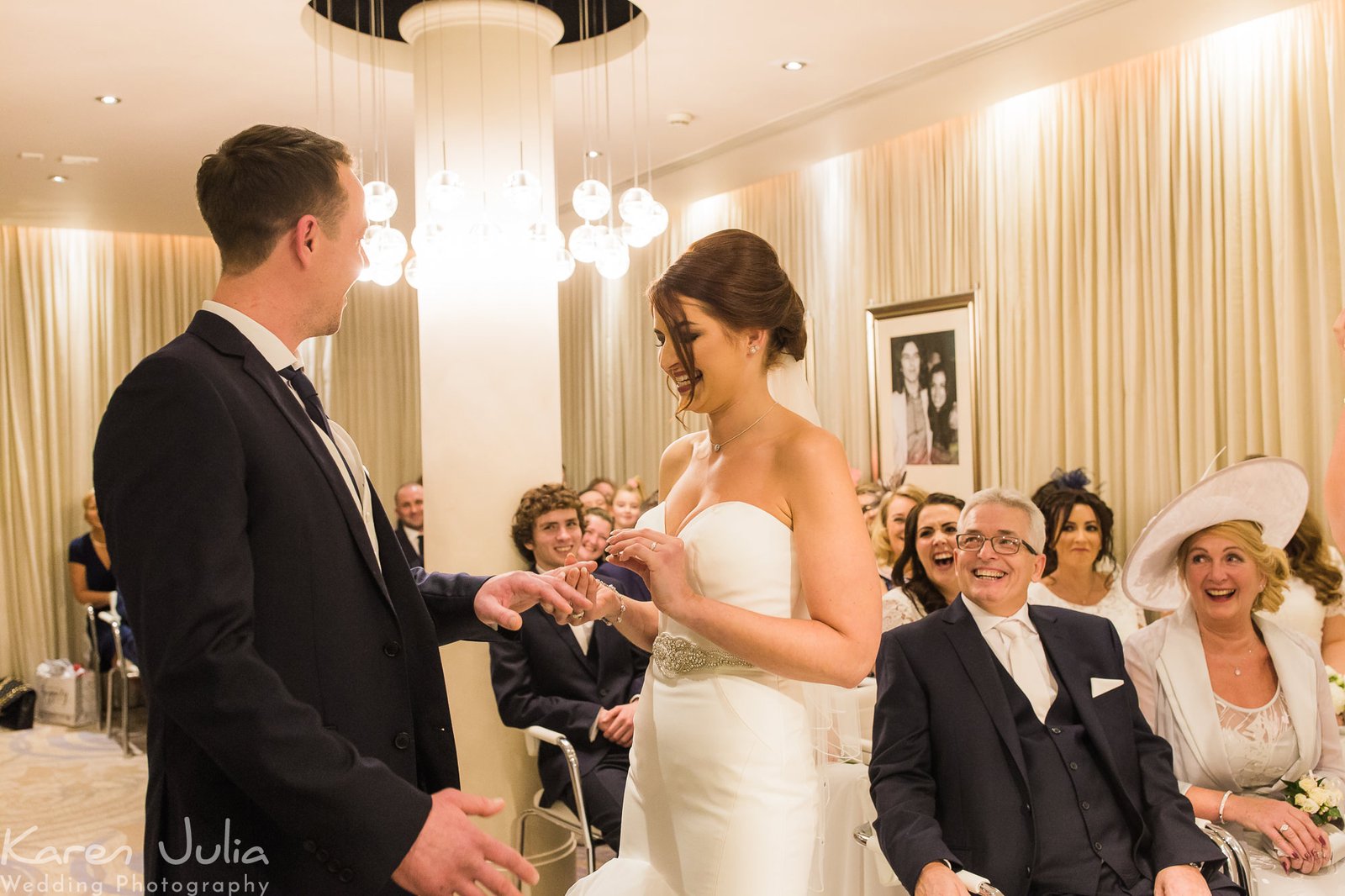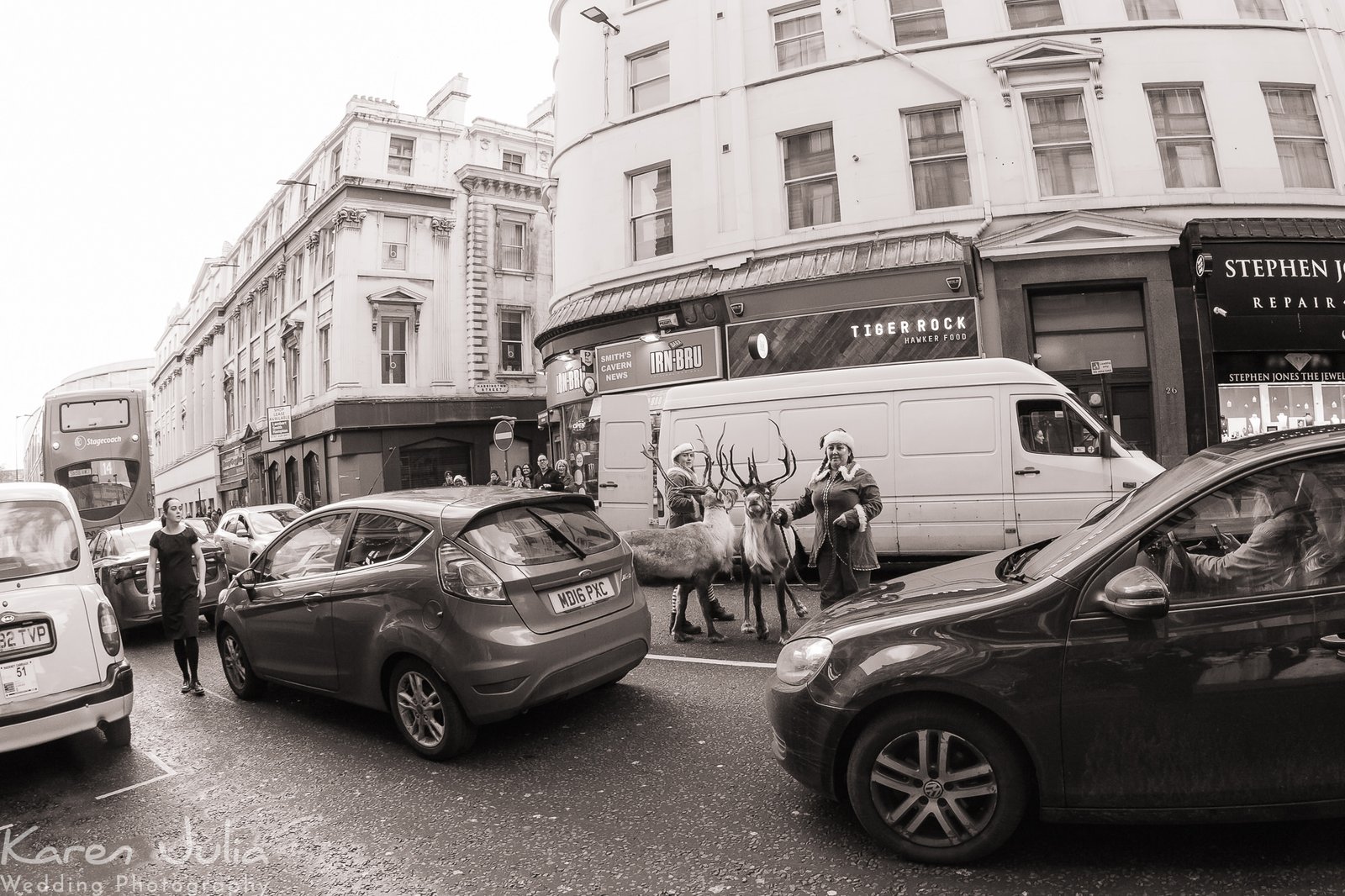 I love these shots of Beccy as she spots the reindeer walking over to meet everyone.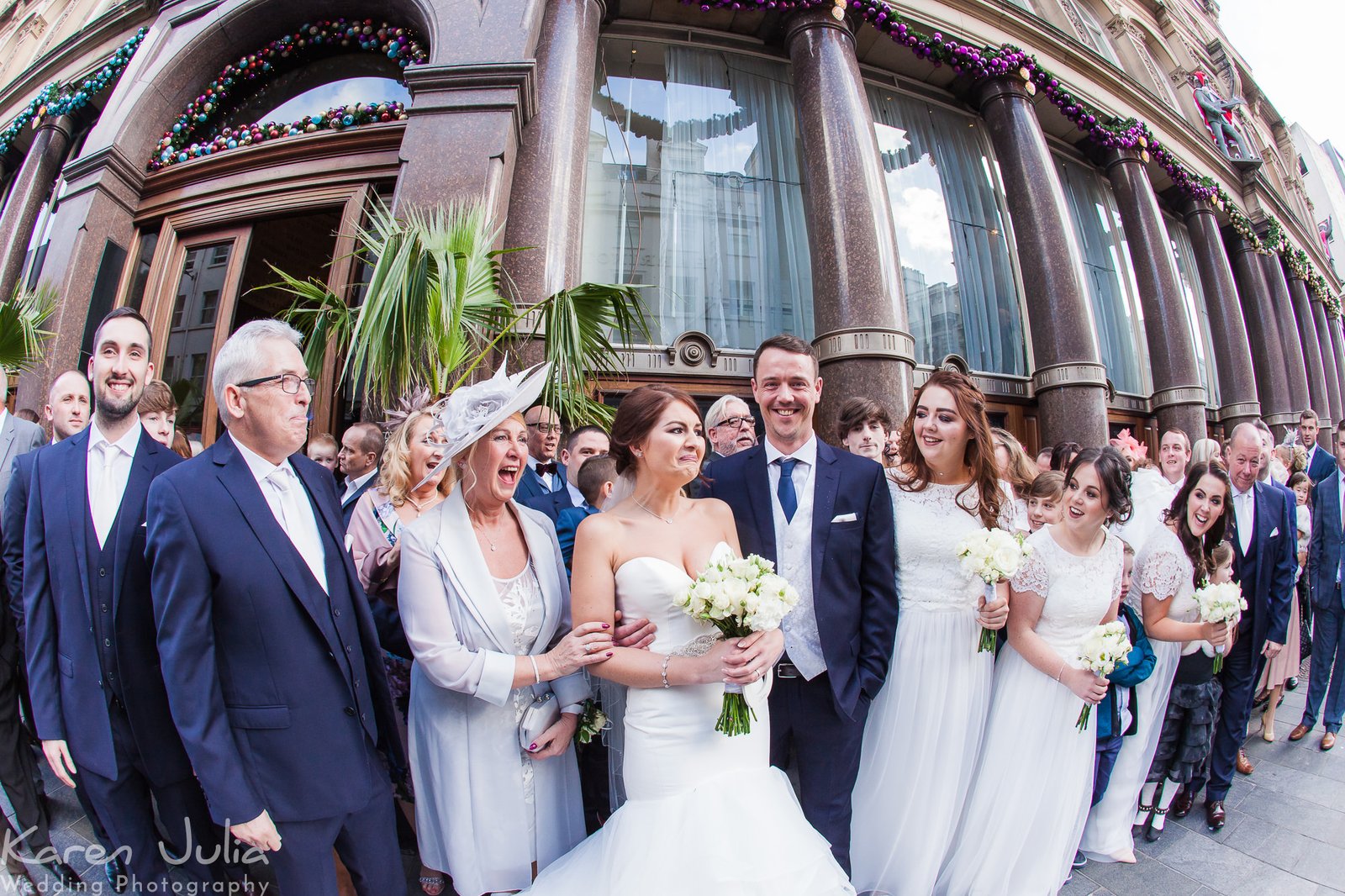 This was a surprise for guests too, the only people who knew were Graeme & Beccy's mum.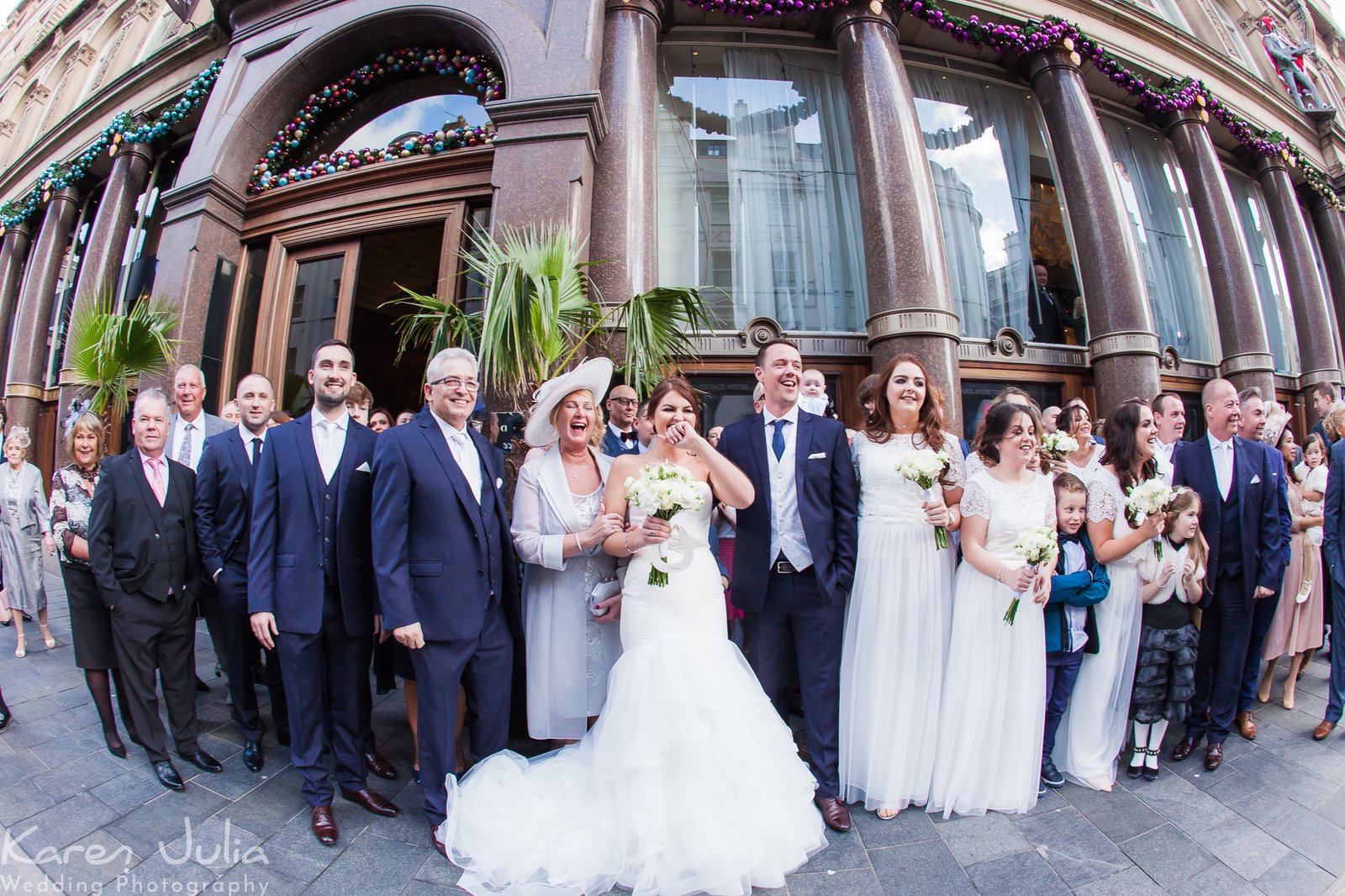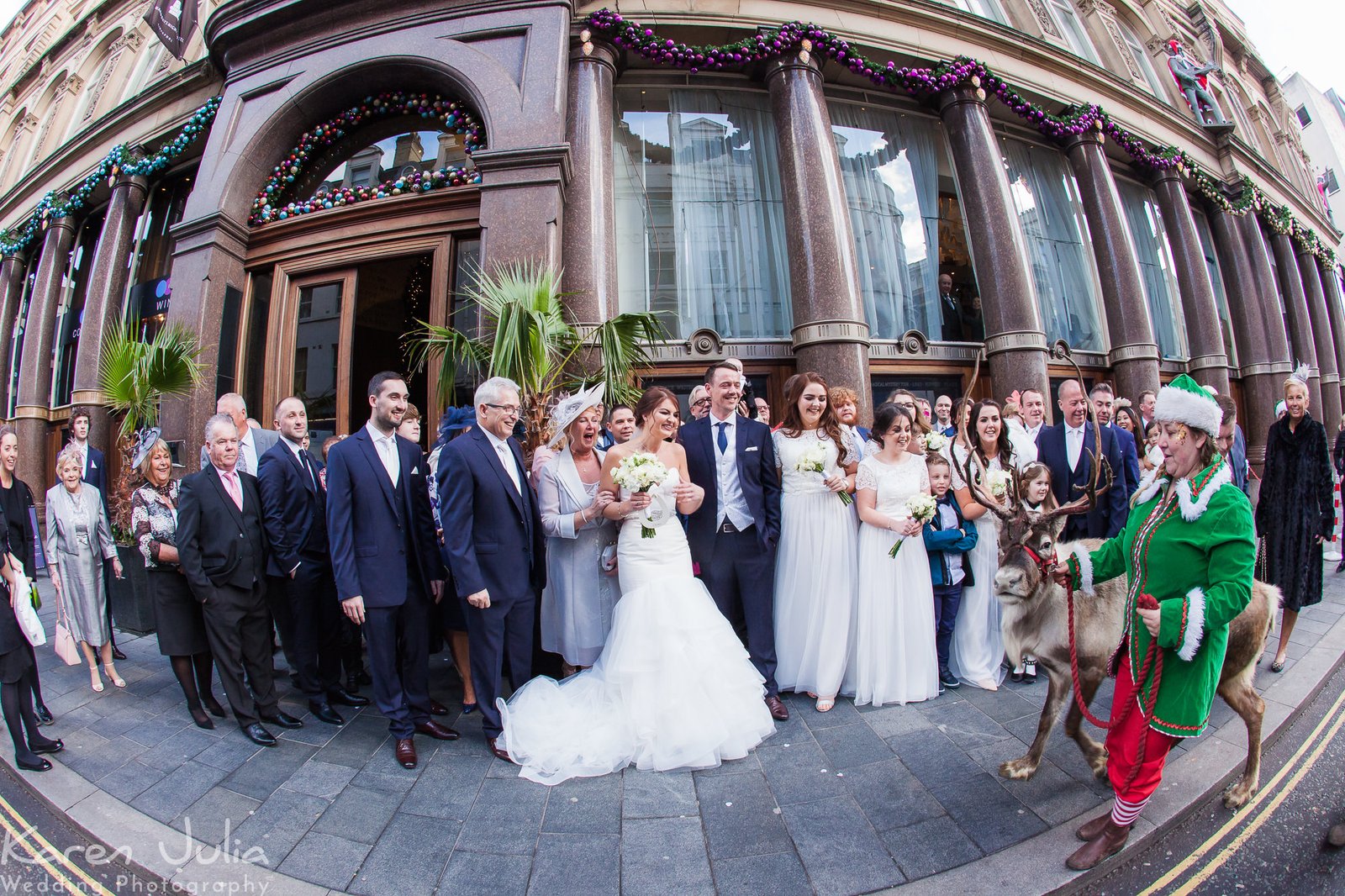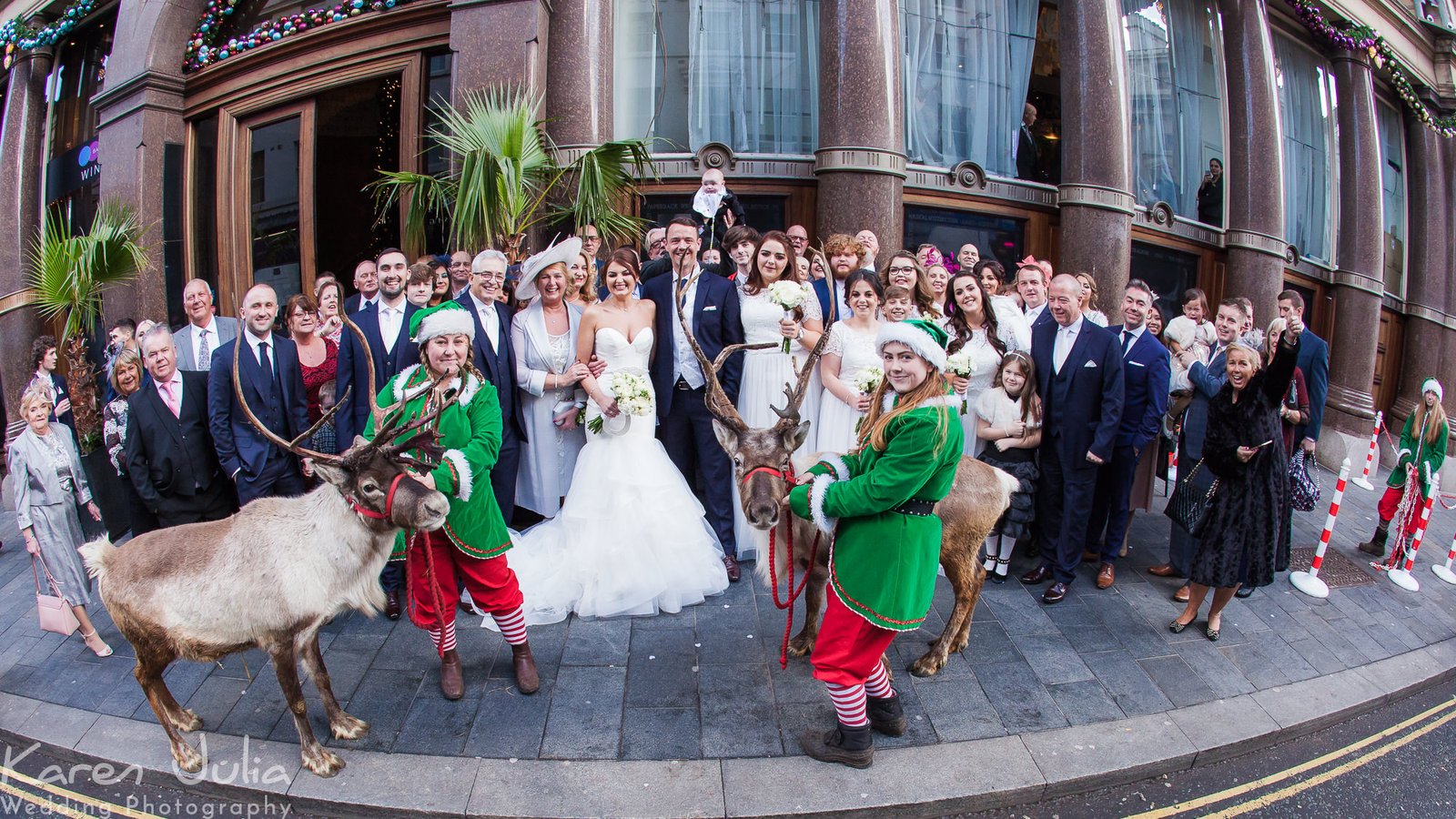 A couple portrait with the reindeer and elfs.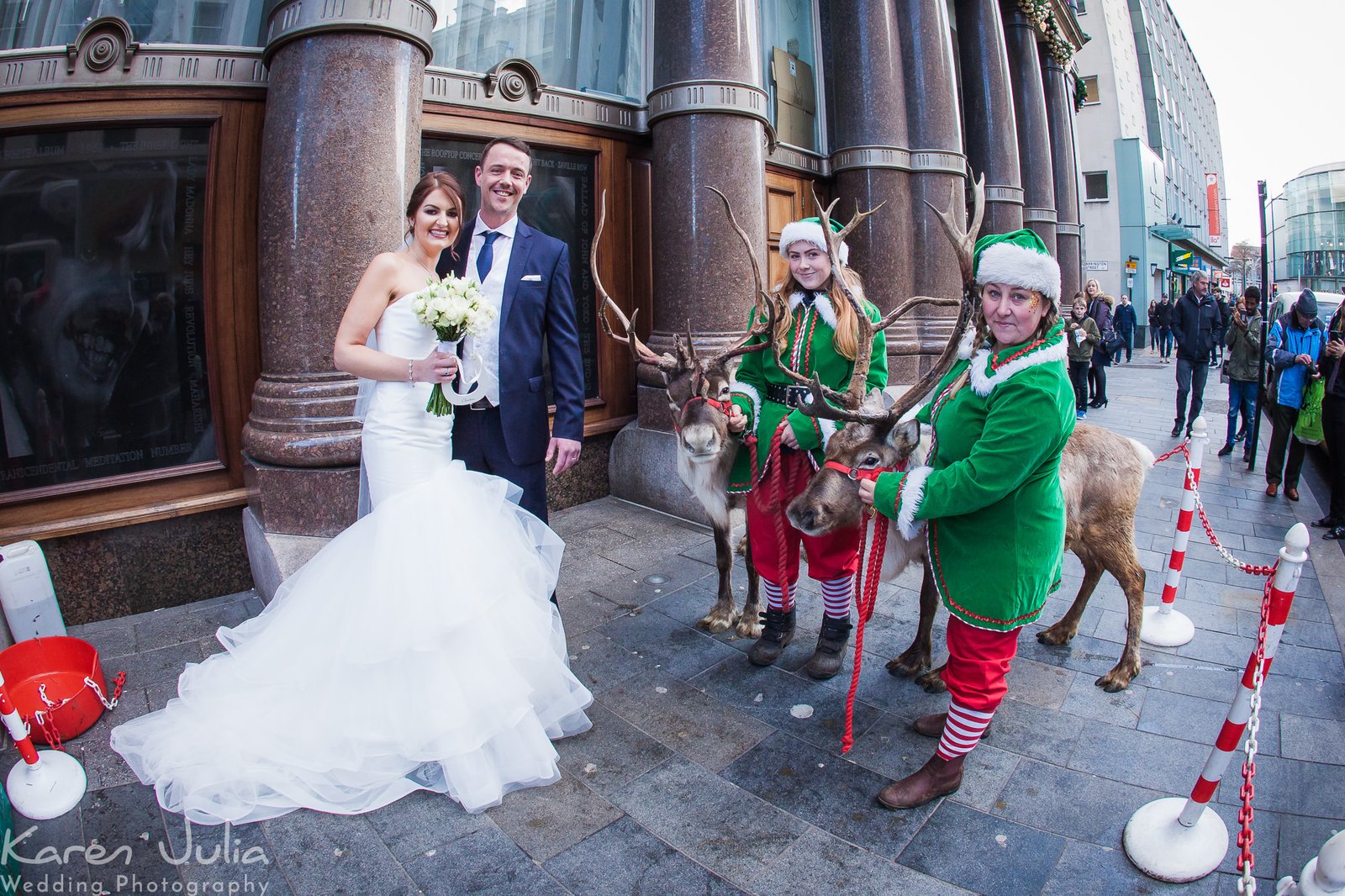 Couple take a stroll up the infamous Matthew Street, home of the Cavern club.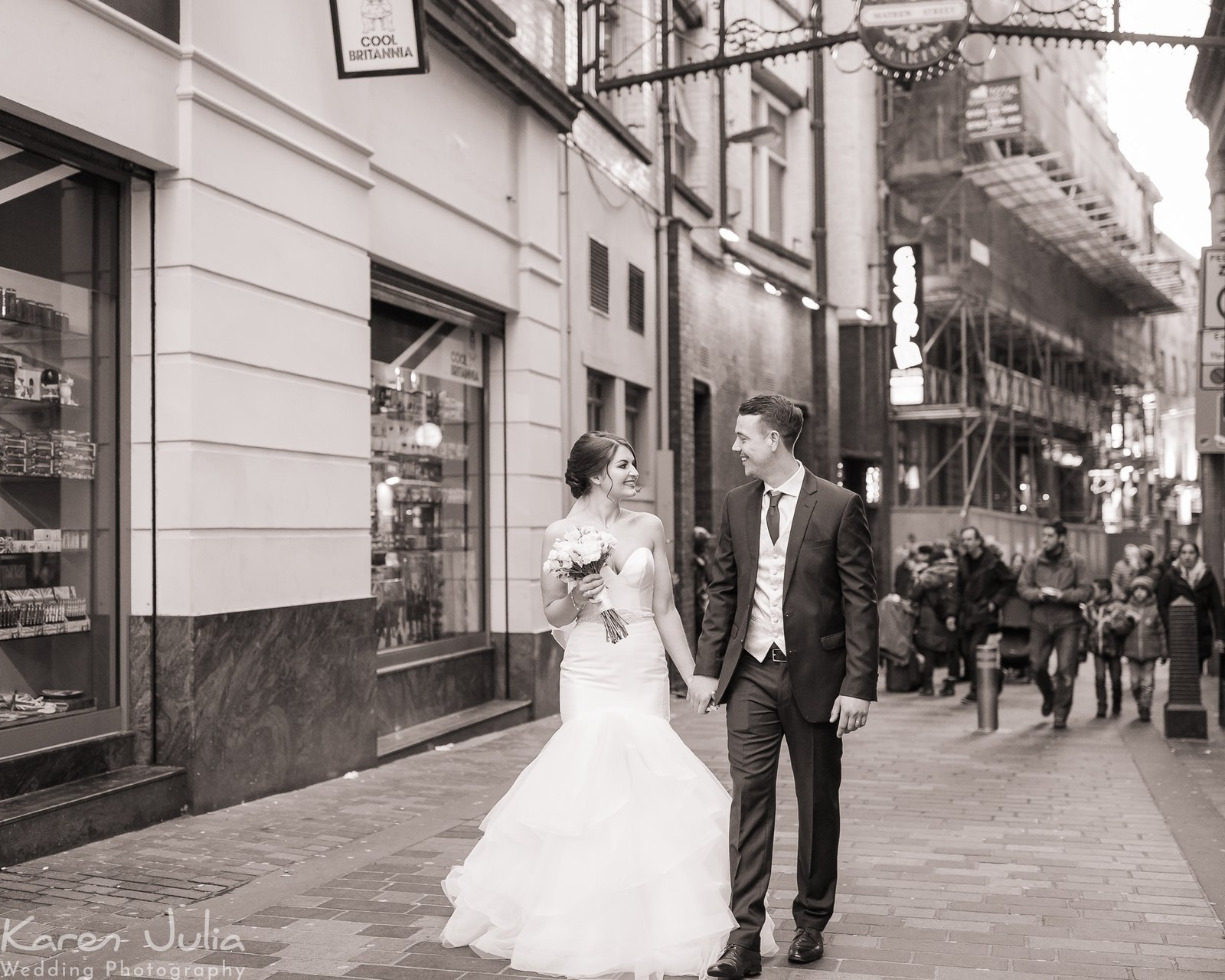 The couple have a joke that they can't go anywhere without Graeme popping in to Greggs for a sausage roll, so we thought it would be fun to pop in to the branch next to the Hard Day's Night hotel to get one for a photo. 🙂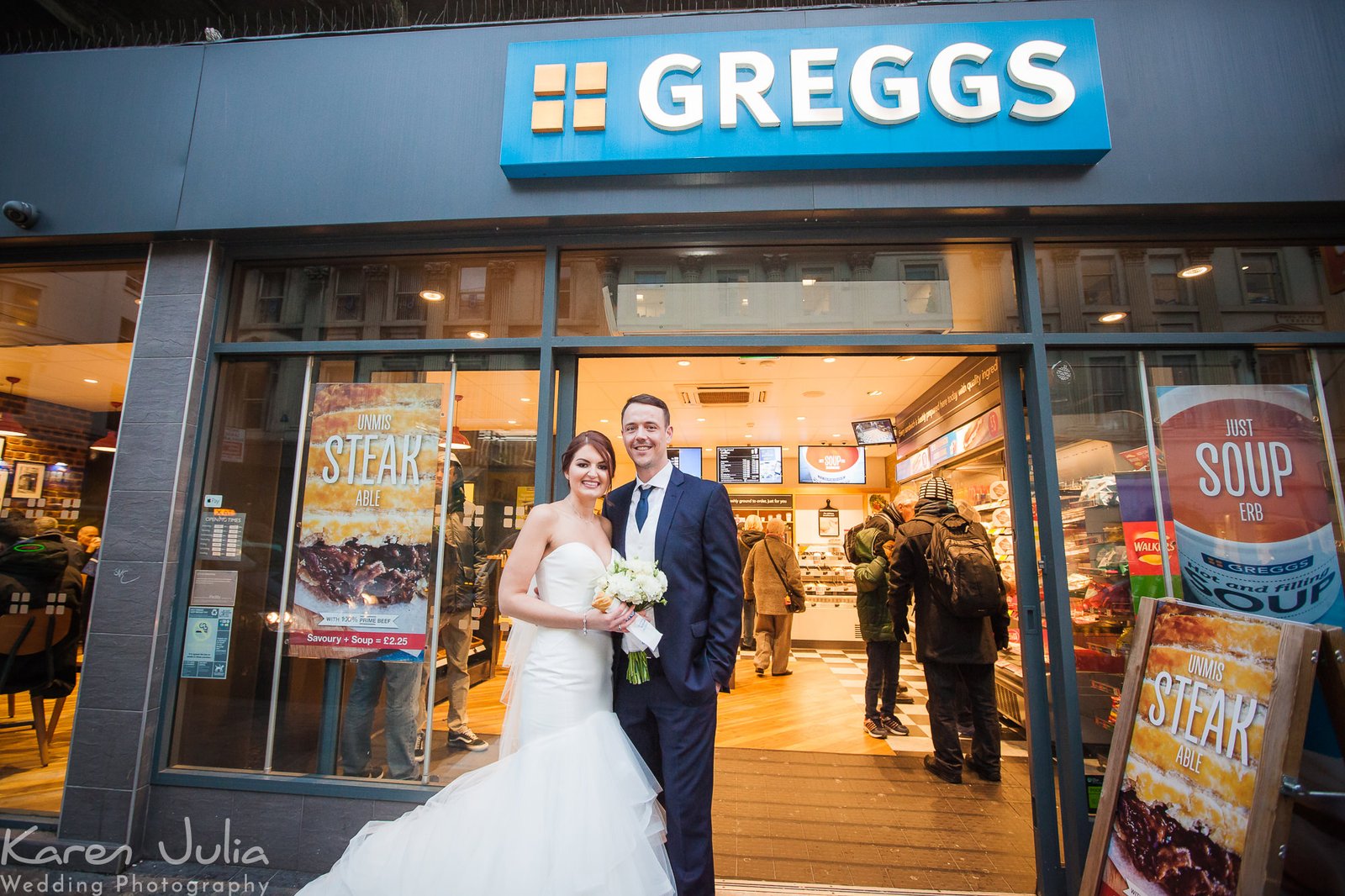 Wedding Suppliers
Venue: Hard Day's Night hotel