Children at weddings are great. With their super cute mini suits and princess dresses, they are seriously adorable, and whilst they're all dressed up, it's a great opportunity for some photos for the wall at home.
Over the last ten plus years of shooting weddings, I've noticed a common trend at weddings, and this trend is with parents 'art directing' photos. So, with this in mind I wanted to put a guide together so you'd know how to help your wedding photographer get the best possible photos of your children.
Bride & Groom plus 1 (or 2)
This guide features Debbie & Mike & their daughter B. I generally recommend engagement shoots are out of peak season, but when there's young children involved, a month before the wedding day is ideal. Debbie & Mike were getting married at Capesthorne Hall in July, so we met in June for the practice shoot below. B had just started walking so knowing this was her new favourite thing meant I could integrate this within the couple photos on the wedding day. Check out their wedding highlights here.
If my couples have young kids, I recommend they bring them to the engagement shoot. The best photos of kids are when they are happy and smiling naturally, and that's best achieved through play, cuddles, and lots of attention.
Tip: Speak to your wedding photographer about including your kid(s) in the pre wedding shoot.
If parents both look at me during this playtime, the child will usually naturally look in the same direction, so there's no need to ask them. If they don't, I'll wait for a moment when they do, or I'll give them attention so that they look at me, but the priority is getting photos that are natural and show everyone's character and personality.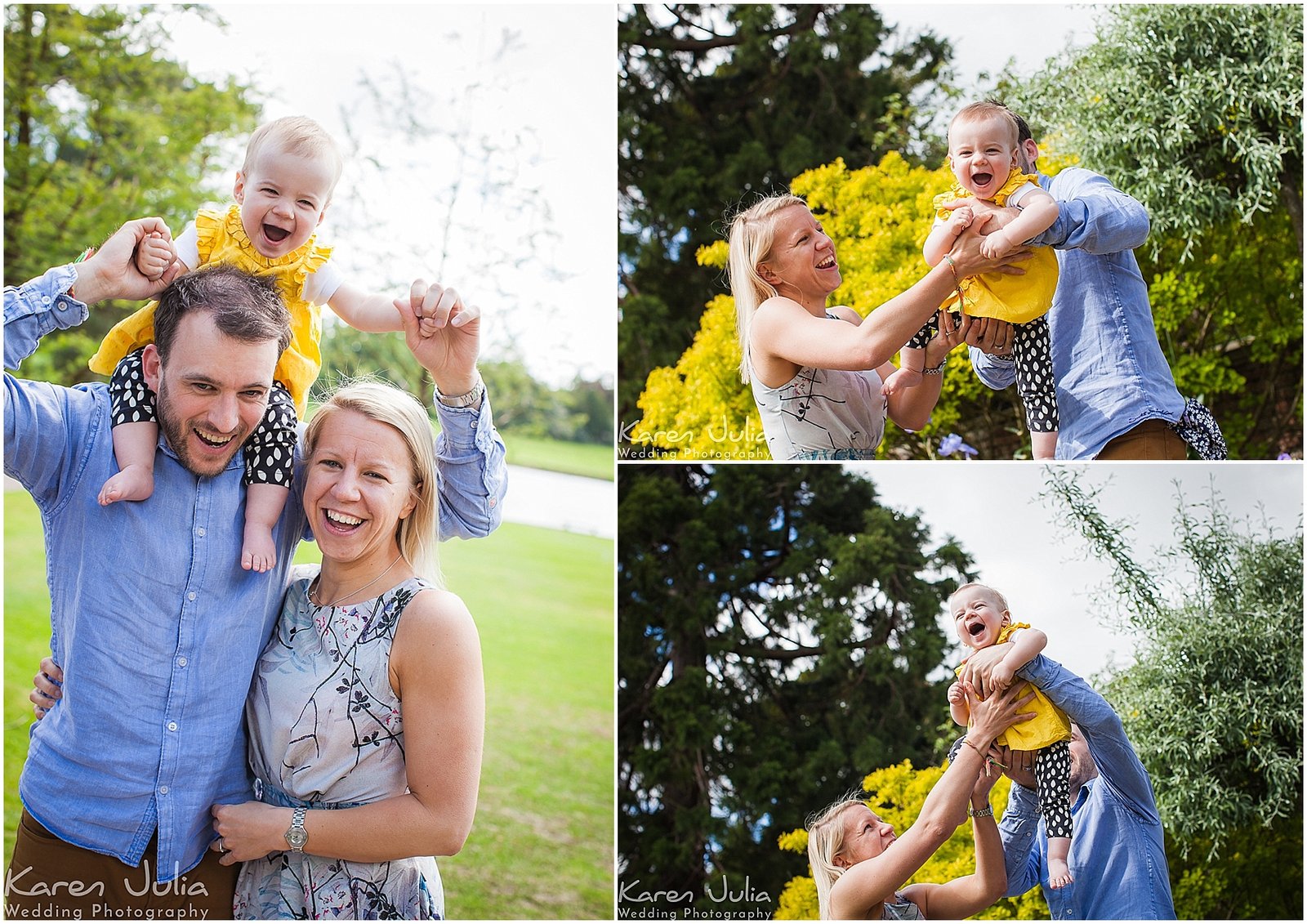 I find just playing at first sets the mood with laughter and smiles.
In the top photo, B is reaching out for the sunglasses that I'd robbed & was hiding.
Look at that huge smile while B is walking!
Here's how that looked on the wedding day: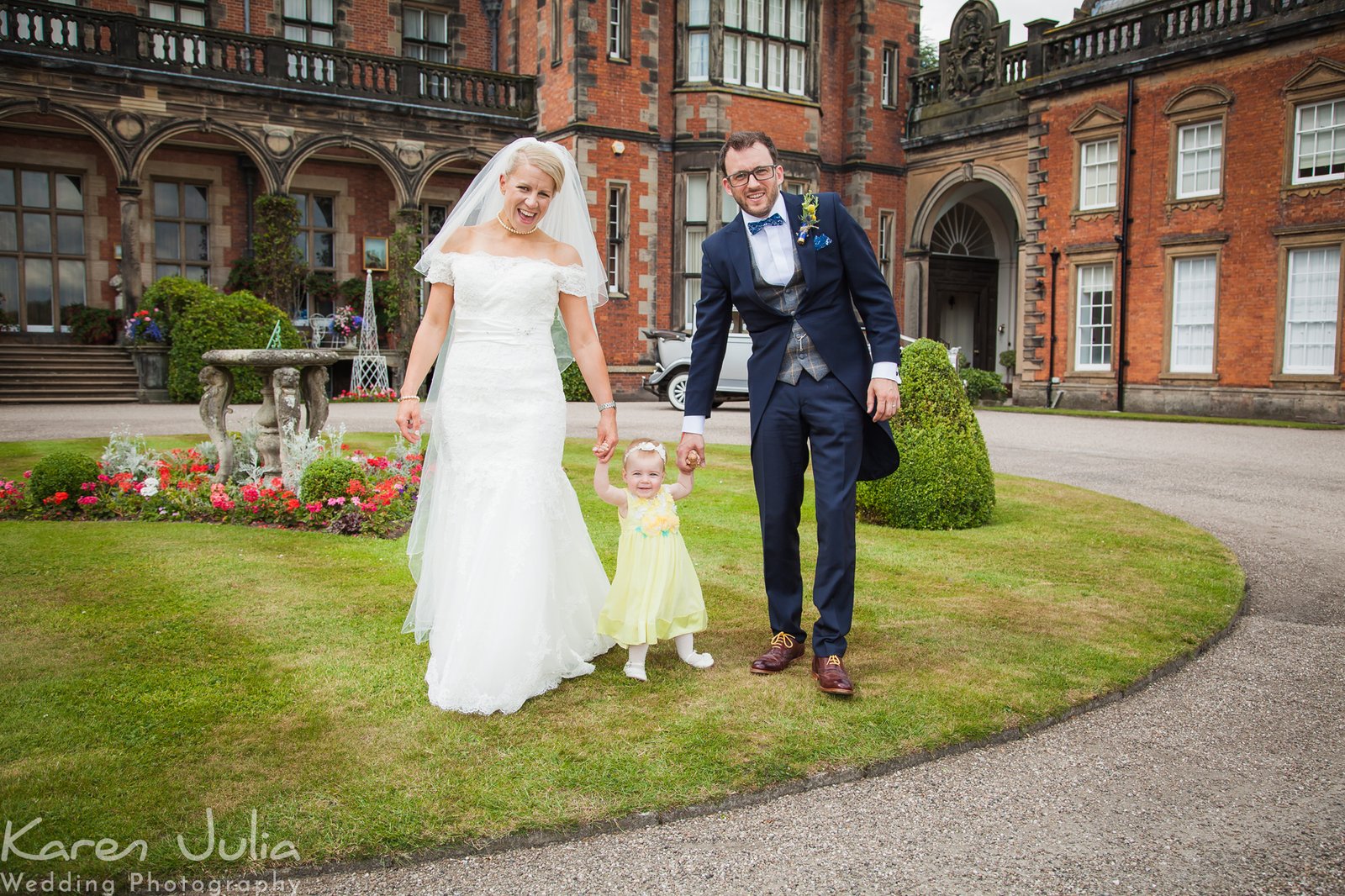 I predominantly shoot natural, unobtrusive documentary wedding photography, so I spend much of the day mingling with guests and capturing natural moments that tell the story of a wedding day. I try to blend in as much as possible so that I can shoot without guests noticing. My aim is to create a set of storytelling photos that show guests personalities, and those of their children.
I get the best documentary style photos of children when they are unaware of me.
I need parents of children to help with this though. So, here's what to do instead:
Enjoy the drinks reception.
Ignore the photographer
Kids have sat still & quiet during the ceremony, they need to let off steam before the group photos. Please let them!
No pointing at the photographer!
How to get great photos of kids at your wedding: Group photos
Often, when shooting a group that contains children it can be overwhelming for the child if several people are asking the child to look at the photographer, as that breaks the rapour between photographer and child. Young kids usually look at whoever is talking to them (if they feel like it), so if that's just the photographer, that works better. If other guests want to help, it's best they stand behind or next to the photographer.
To get the best results:
Play with the child & give them lots of attention until I've organised the rest of the people in the group photo.
Integrate play within the photo
Don't worry about getting them to look at the camera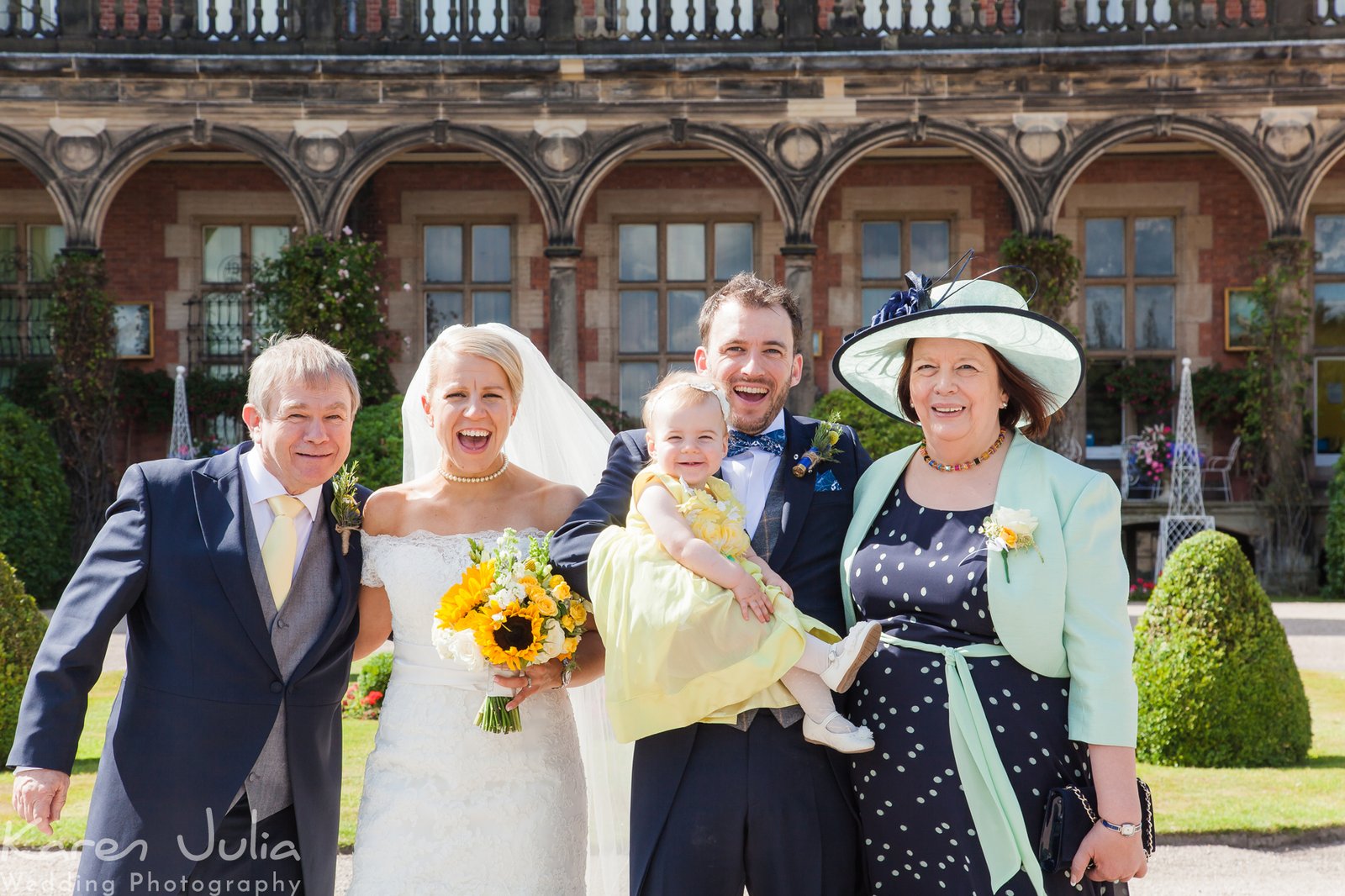 To get the photo above, Mike was playing with B, I then counted down and everyone then stopped and looked at me. B naturally looked at where everyone else was looking.
Summary
So, to get the best results, speak to your wedding photographer before the wedding and find out their approach to this. I recommend you to bring your child to the pre wedding shoot & on the wedding day, to integrate lots of attention and play in to the group photos. Relax and enjoy the drinks reception as that's a great opportunity for natural photos.
And finally… no pointing! 😉
What do you think?
I'd love to hear your views, feel free to leave a comment below.