I'm so excited!!
I've just booked my first wedding in Scotland since moving back to Glasgow, and it's at the stunning Friars Carse in Dumfries.
Venue Visits
I visit wedding venues with every couple, even if I've photographed weddings at that venue multiple times. My approach is to tailor coverage to each couple, and that relates to both time spent on photos, and the mix of photos. So I find it's really helpful for couples to meet at the venue so I can share ideas and we can chat options.
It's good to have things like a rain contingency plan in place before the wedding day. That way, I know exactly what the plan 'B' is, and so do the couple.
New Wedding Venues
With wedding venues I've worked at before, I visit with the couple, but not usually on my own. When I've not worked at a wedding venue before, I like to go on my own first to have a good look around.
I will typically drive around the surrounding area looking for opportunities for scenic landscape shots. I'll also check out the grounds fully, and look around the interior too.  Because of this, I arrange these venue visits directly with wedding venues so that I can make sure not to visit when a wedding or other event is taking place.
I love featuring as much of the venue as possible in portraits and group photos. With group shots, I love to place the venue behind the 'everyone' group photo, rather than leaning out of a window, like in the examples below of Capesthorne Hall. I bring ladders with me to ensure I can get high enough to see everyone at the back.
Position of photos on the wedding day is influenced by sun position and how bright it is. This is why visiting a venue in advance is so useful. It means I can check sun position and work out the best angle in advance. This makes the process of group photos much faster on the wedding day.

Friars Carse Country House Visit
I'm doing quite a bit of driving between Manchester and Glasgow at the moment. I figured it would be a good idea to try and detour to Friars Carse Country House on a return trip back to Glasgow. I phoned the venue checked some dates. We worked out a day that I would be passing and they would not have a wedding on and agreed on my visit to Friars Carse Country House.
I visited Friars Carse on May 26th. I took a scenic detour on the way back from Manchester to Glasgow, and some time out to walk around the grounds of this beautiful location.
There were some great couple of portrait spots where I could frame the couple with natural woodland features.
The ground was lined with fallen blossom. I hope it looks like this next year when I photograph the wedding!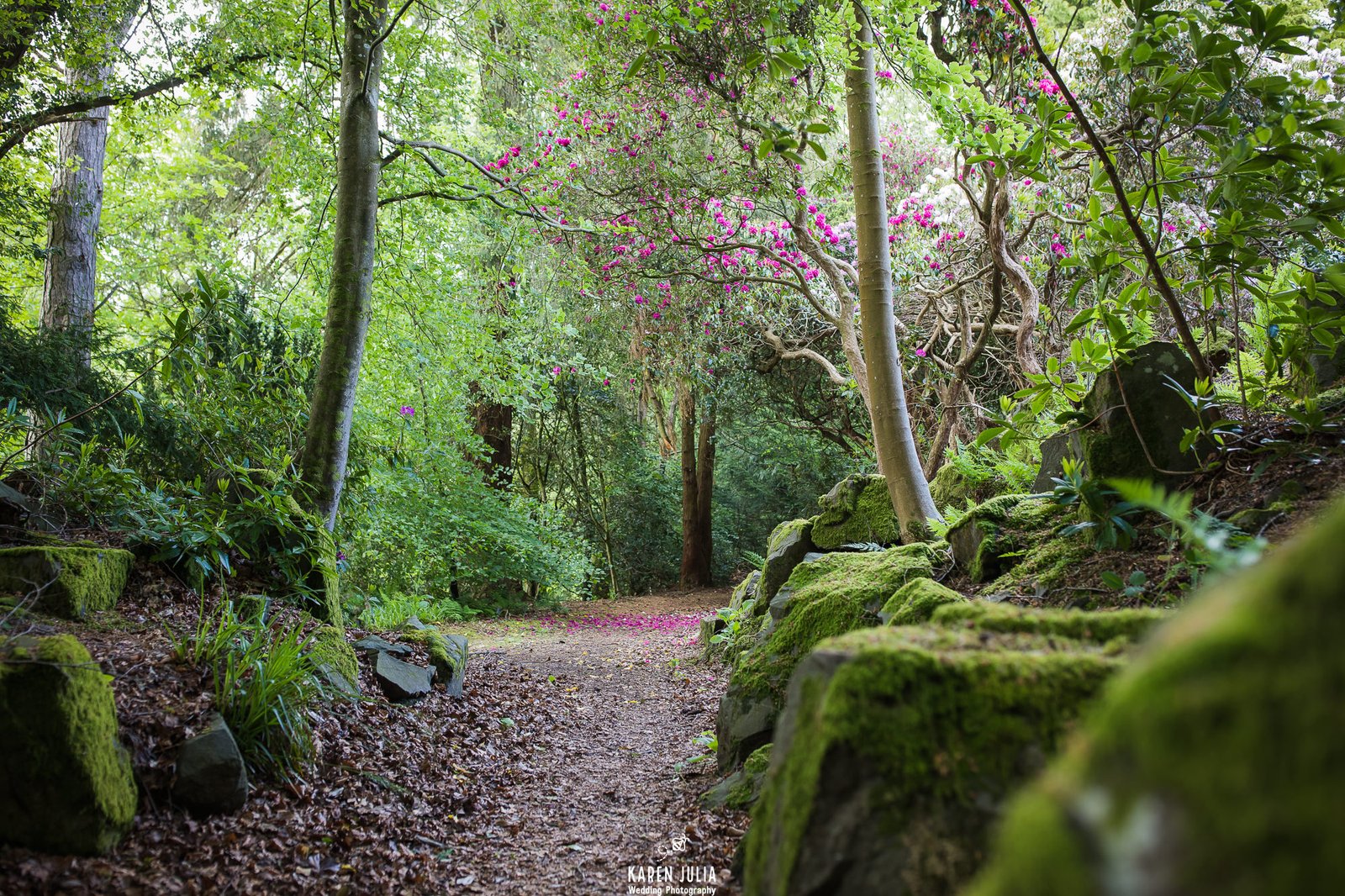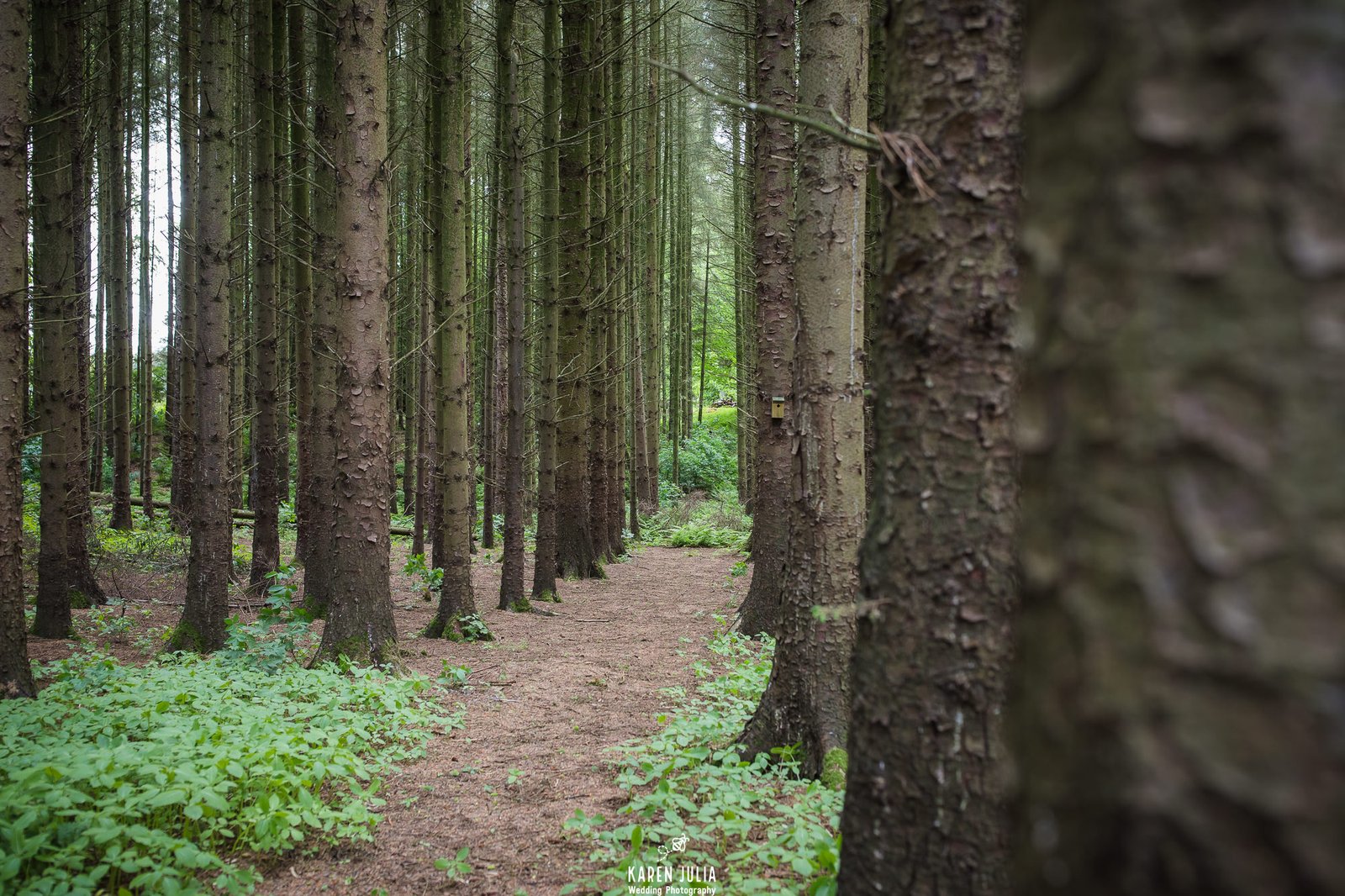 Here's the view of the venue from the carpark side, with the edge of the marquee just visible in the corner.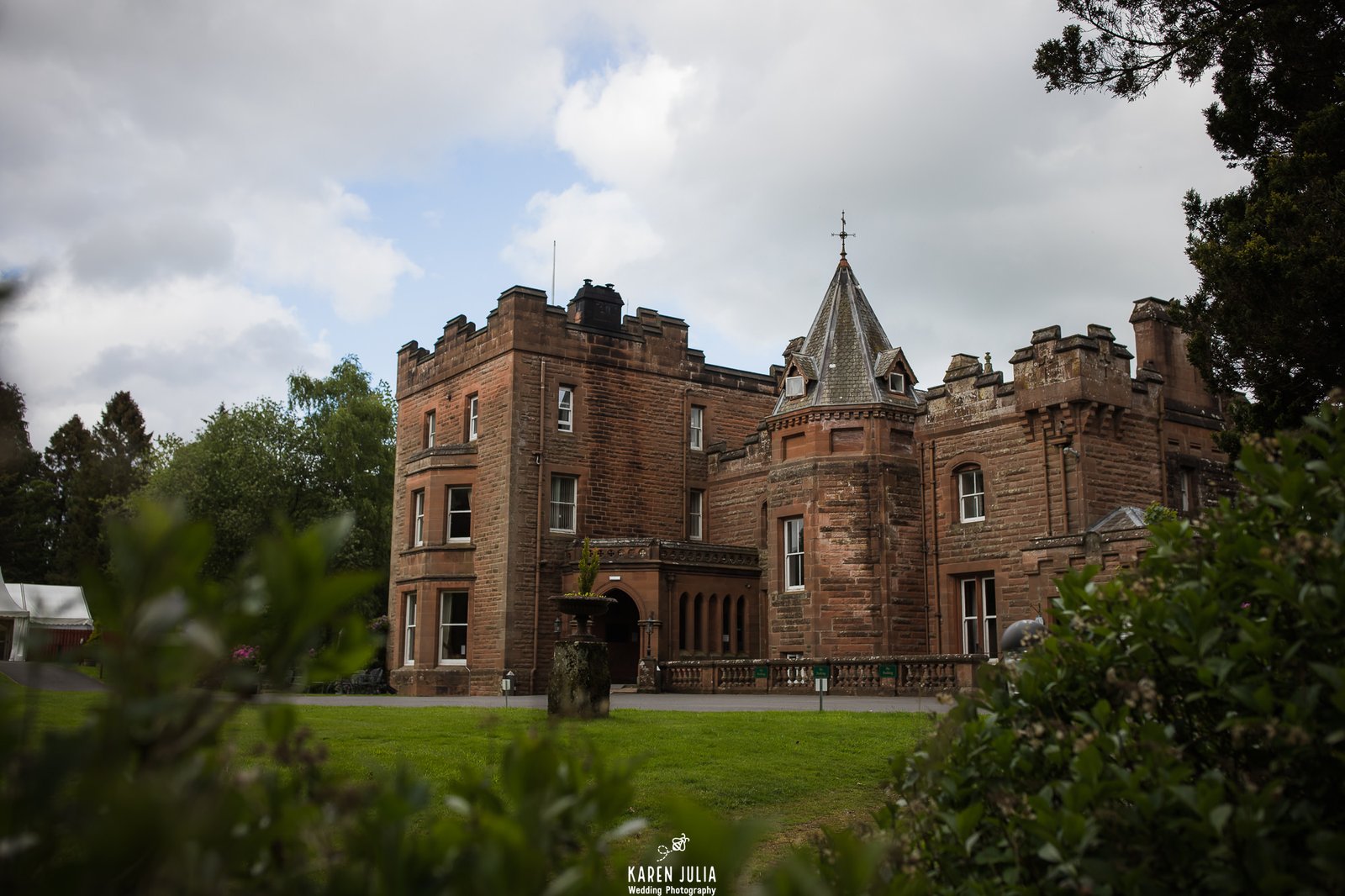 Scotland Relocation
In case you've not seen my recent social media updates, I've just moved back to Glasgow's west end after living in Manchester for 12 years. I'm looking to add some local wedding venues to my portfolio, and would especially look to photograph some weddings at Cottiers Theatre and Glasgow Botanic Gardens.
Features of a Venue Visit
If your wedding photography package includes a venue visit, this will typically involve you meeting your wedding photographer at the venue and scouting out the surrounding area. Your wedding photographer can chat through their ideas for your particular venue, and they have the opportunity to share suggestions for portrait and group photos ideas. It also gives you both the opportunity to bring your ideas too. You may have seen a particular photo online that you like and during the venue visit you have an opportunity to let your photographer know of any ideas you have.
Benefits
The wedding day will fly by really quickly, so you'll want to spend as much time as possible enjoying everything to the full, and knowing that your photographer knows your preferences, and have taken that time to chat through ideas in advance, will give you one less thing to think about.
Things to chat about during the wedding photographer venue visit:
Preferred / ideas for group photo location
Ideas for portrait locations
How much time you have between ceremony end & wedding breakfast
Where the sun will be during this time
Rain contingency plans
It can be handy for your photographer to know your style of dress as this can influence photos.
Sun position
The light on your wedding day can have a pretty big influence on the photos. Sun position will depend on the time of year. It's handy when at the venue to have a think firstly at the preferred location for the main group photo, but also then to look at where the sun is. I have met couples at venues where they have seen a group photo in a specific location & their preference has been to have it in that same spot, but at a certain time of year, on a bright clear day, this can mean guests are blinded by the sun. People squinting in group photos does not look good, so this is best avoided. Checking this out beforehand will mean that your photographer can suggest some alternative ideas.
Certain portrait styles that you may have seen on Pinterest can be really influenced by sun height and position. So, if your Pinterest portrait inspiration board contains sun flare style photos, for example, you should let your photographer know. Sun flare portraits are beautiful, I LOVE them, but they need to be shot within a certain time frame, and unlike the registrar or vicar who doesn't mind if you are late by a few minutes, the sun will not wait. 😉
Sun Position Apps
I have tried a few different ways of calculating sun position at different times of the year at different venues, and my all time favourite is an augmented reality app called sun seeker, which I chat about in the video below. This app will allow you to see a 3D version of your venue and shows that days sun position, and the sun position on any given day, so if you want sun flare style portraits it's worth keeping in mind start times of wedding breakfast and other events on the day and working things around your preferences.
The photos above were shot at Nunsmere Hall in Cheshire on June 3rd 2011. Sunset time was 21:29, and these photos were shot at 7:40pm, right at the start of golden hour. The dense trees to the side of Nunsmere Hall mean that this lighting effect starts early in 'golden hour' and doesn't last long.
Are wedding photographer venue visits essential?
No. Absolutely not. Having relaxed, informal documentary coverage on your wedding day? Then you may be happy to leave the decision-making process to your photographer. Your wedding photographer may have shot many weddings at your venue and therefore know it really well. If that's the case a chat of ideas over the phone may be all that's needed.
Personally, I love having the opportunity to meet with my clients and get to know them both a bit better, find out more about their plans and vision for the day, chat ideas over coffee, and have a bit of a 'team' approach to planning the wedding photography, but ultimately your wedding day is personal to you & different things will work for different people.
For wedding photographers:
If you'd like to check out the sun seeker app I use for my wedding photography venue visits, you can get it from the app store here:
https://itunes.apple.com/gb/app/sun-seeker-3d-augmented-reality/id330247123?mt=8
It's also available on android if you're one of those 'non-apple' people that I have heard rumours about 😉
https://play.google.com/store/apps/details?id=com.ajnaware.sunseeker&hl=en_GB
It would be great to know what both couples & other wedding photographers think of venue visits too. Feel free to comment below and tell me what you think! 🙂