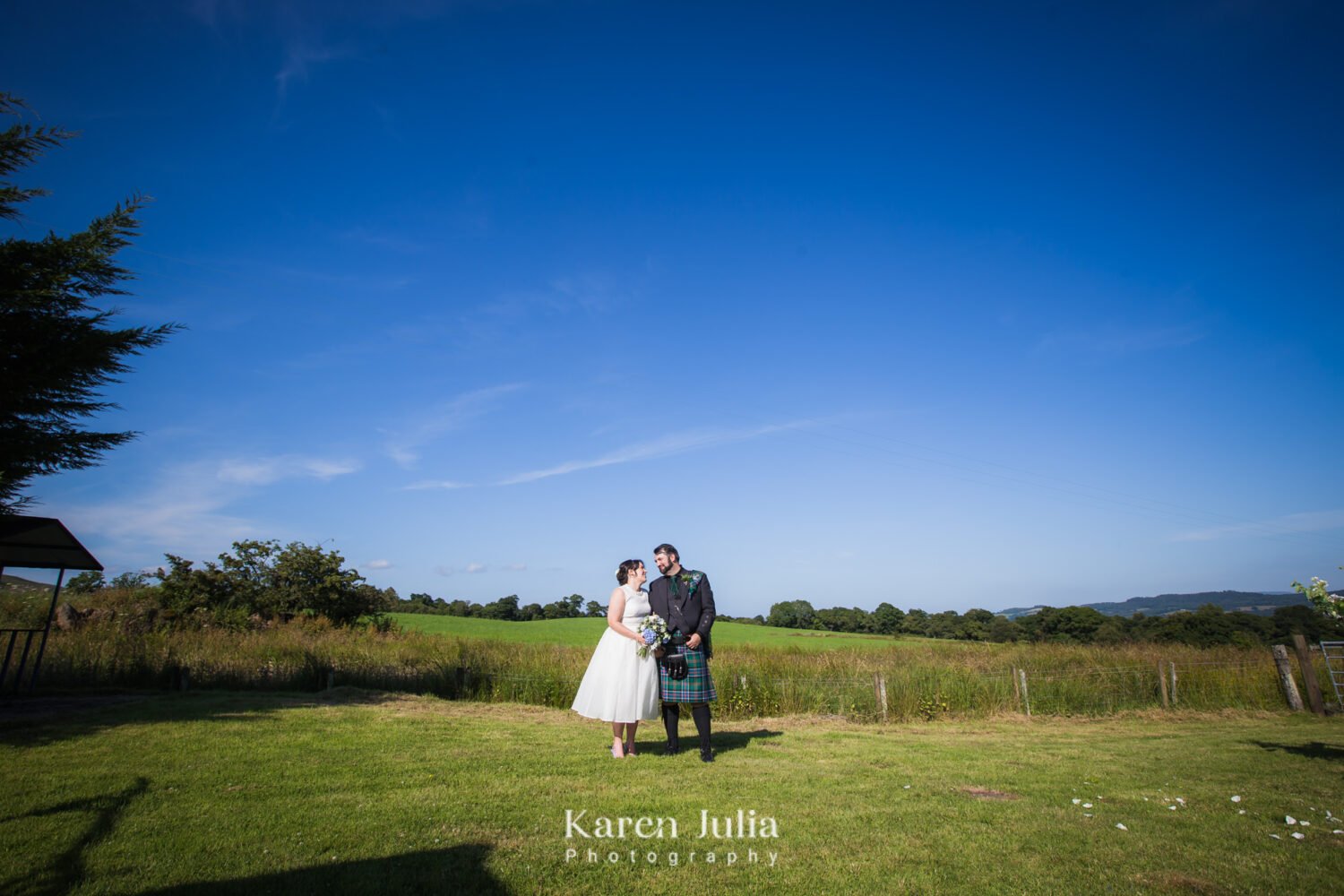 I love photographing weddings at Fruin Farm! It's a really cute farm wedding venue, just a mile from Loch Lomond.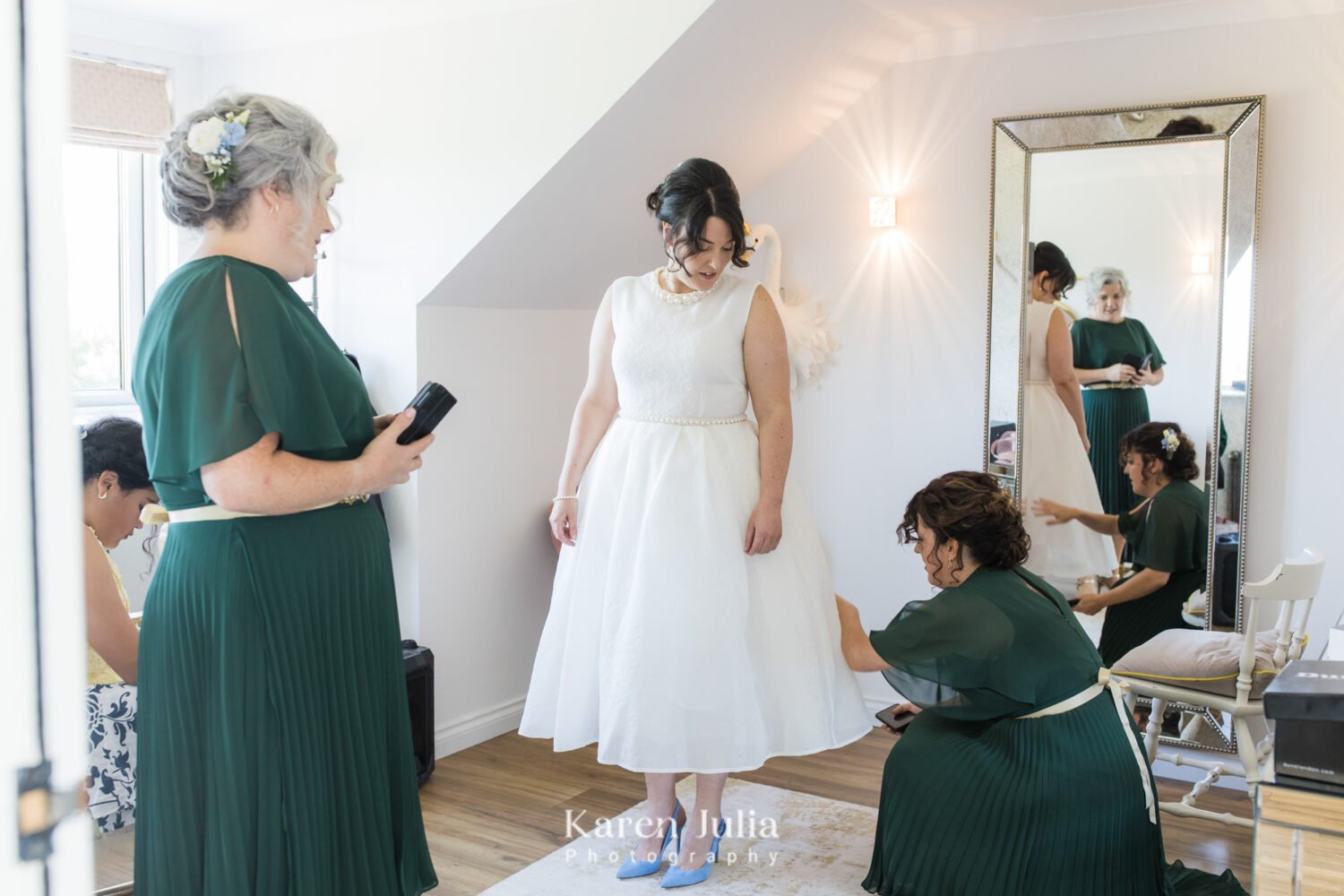 I arrived just as the bridesmaids were helping the bride into her gorgeous tea-length dress. This is a great style choice for a relaxed and informal farm wedding and makes walking about the venue far easier.
I like capturing lots of natural, unposed moments during the bridal preparations, including things like the Dad seeing his daughter in her wedding dress.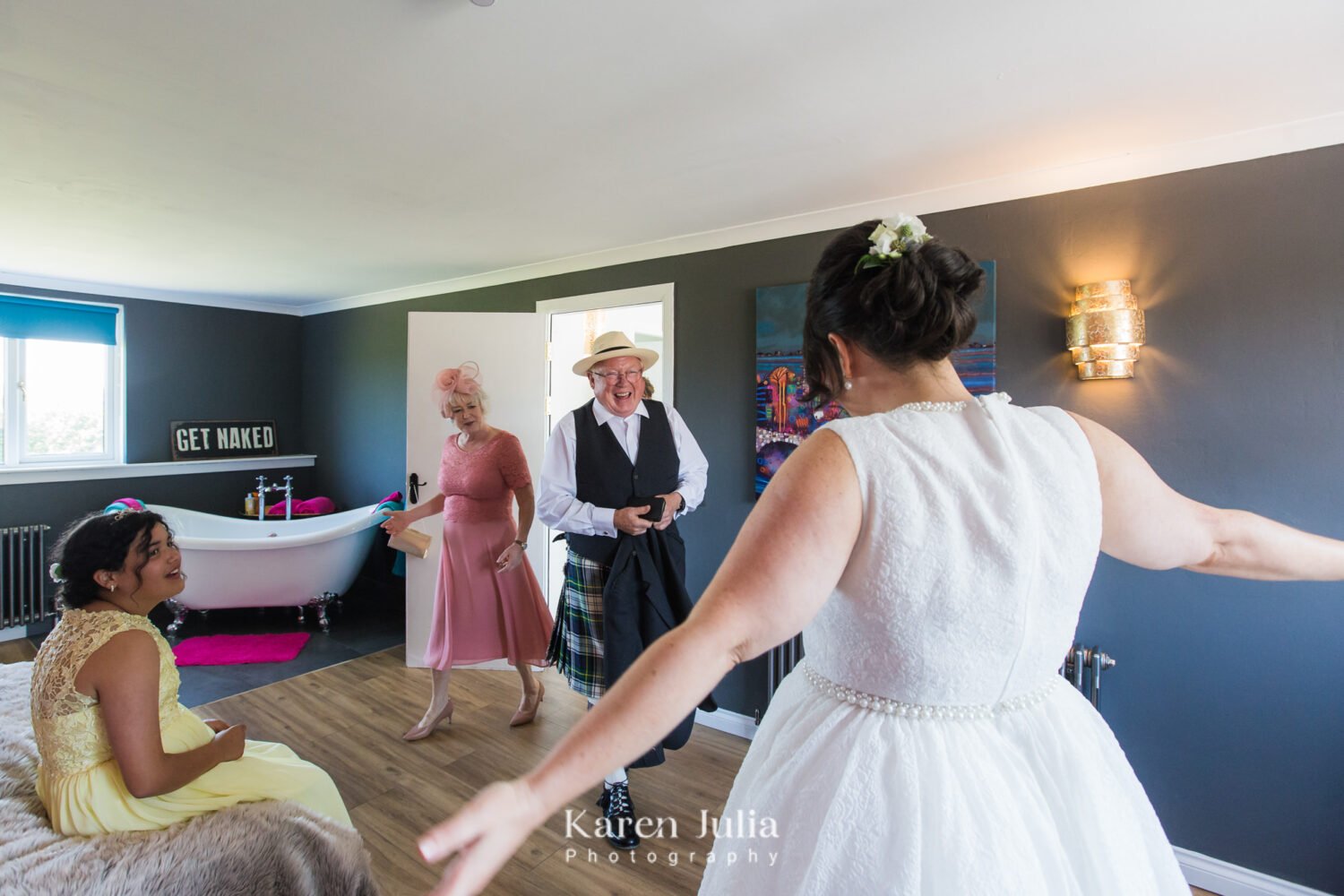 The bridal suite area is colourful and bright, so a lovely location for photos.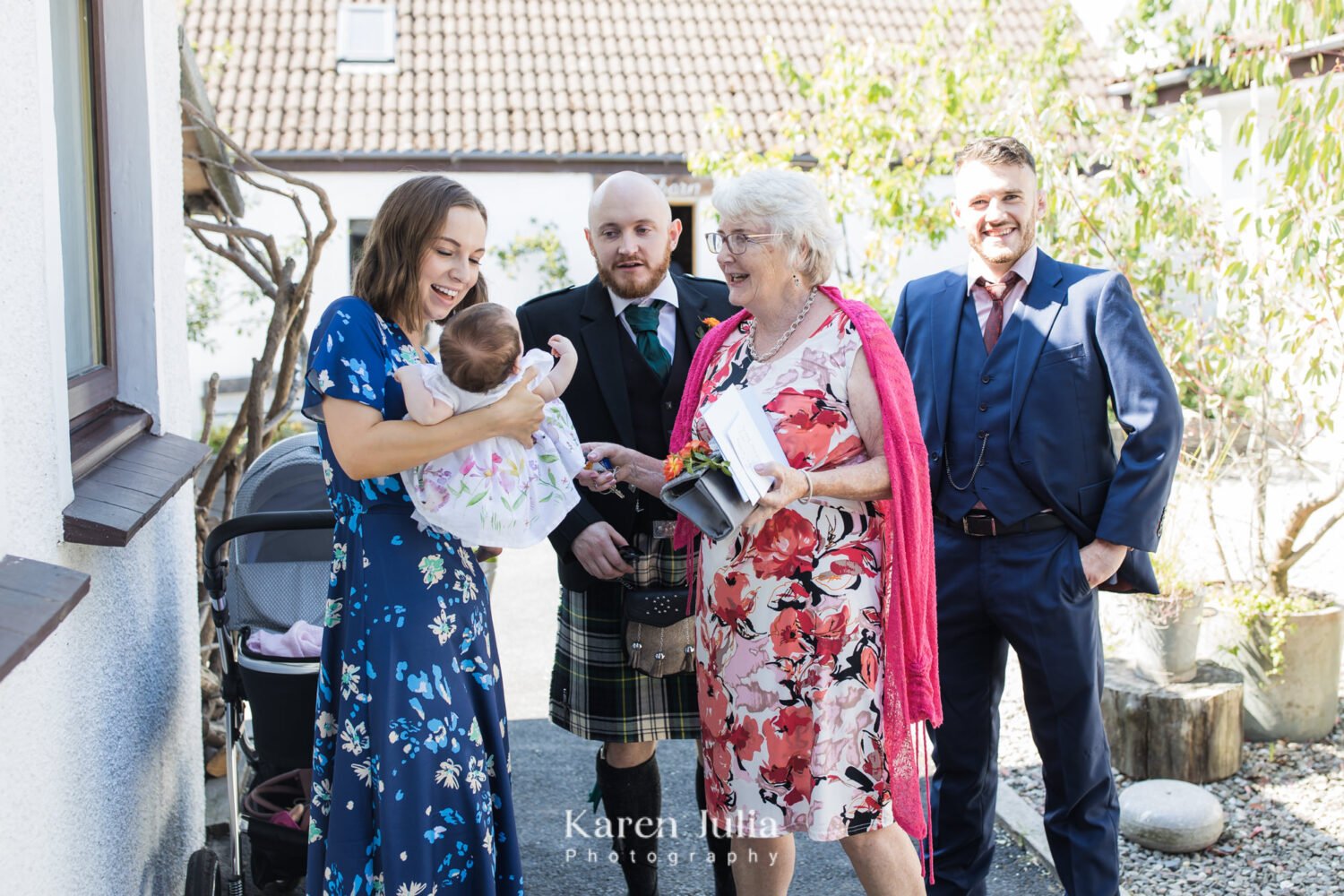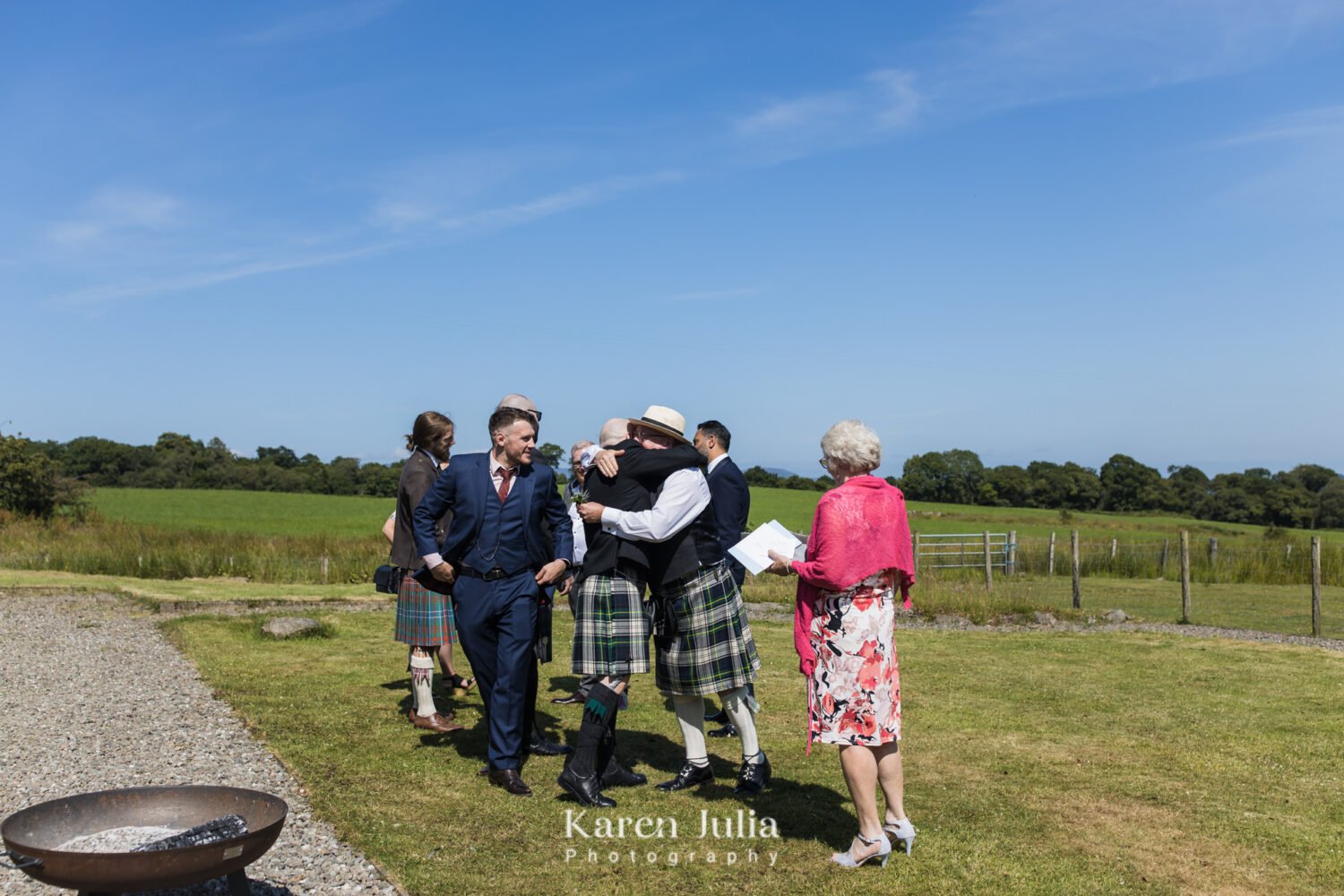 Wedding Ceremony
The wedding ceremony was to take place in the farmhouse. I headed in to meet the groom as guests were filling the space with excited chatter.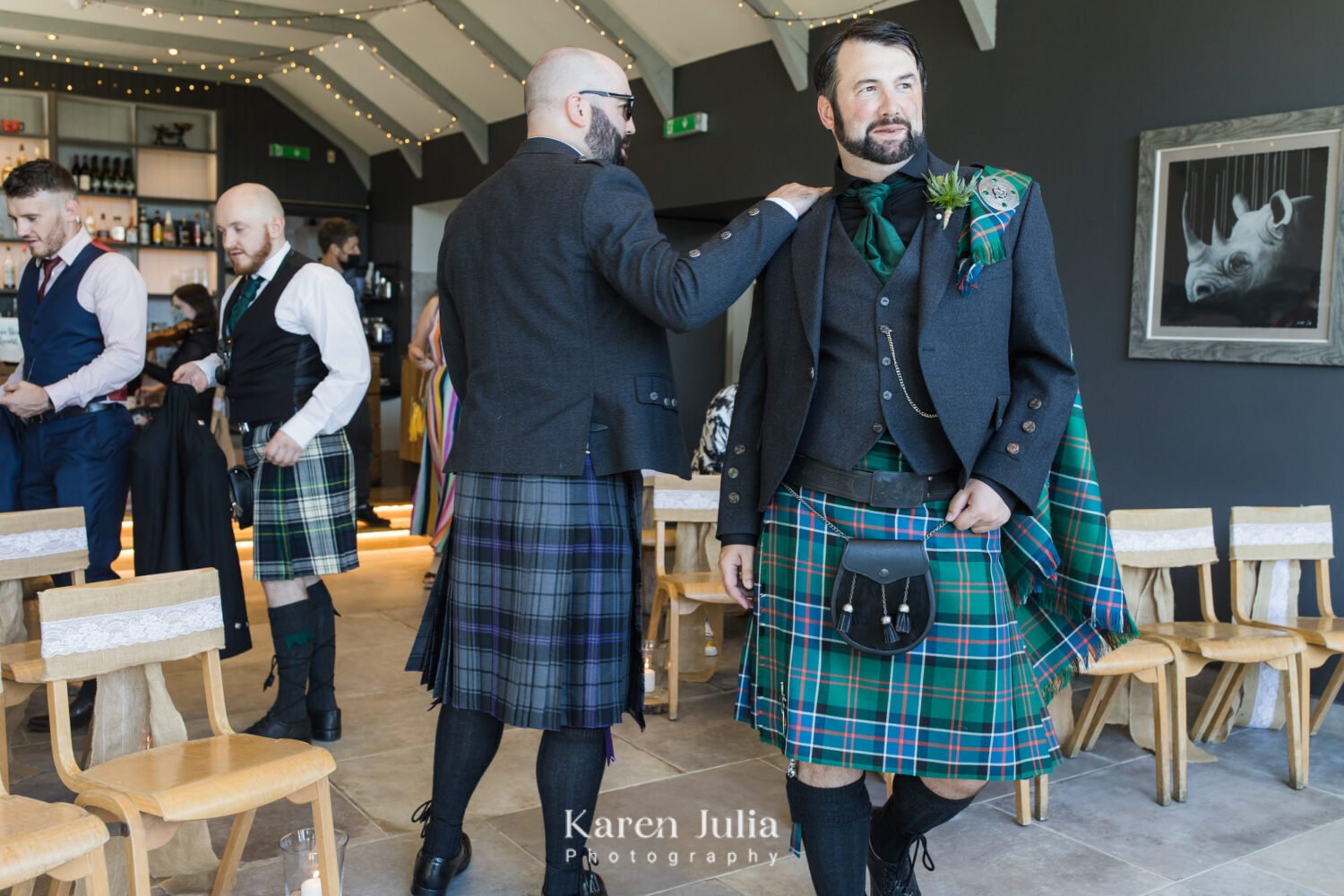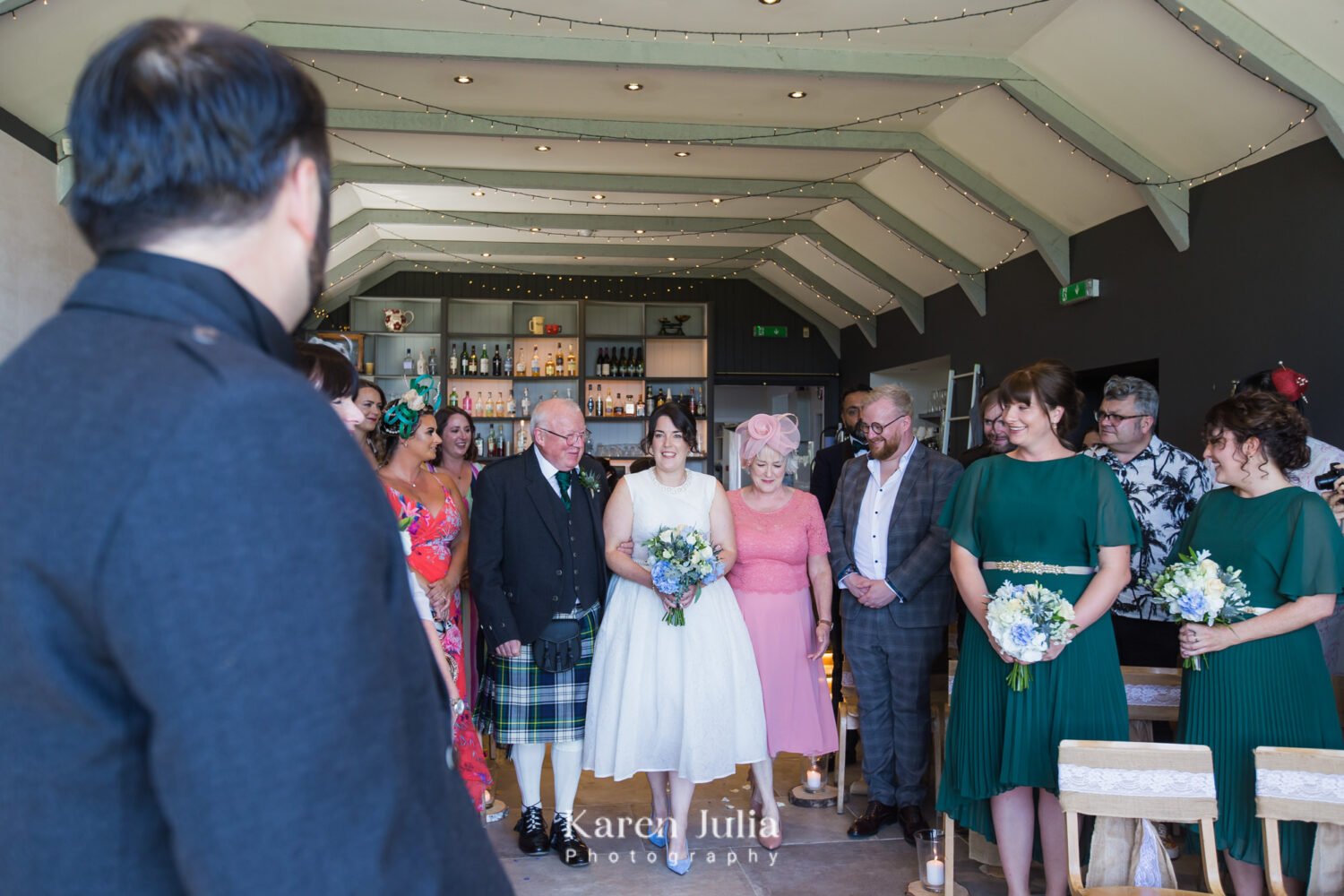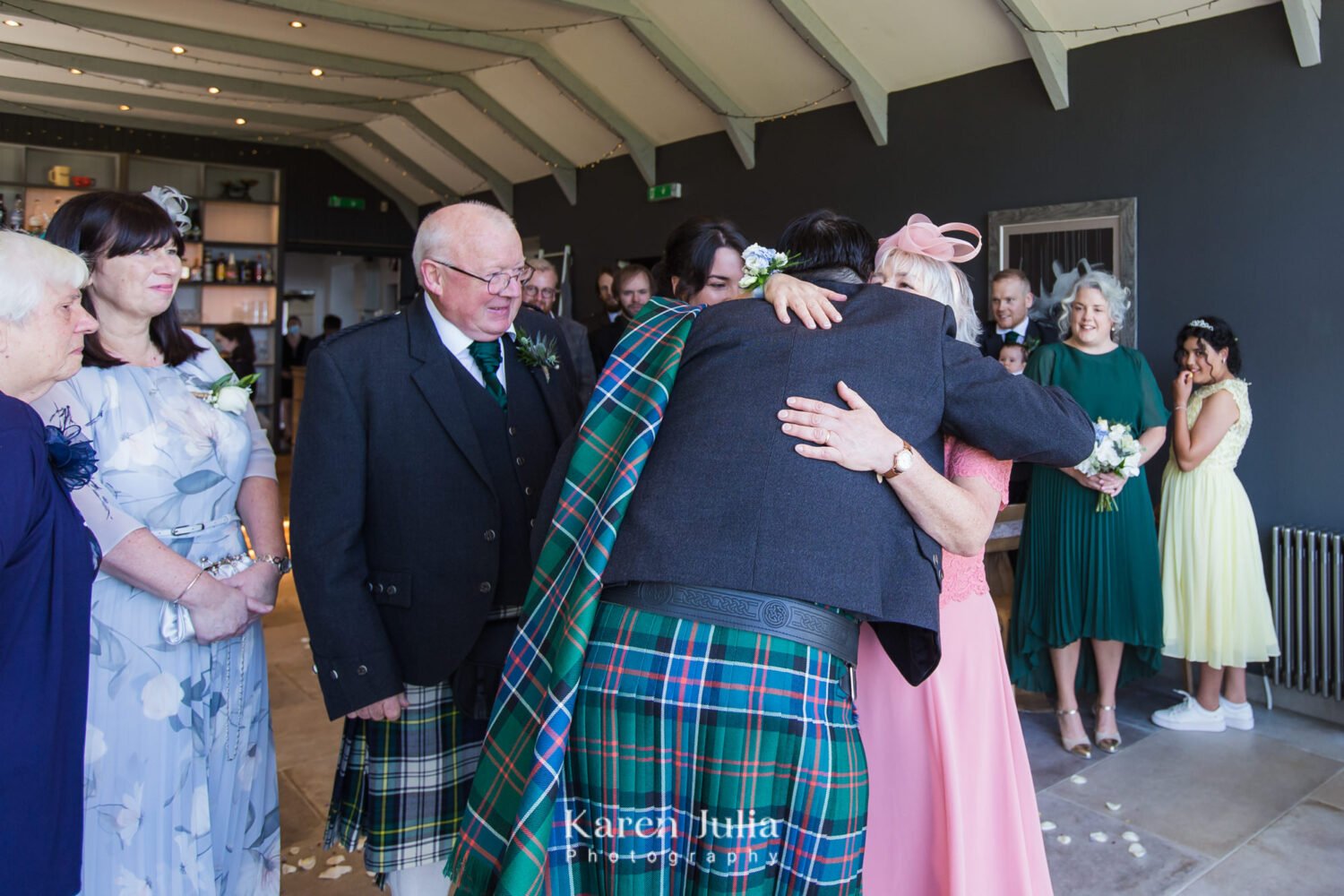 The ceiling of the farmhouse was adorned with roses on branches, which was a gorgeous pop of colour over the ceremony area.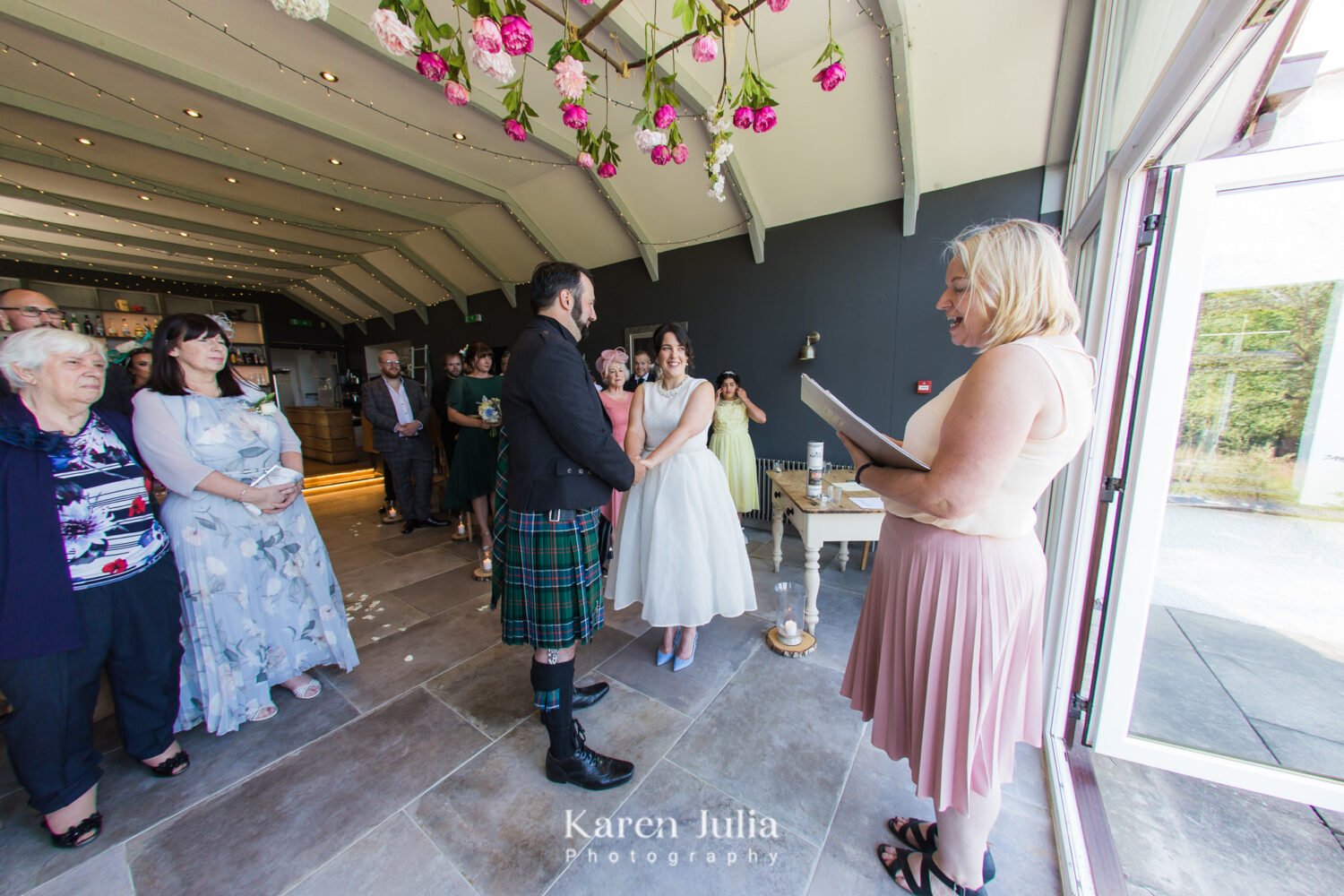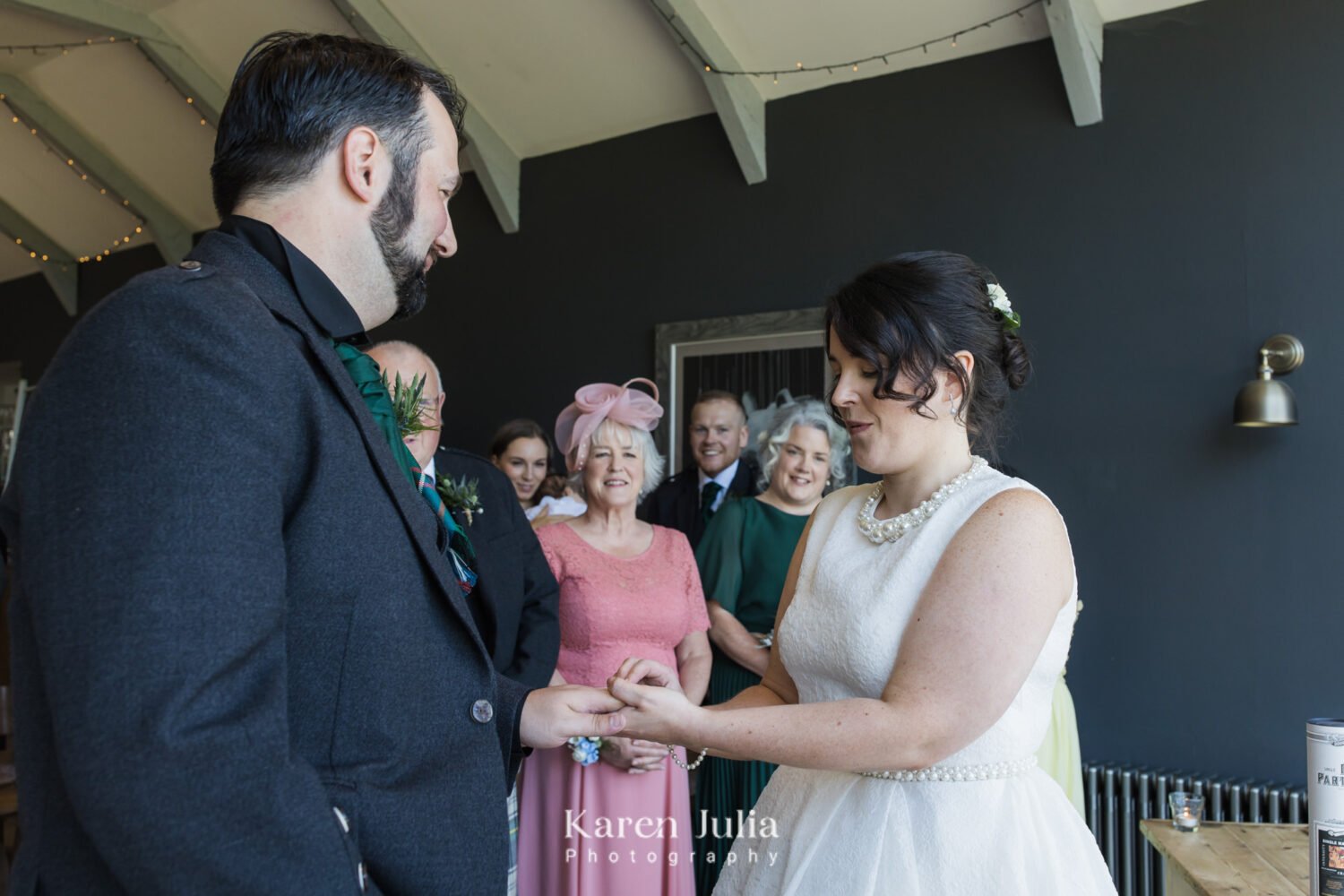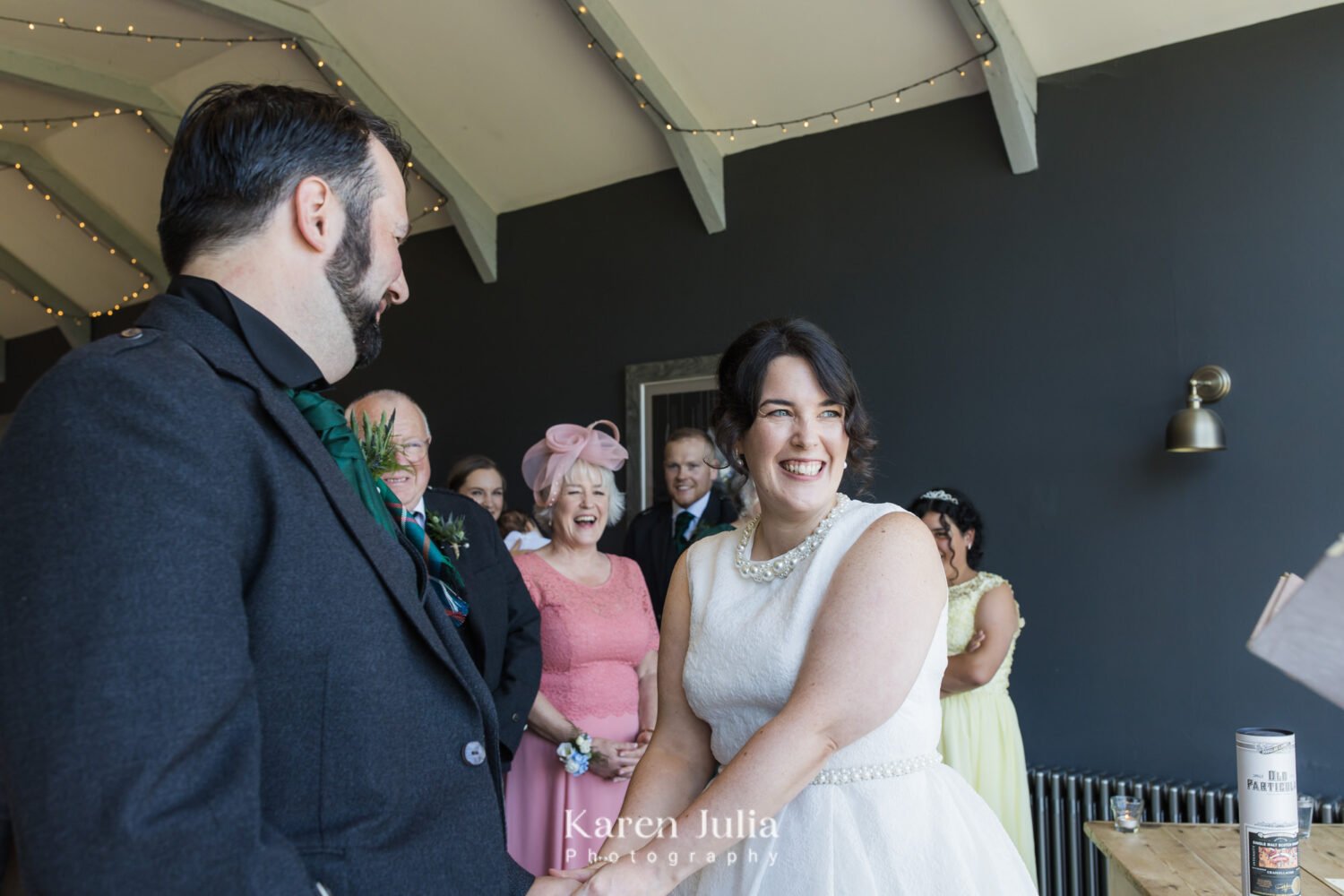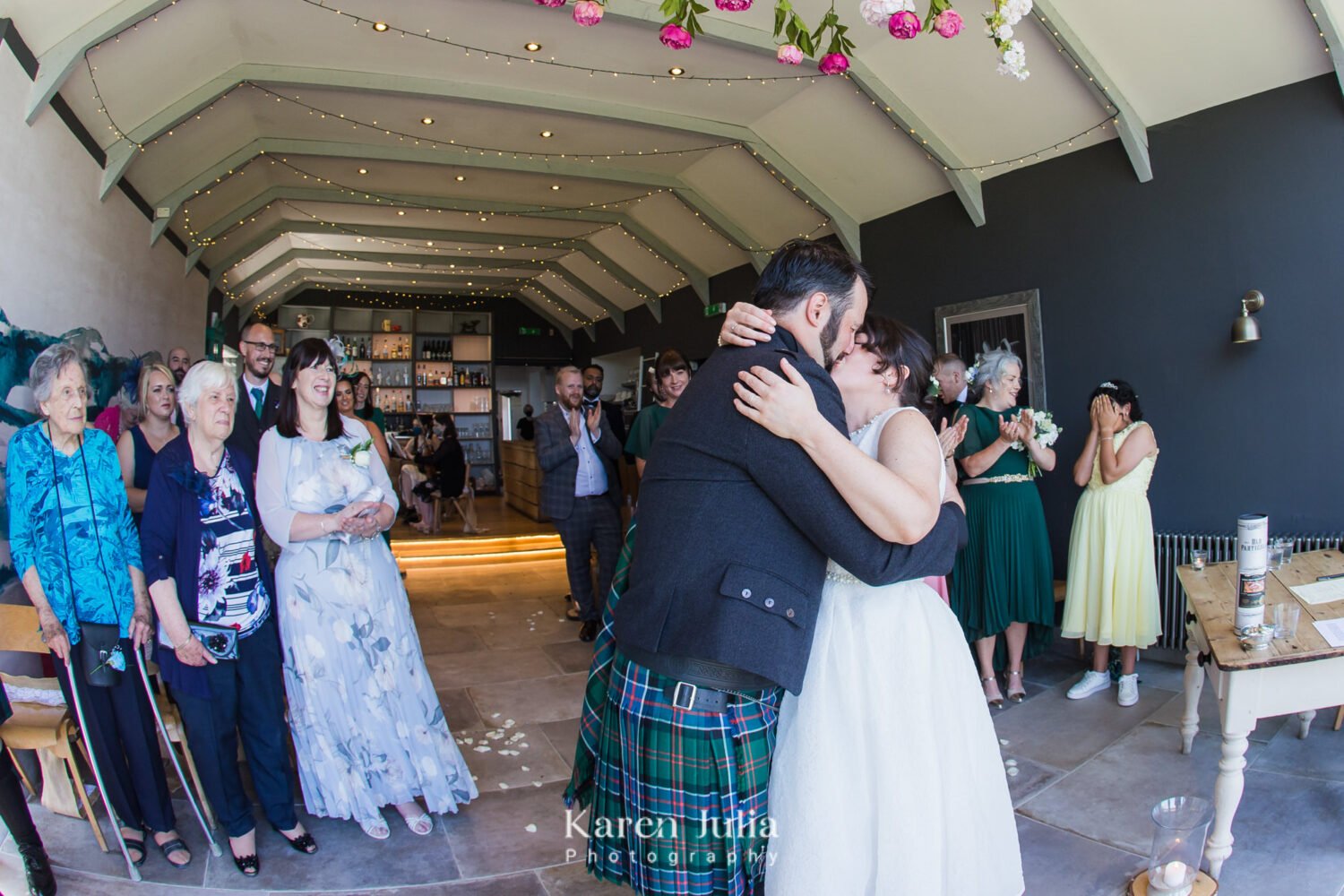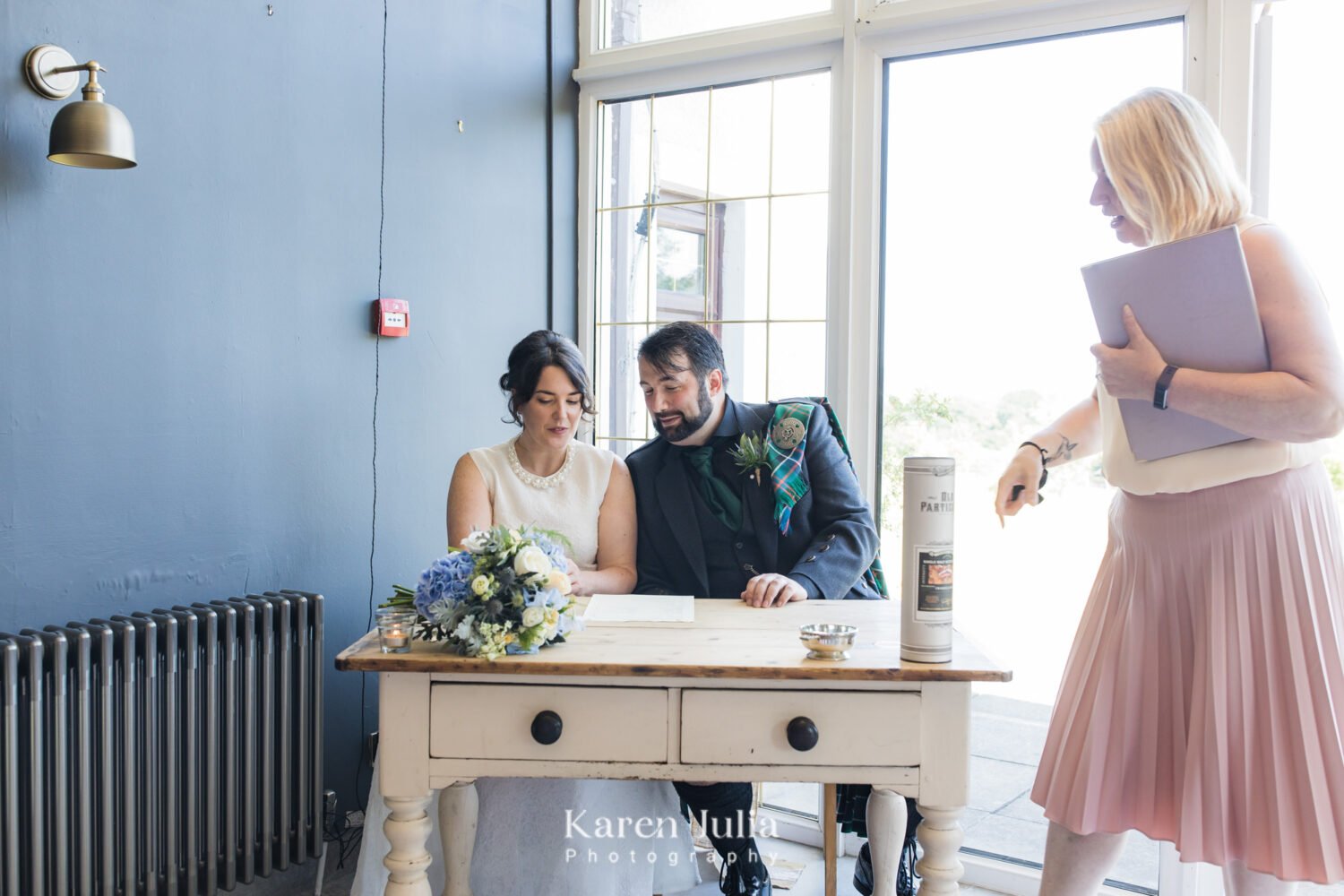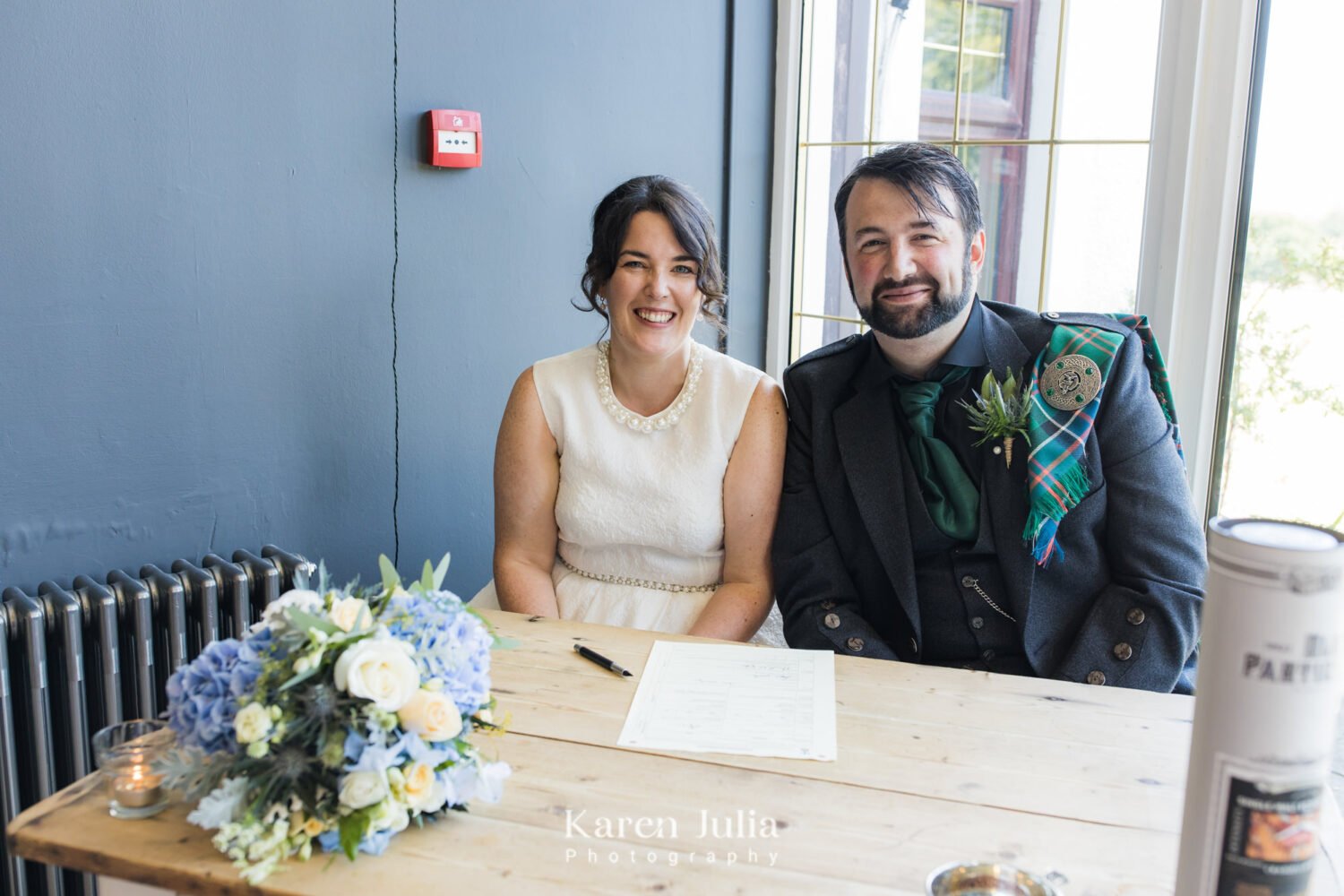 Drinks Reception
The drinks reception took place on the lawn area at the front of the farmhouse. The weather was perfect; warm and sunny with a clear blue sky.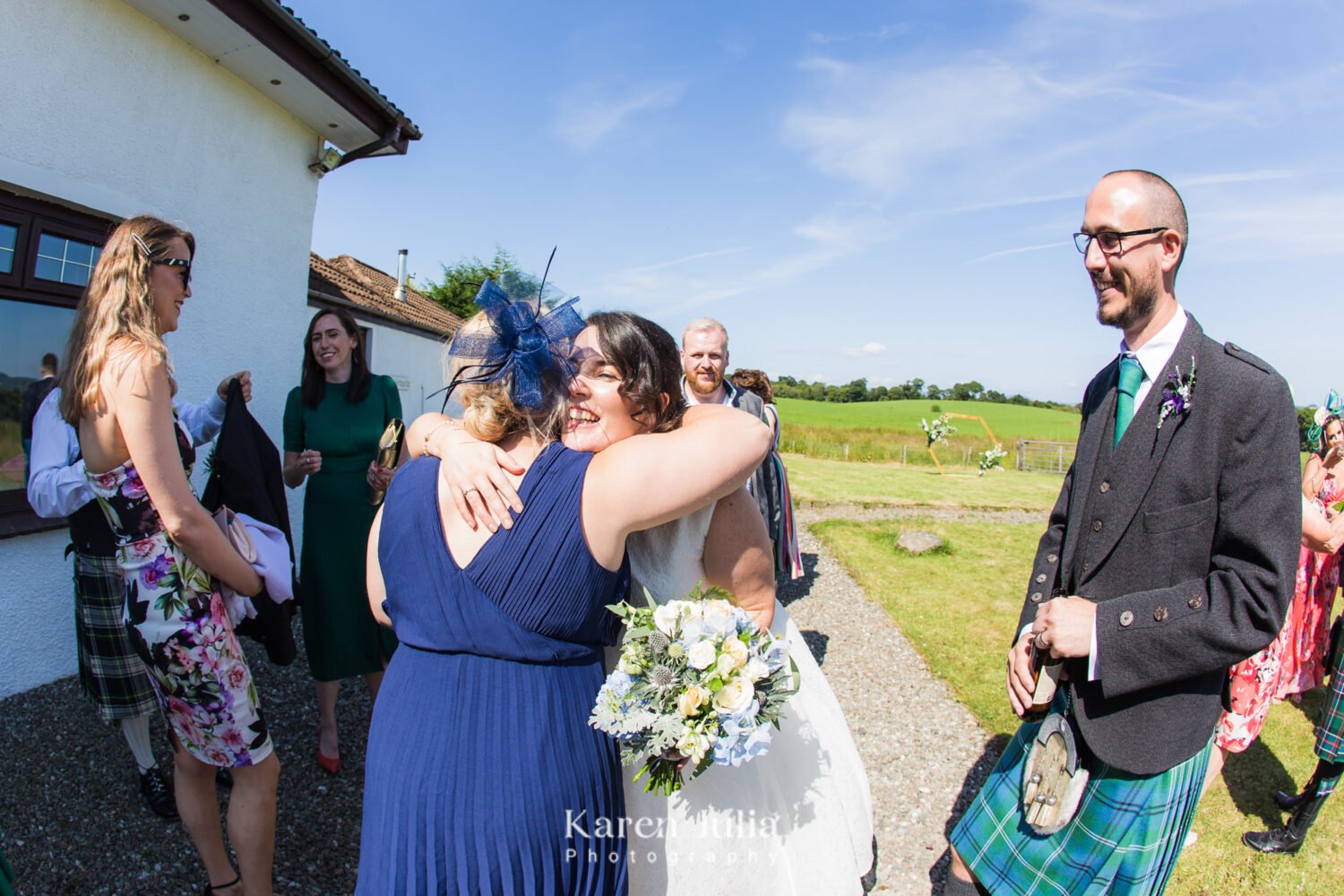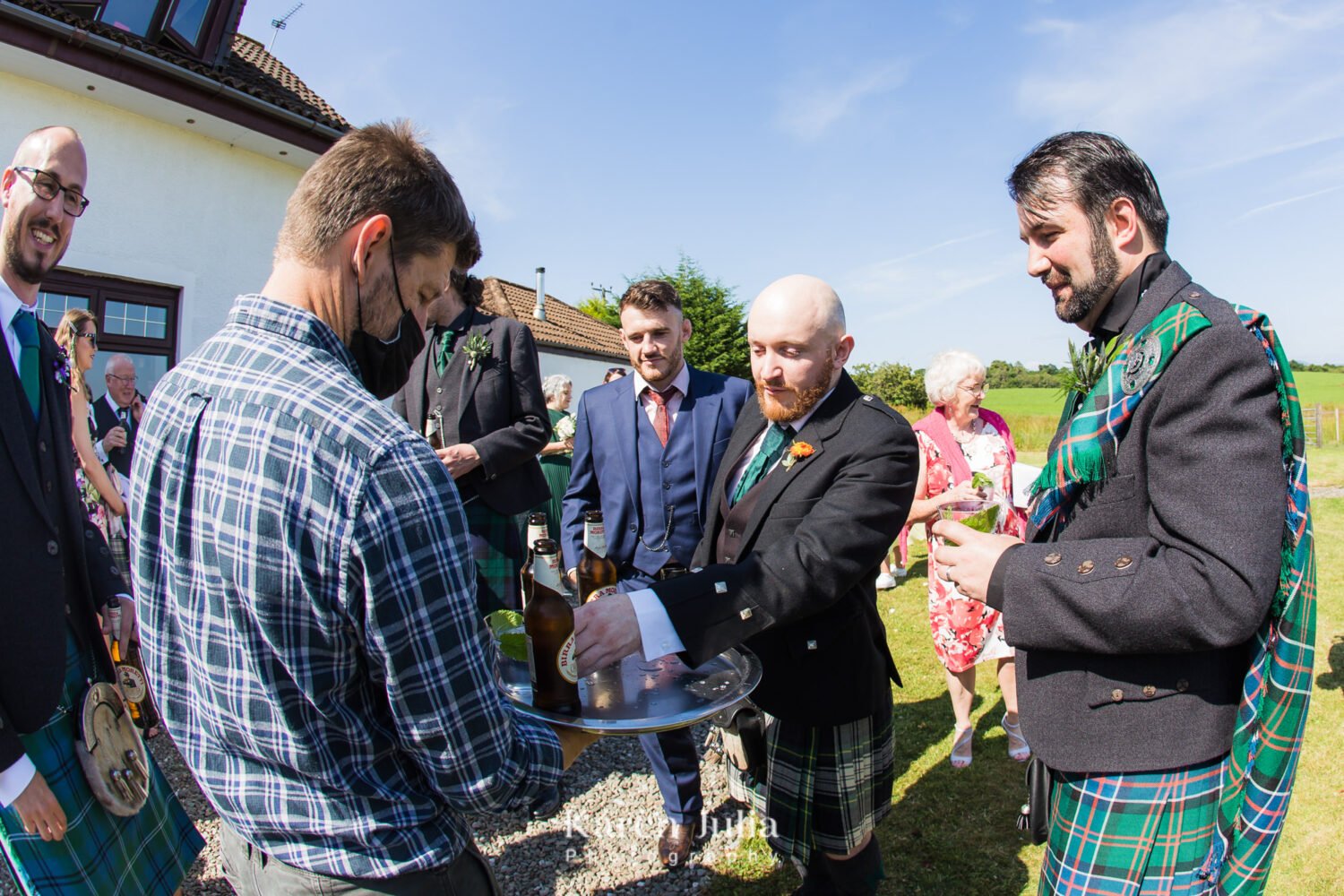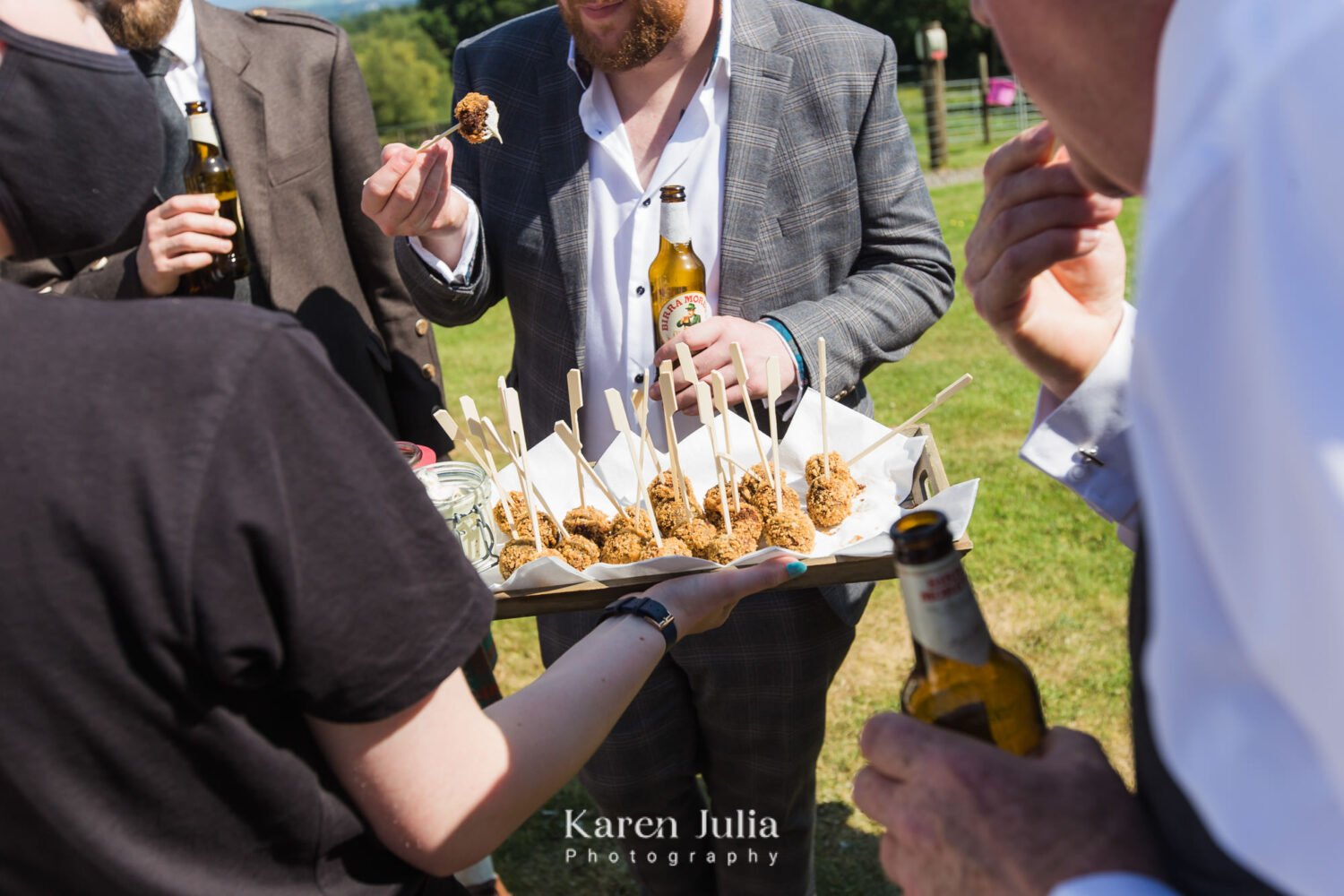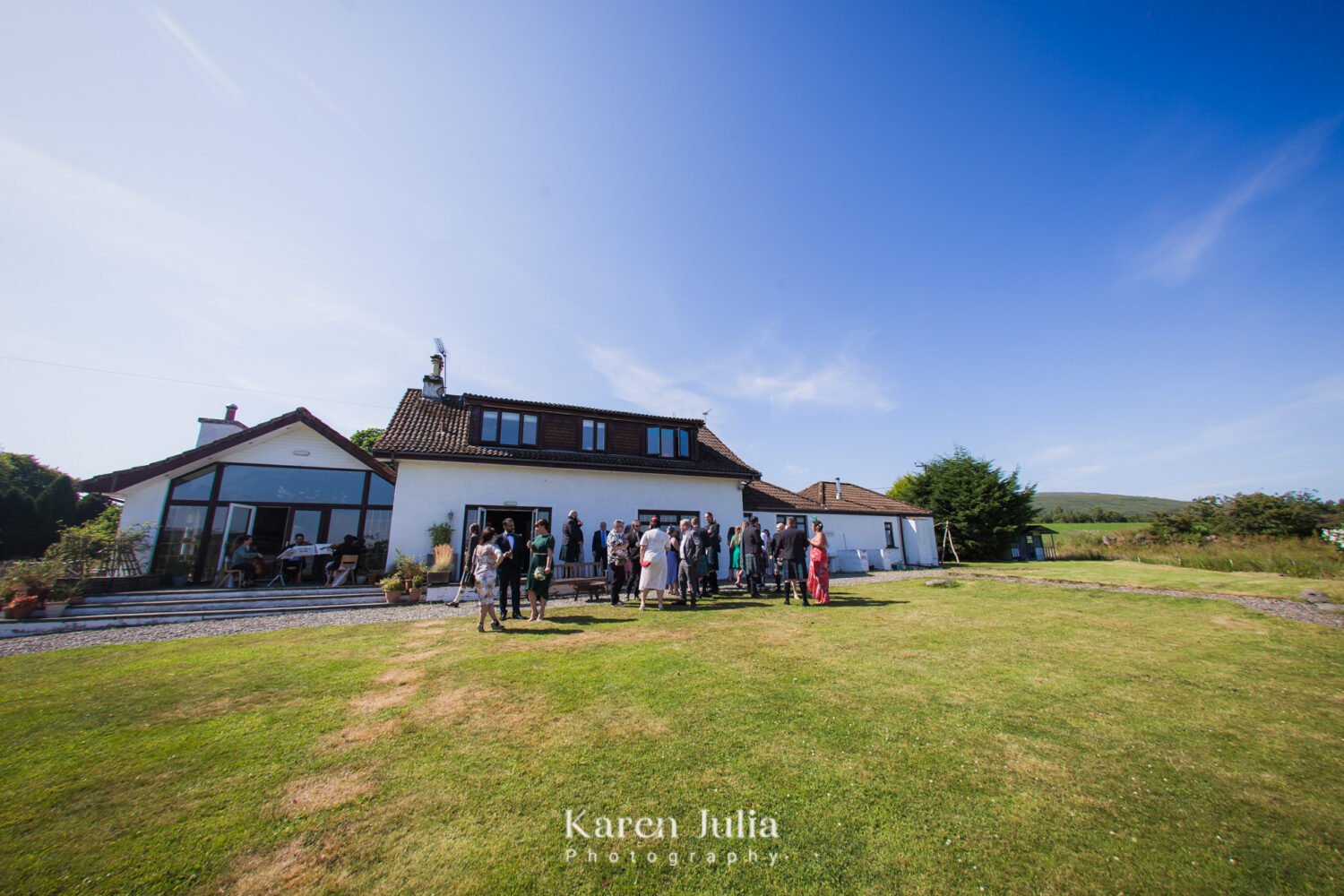 Wedding Group Photos
The couple wasn't looking for loads of group photos, but a select few of family and one big one of everyone. I stood on the bench outside the farmhouse to get a better view of Loch Lomond in the background. I had brought ladders in my car, but it was such a bright and sunny day, that I worried guests may be squinting more if I was higher.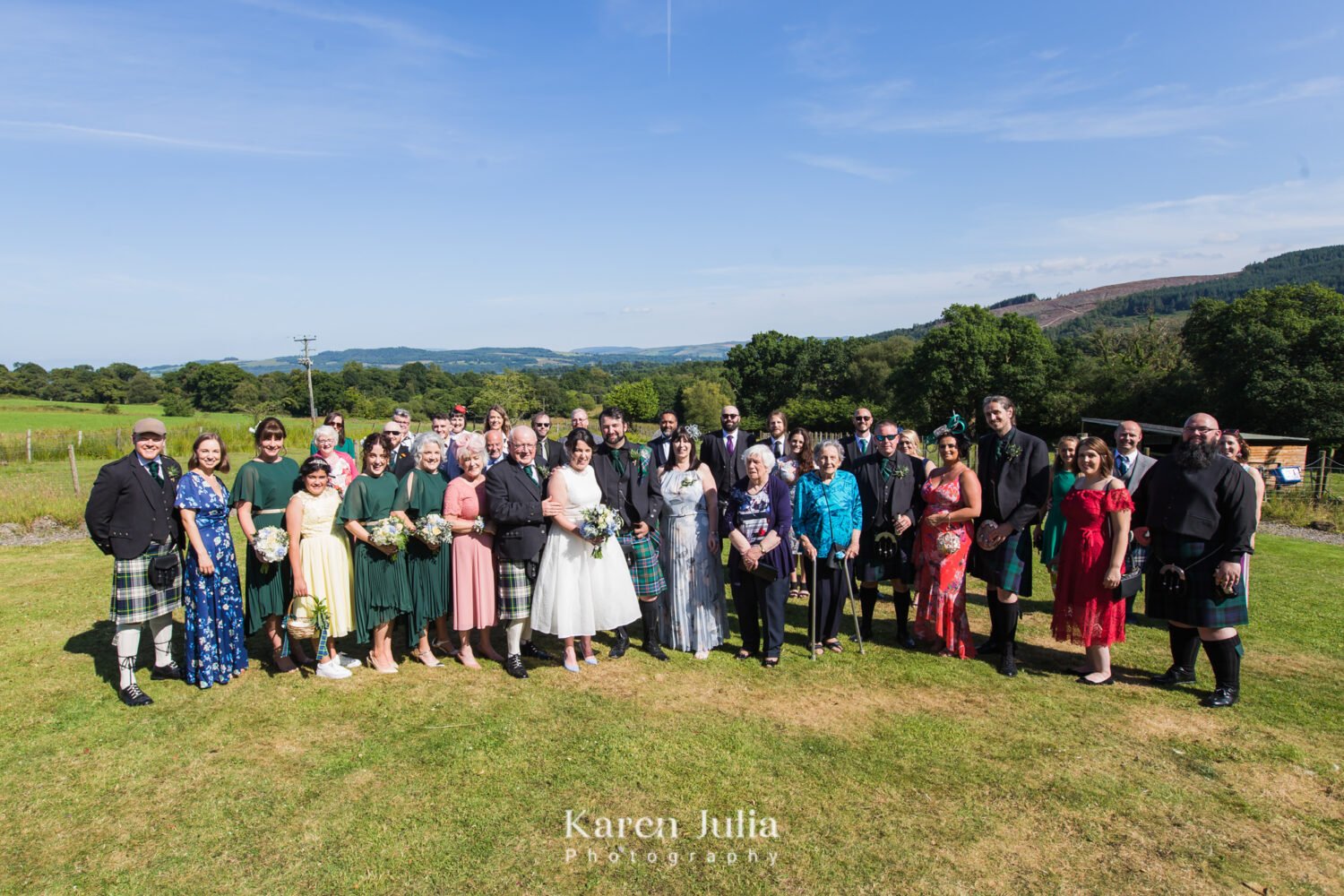 There was a cute wooden frame adorned with florals that we used for the smaller group photos. And then – the flower girls simply couldn't wait any longer, so it was time for confetti.
On this wedding day, I was not booked for speeches so was leaving before the start of the meal, but I sneaked into the barn to get a few photos of room details for the couple. The barn looked gorgeous! There were pink and white flowers hanging from the ceiling and the table placenames had photos of the guests.
Wedding Portraits
It was time for a few portraits of the happy couple on their own, so we headed over to the pond area near the entrance of Fruin Farm.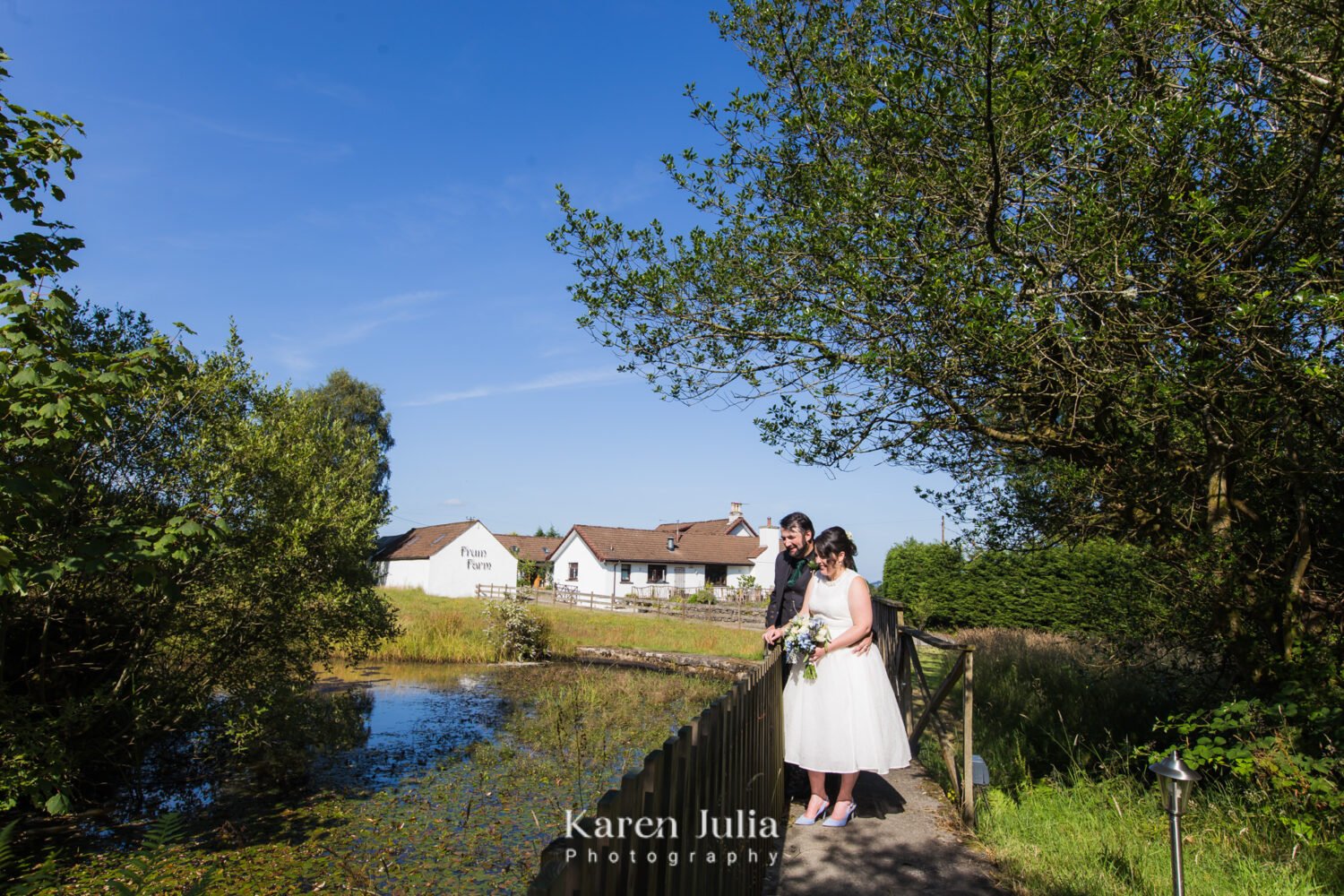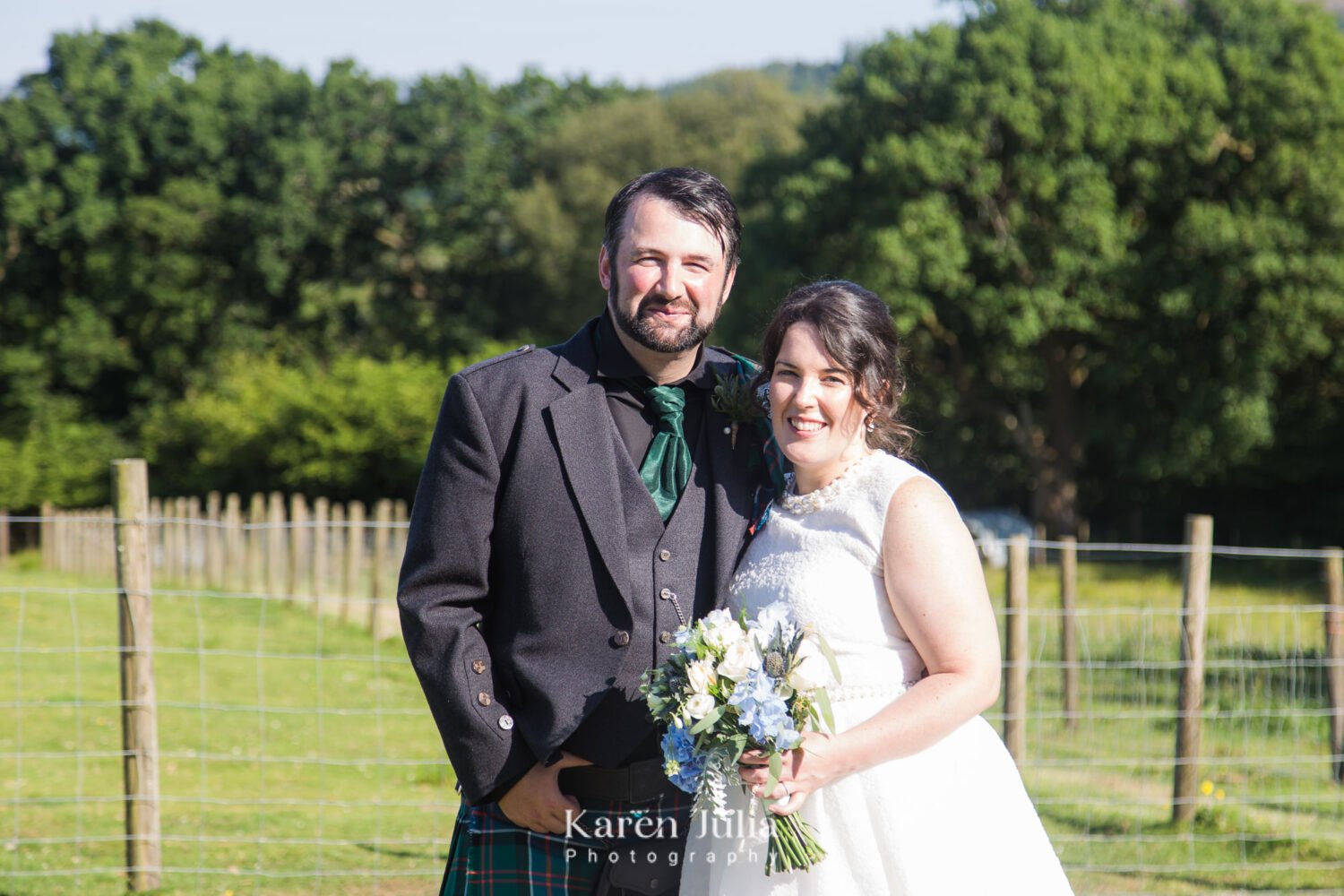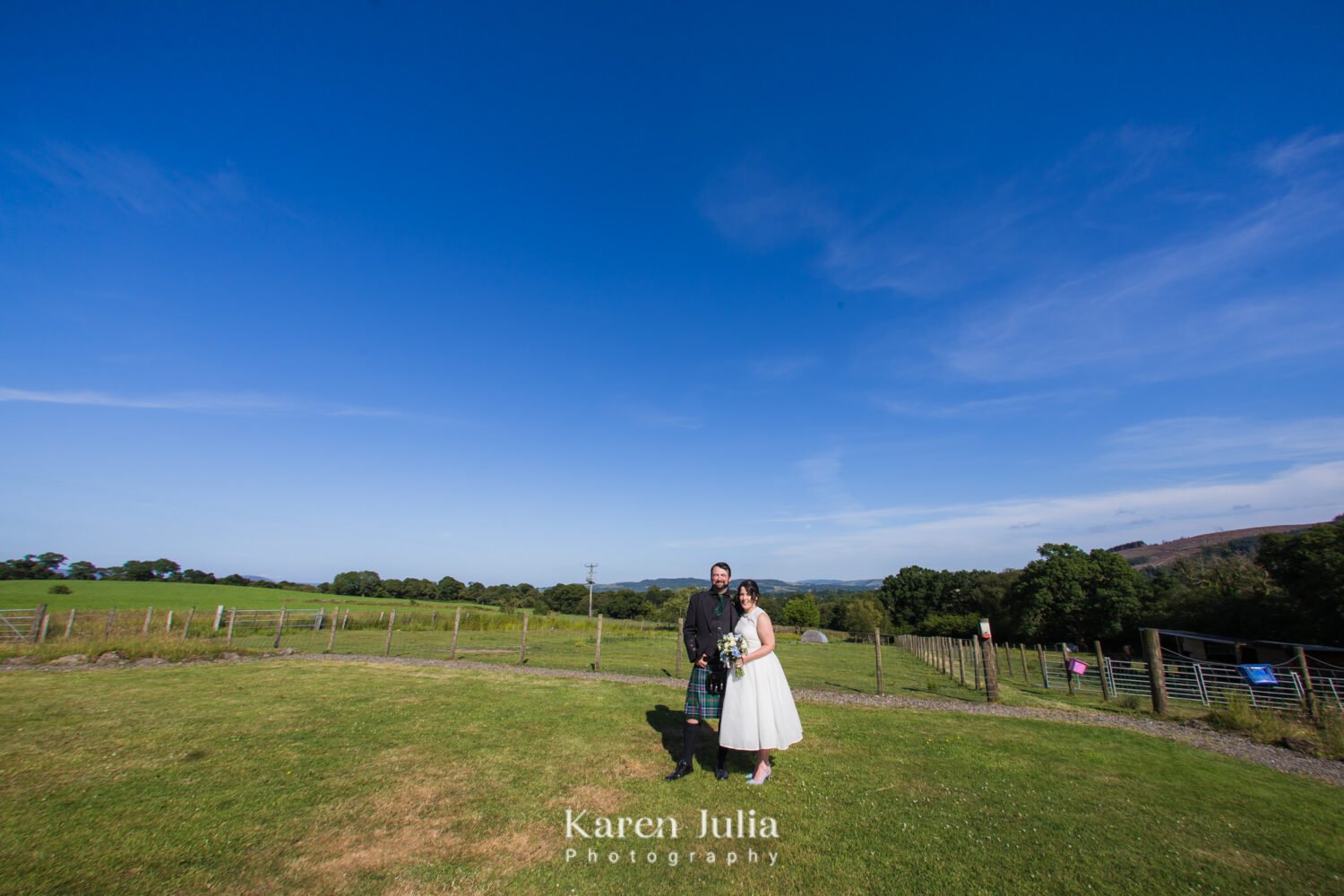 The was time for a quick fun photo with the wedding car before I finished with the photography. This was a really fun day to be a part of, with such a lovely couple and great guests. Fruin Farm is really perfect for a wedding. Private, scenic, and the staff were really attentive and friendly.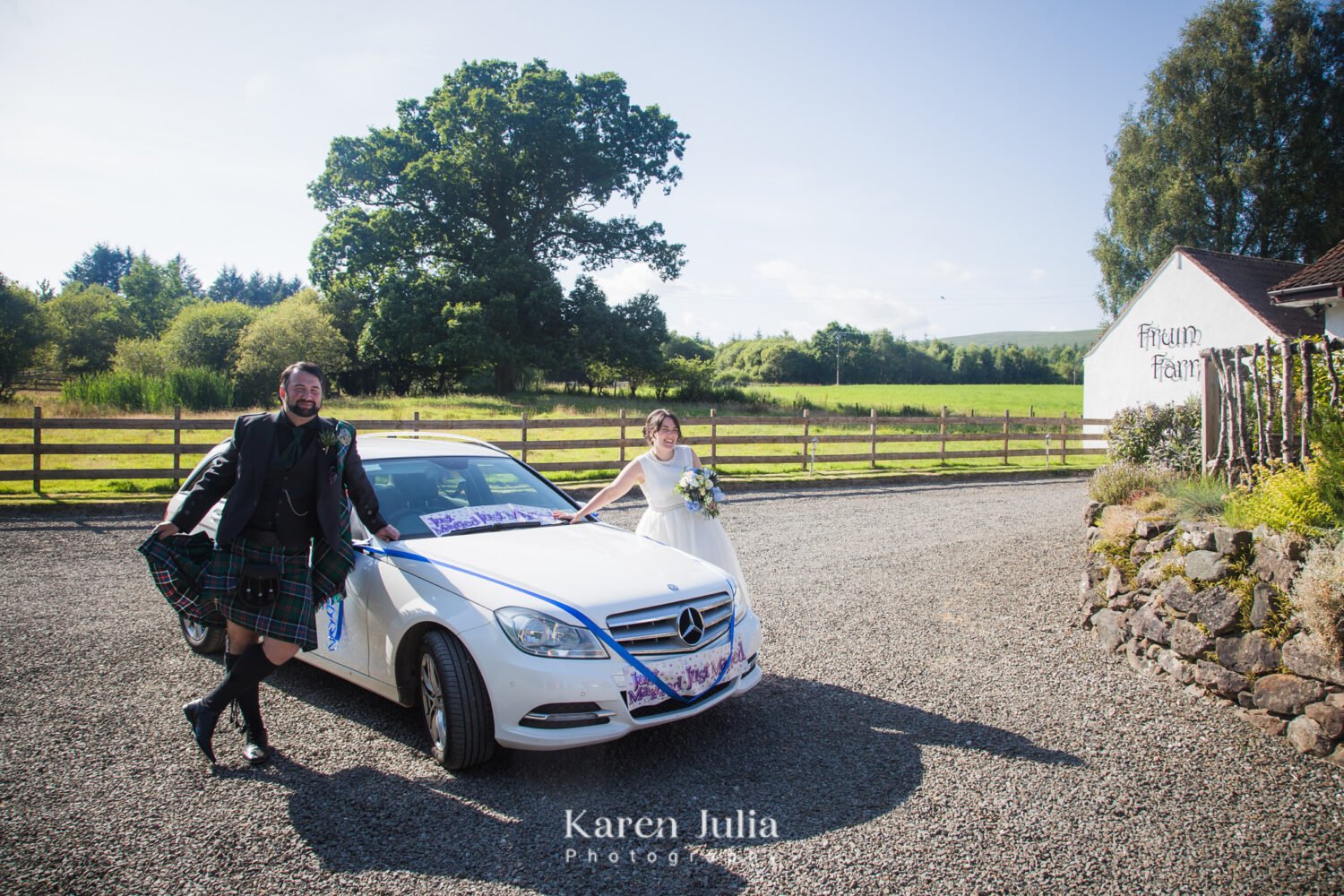 Wedding Photography Package
The couple chose my 3-hour coverage 'wee wedding' photography package and received 410 photos from their wedding day.
Are you getting married at Fruin Farm? I'd love to photograph your wedding! Head over to my contact page to check my availability, or have a look around at my style of photography over on my wedding photography portfolio.
See more weddings at this venue on the Fruin Farm Wedding Photography page.