So, your photos have all been uploaded to the online gallery.
What's next?
**The instructions below are for legacy galleries for weddings that took place up to the end of 2016**
**Instructions for weddings in 2017 will be posted shortly**
First up, here's a reminder about the soft cover photo book.

If you're on honeymoon, I recommend that if you want to check out your wedding photos you use the hotel wifi and not your data allowance. The photos in the gallery are high resolution, with a typical wedding gallery being around 6GB in size.
The gallery is best viewed on a desktop.
When you sign in to your gallery, it will look like this – except instead of album photos, you'll see your wedding photos: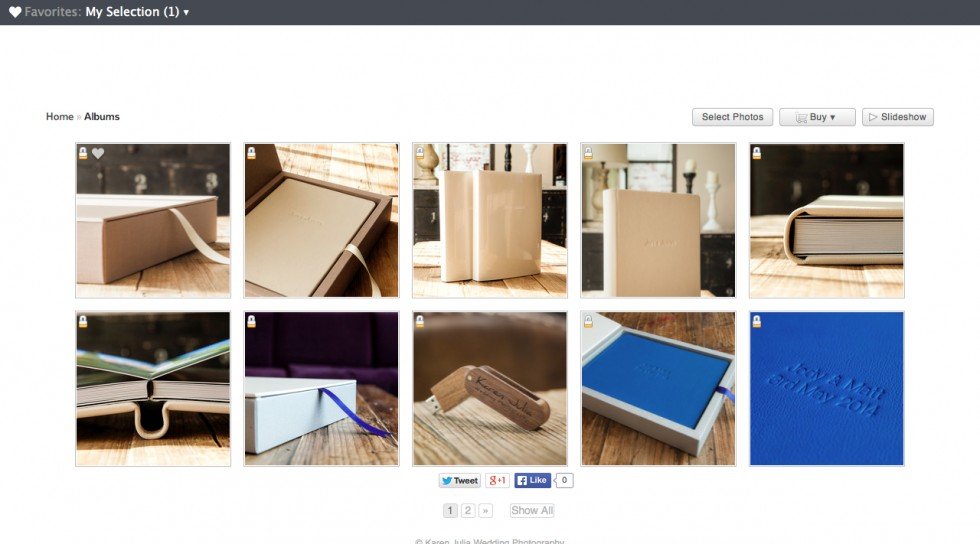 You'll notice there's a 'buy' button.
I don't sell digital downloads.
The wedding photos in your gallery can be downloaded for free, so please ignore that buy button!
The photos are initially locked until any retouching work has been done.
Retouching
The next stage is to have a good look through the photos and request any retouching work.
What's included?
Removal of spots, blemishes & bruises on key photos. (Key photos include the album selection).
What's not included?
Removal of tattoos, guests, or people in the background. If you'd like anything like this removed, please ask for a quote.
Downloading
Once any retouching work has been completed, the photos will be re-uploaded and unlocked for download.
Here's how to download them:
Double click on any photo & you'll see the screen below.
Then, right click & the list of options will appear on screen as shown below.
Either download the photo you have selected, or download the whole lot by clicking on: 'all available originals'.
NOTE: If you are viewing the gallery on an iPad, you may have to click a photo or
text to show the 'hover' effect, then have to click it again to choose it.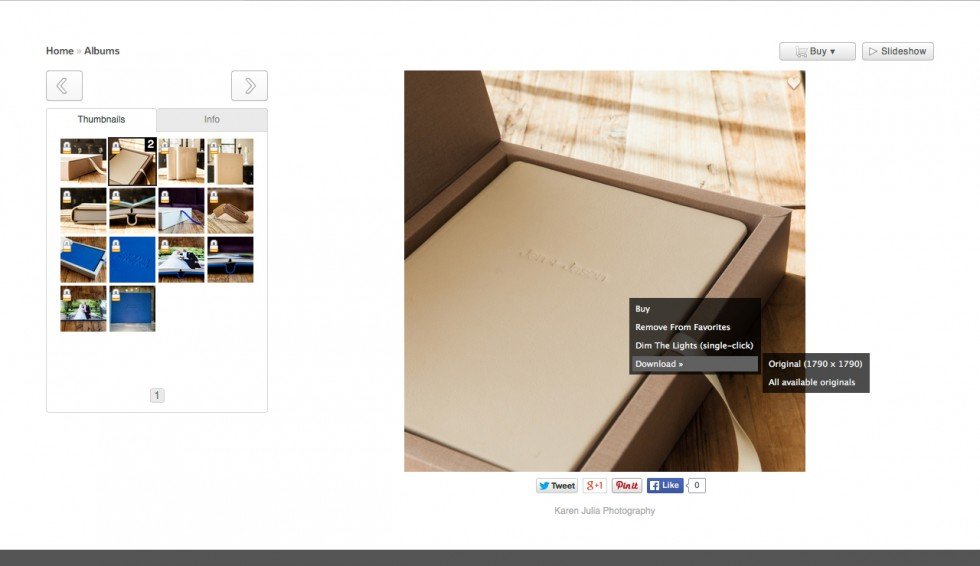 The soft book
A soft cover photo book is included in most of my packages. A photo of your choice can be featured on the front and back. The best way to select these is via the online gallery, using the 'favourite' love hearts and then sharing your selection with me.
Here's how to do that:
When you hover over the photo, you'll see a heart appear in the top left corner.

When you click that heart, it turns red, and that photo is then added to your favourites.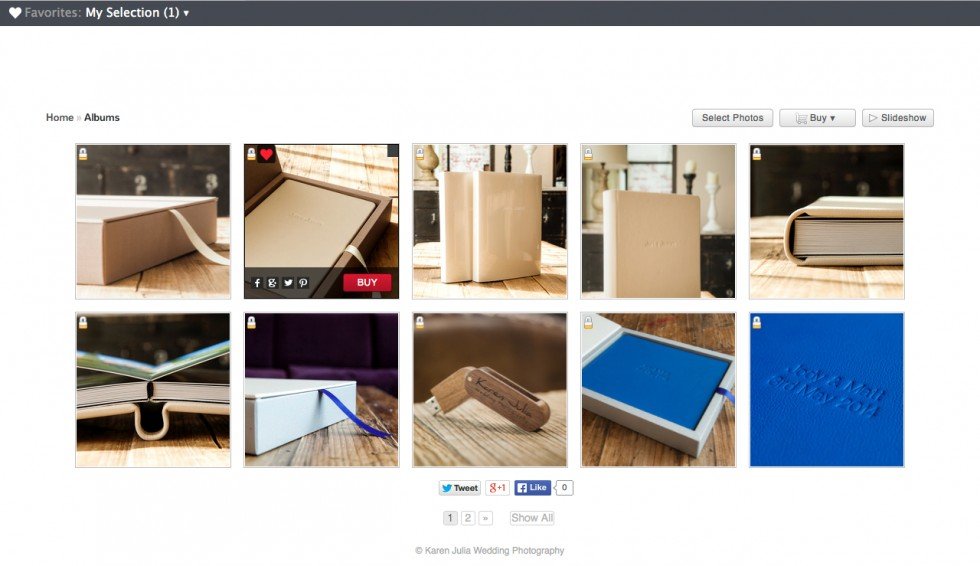 NOTE: If you are using an iPad to select your favourites, you'll need to click on each photo twice,
please make sure the heart is showing red before you make your next selection.
On the dark grey bar at the top of the screen, the number of favourites you have chosen will show in brackets. On the example shown it's (1). Check this is the correct number before sharing with me.
Once you have selected your favourites for the front & back cover, you'll need to share these with me.
So, click 'my selection' on the dark grey bar at the top of the screen. (When you hover over it, a drop down menu will appear, just ignore that and click on 'my selection'.
The screen will now look like this: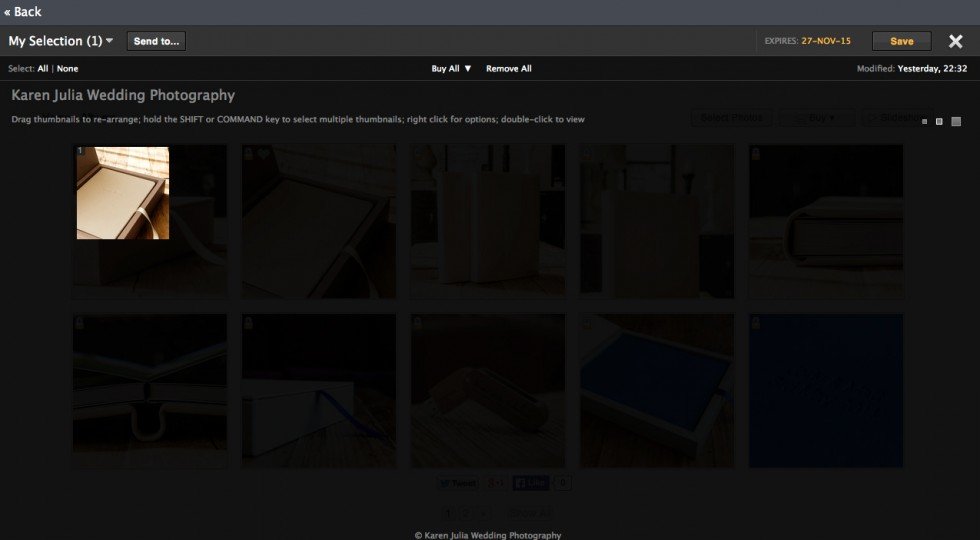 Next to where it says 'my selection' at the top of the screen, there's a box that says 'send to'.
Click the 'send to' box.
You will then see the pop up as shown below.
In the white box with the text 'my selection' please replace this with 'cover photos'.
It will now look like this: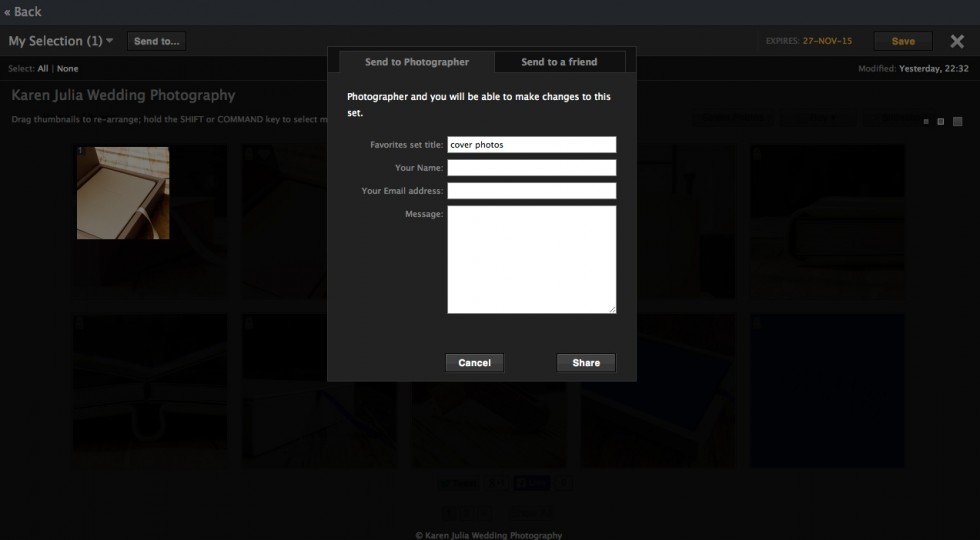 Complete the rest of the form with your name, email address & any message to me & I will then receive notification of your chosen photos.
The soft book has 200 pages, so you can either have the whole wedding featured in the book, or choose one photo per page. If you are opting for the highlights only, choose 200 photos in the same way you selected your cover choice photos. The text can be changed to 'book highlights'.
Timescales
Timescales vary depending on the time of year & my current workload. Peak season is July, August & September so things will typically take a bit longer at that time of year. Retouching work typically takes 1-2 weeks but can vary quite a bit depending on the complexity of what's involved. You can see how busy I am each month on the client area page.
After this has been completed, the gallery will be re-uploaded for you to check.
The soft book takes 3-4 working days in production, but can take me a few days to put together once I have received your choices for the contents & cover.
Wedding Albums
Wedding albums can be ordered at any point after the wedding whether that's a couple of weeks, a couple of months or a couple of years.
I don't design albums during the peak months of July, August & September, as this is usually a really hectic time, so if your wedding was earlier in the year and you have an album included in your package, please let me know your photo selection before July. If you miss this cut-off point, then you may have to wait until autumn, but I'll always try & accommodate design requests wherever possible.
Choose your album photos in the same way as the soft book cover shown above, just re-name the selection 'album'.